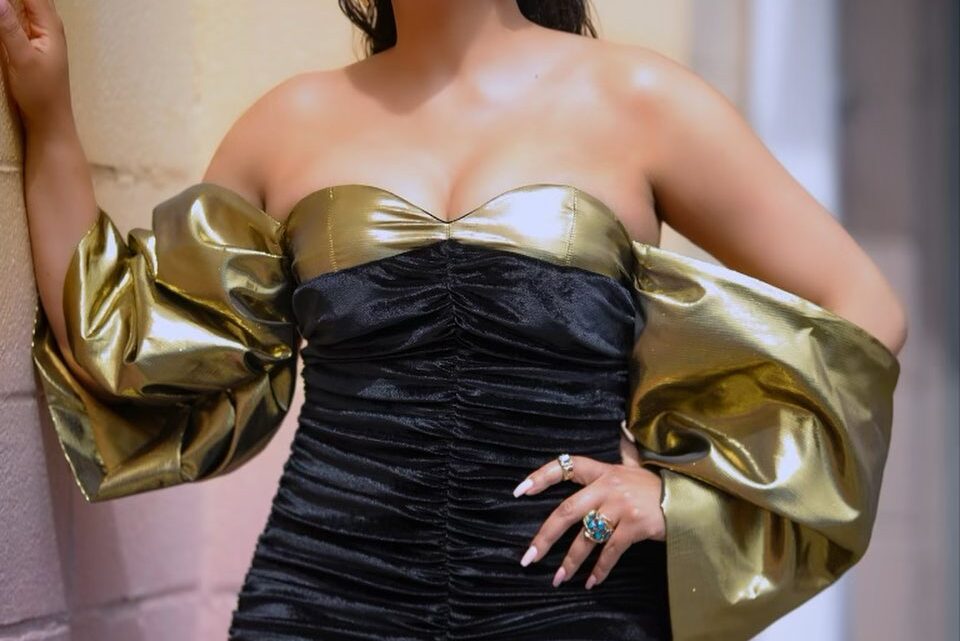 Drew Sidora Biography: Net Worth, Movies, Husband, Age, TV Shows, Siblings, Height, Children
---
Biography
Drew Sidora Pittman (born May 1, 1985), known professionally as Drew Sidora, is a talented American singer, songwriter, reality TV personality, and actress. Her captivating performances have left an indelible impression on audiences, earning her recognition in various realms of the entertainment industry.
Her career took flight with notable roles, including her portrayal of Chantel in the beloved Disney Channel Original Series, That's So Raven. Her infectious charm and vibrant energy endeared her to viewers of all ages, showcasing her natural talent and versatility.
She further showcased her acting prowess in the 2006 film Step Up, where she breathed life into the spirited character of Lucy Avila. Drew Sidora's portrayal resonated with audiences, highlighting her ability to bring depth and emotion to her roles.
In a remarkable feat, she portrayed the legendary Tionne Watkins in the VH1 TLC biographical film CrazySexyCool: The TLC Story. Her commitment to authenticity and attention to detail captivated viewers, cementing her status as a versatile and compelling actress.
Drew Sidora's journey continued on the small screen as she joined the BET sitcom The Game cast. Over four seasons, she demonstrated her range and ability to embody diverse characters, leaving a lasting impact on show fans.
In a bold move, Sidora expanded her horizons by venturing into reality television. Joining the cast of The Real Housewives of Atlanta in 2020, she fearlessly embraced the unscripted format, sharing her authentic self with a wider audience.
Drew Sidora's career began to blossom in the early 2000s, with notable appearances in popular television shows like What I Like About You and reprising her role as Chantel in That's So Raven. She also made her mark on the silver screen, leaving a lasting impression in films such as Bring It On: All or Nothing.
Drew Sidora

Drew Sidora: History ‧ Bio ‧ Photo

Wiki Facts & About Data
Full Name:
Drew Sidora Pittman
Stage Name:
Drew Sidora
Born:
1 May 1985 (age 38 years old)
Place of Birth:
Chicago, Illinois, United States
Education:
American Musical and Dramatic Academy
Nationality:
American
Height:
1.62 m
Parents:
Jeanette Jordan, Robert A. Jordan
Siblings:
Bryan Jordan, Allison Jordan, Christa Jordan, Edilah Jordan
Spouse:
Ralph Pittman (m. 2014-2023)
Boyfriend • Partner:
Trey Songz (2009), Hosea Chanchez (2007)
Children:
Josiah Sidora, Aniya Pittman, Machai Pittman
Occupation:
Actress • Singer
Net Worth:
$1.5 million-$4 million
Early Life & Education
Drew Sidora, a fascinating personality from the vibrant city of Chicago, was born on May 1, 1985. As the youngest progeny of Dr. Robert A. Jordan and Jeanette Jordan, illustrious figures in their respective fields of medicine and spirituality, her early years were steeped in a nurturing environment that fostered her innate talents. She has four siblings who are Bryan Jordan, Allison Jordan, Christa Jordan, and Edilah Jordan.
Drew Sidora's journey into the realm of the arts began at a tender age, as she graced the screens with her magnetic presence in commercials and television shows. In 1995, she debuted her auspicious film in the made-for-television masterpiece, Divas, leaving an indelible mark on viewers' hearts.
However, Drew Sidora's stunning portrayal of Chantel in the beloved Disney Channel series That's So Raven propelled her into the spotlight. Her captivating performance endeared her to fans worldwide, solidifying her status as a rising star. The dance film Step Up further showcased her multifaceted talent, captivating audiences and setting the stage for a remarkable career.
Sidora's versatility shone through as she ventured into film and television, gracing projects such as The Game, CrazySexyCool: The TLC Story, and The Real Housewives of Atlanta. Each role she undertook brought a new dimension to her artistic repertoire, garnering accolades and cementing her formidable presence in the entertainment industry.
Beyond her acting prowess, Drew Sidora's melodic voice resonates with an enchanting harmony. As a singer and songwriter, she has crafted a mesmerizing body of work, sharing stages with esteemed artists like Chris Brown and Bow Wow. Her talent has transcended the realm of music, propelling her into motivational speaking, where her words have inspired audiences at renowned events such as the Essence Festival and the BET Awards.
The hallowed halls of education have not been spared the radiance of Sidora's presence. Rich Township High School in Olympia Fields, Illinois, stands witness to her luminous tenure. As a proud graduate of the class of 2003, Drew Sidora adorned the tapestry of school life, lending her resplendent voice to the choir, her luminous talent to the drama club, and her boundless energy to the realm of basketball. Embracing the pursuit of her artistic passions, Sidora ventured forth to the revered American Musical and Dramatic Academy in the pulsating heart of New York City.
Career
Drew Sidora embarked on a captivating artistic journey from a tender age. With the dazzling debut of Divas in 1995, she marked the genesis of her silver screen endeavors, leaving an indelible impression on discerning eyes.
In the early 2000s, Sidora's star ascended as she graced both the small and big screens with her presence. From recurring roles in beloved shows like What I Like About You and the iconic That's So Raven to captivating performances in films such as Bring It On: All or Nothing and the mesmerizing world of Step Up, she captivated audiences with her undeniable talent and magnetic charm.
But her journey didn't stop there. In 2011, Drew Sidora found herself at a crossroads, venturing into the realm of the BET sitcom The Game. For four exhilarating seasons, she immersed herself in the vibrant tapestry of the show, leaving an indelible mark on both her character and the hearts of viewers.
Embracing the winds of change, Drew Sidora fearlessly stepped into the unscripted landscape of reality television in 2017. Joining the captivating cast of The Real Housewives of Atlanta, she brought her authentic self to the forefront, navigating the intricate dynamics with grace and poise. Now in her fifth season on the show, she continues to captivate audiences with her infectious energy and unfiltered authenticity.
Beyond her on-screen pursuits, Drew Sidora's creative spirit finds solace in the realm of music. With two compelling albums, Be Somebody (2005) and Drew Sidora (2008), she shares her melodic artistry, captivating listeners with her soulful voice and heartfelt lyrics. Her music is a testament to her multifaceted talent and artistic vision.
Yet, Drew Sidora's impact extends beyond the realms of entertainment. Guided by a compassionate heart, she is a spokesperson for notable charitable organizations such as the Make-A-Wish Foundation and the American Heart Association. Moreover, as a mentor to young women, she becomes a guiding light, inspiring them to embrace their dreams and reach for the stars.
Social Media
Instagram: @drewsidora
Twitter: @drewsidora
Facebook: @drewsidora
TikTok: @drewsidora
YouTube: Drew Sidora
Personal Life
Drew Sidora has walked diverse paths, embracing enthralling connections and ephemeral encounters. The year 2007 witnessed her entanglement with the magnetic Trey Songz, a liaison that ignited a flame of passion, casting a shimmering glow on their fleeting romance. In 2009, her heart found solace in the company of Hosea Chanchez, their relationship interweaving moments of tenderness and shared aspirations.
---
---
Before the symphony of matrimony graced her life, Drew Sidora reveled in the sublime joys of motherhood. Josiah Sidora, her beloved son, became proof of the depth of her love and the joys of nurturing.
It was in the year 2014 that Drew Sidora married Ralph Pittman, their union becoming an ode to love, companionship, and shared dreams. Together, they welcomed the blessings of two cherished children, Machai Pittman, who entered the world in the luminous embrace of June 2015, and Aniya Pittman, whose arrival in February 2018 infused their lives with radiant light.
However, life's symphony weaves a complex melody, and Drew Sidora's heart is immersed in the intricate dynamics of separation. In early 2023, she mustered the courage to initiate divorce proceedings from Ralph Pittman, attributing their parting to the harmonious dissonance of irreconcilable differences.
Discography
Juke It (2010)
Already Know (2018)
Winner (2022)
Filmography
TV Shows
Divas (1995)
The Howie Mandel Show (1998)
What I Like About You (2002)
FBI: Missing Persons (2002)
That's So Raven (2004-2005)
Girlfriends (2005)
The Game (2007)
CrazySexyCool: The TLC Story (2013)
One Love (2014)
The Real Housewives of Atlanta (2022-present)
Films
Never Die Alone (2004)
White Chicks (2004)
Step Up (2006)
Bande de sauvages (2007)
Manipulations 2 (2007)
Farm House (2008)
Jury of Our Peers (2008)
17 ans encore (2008)
Killing of Wendy (2009)
B-Girl (2009)
Man of Her Dreams (2009)
Net Worth
Drew Sidora's gathered net worth is estimated to be between $1.5 million and $4 million. She has earned wealth through her successful acting and singing career.
---
---
---
---
---

Post Your Bio, Music, Quest Post & More On TheCityCeleb
---
---


---
---
---