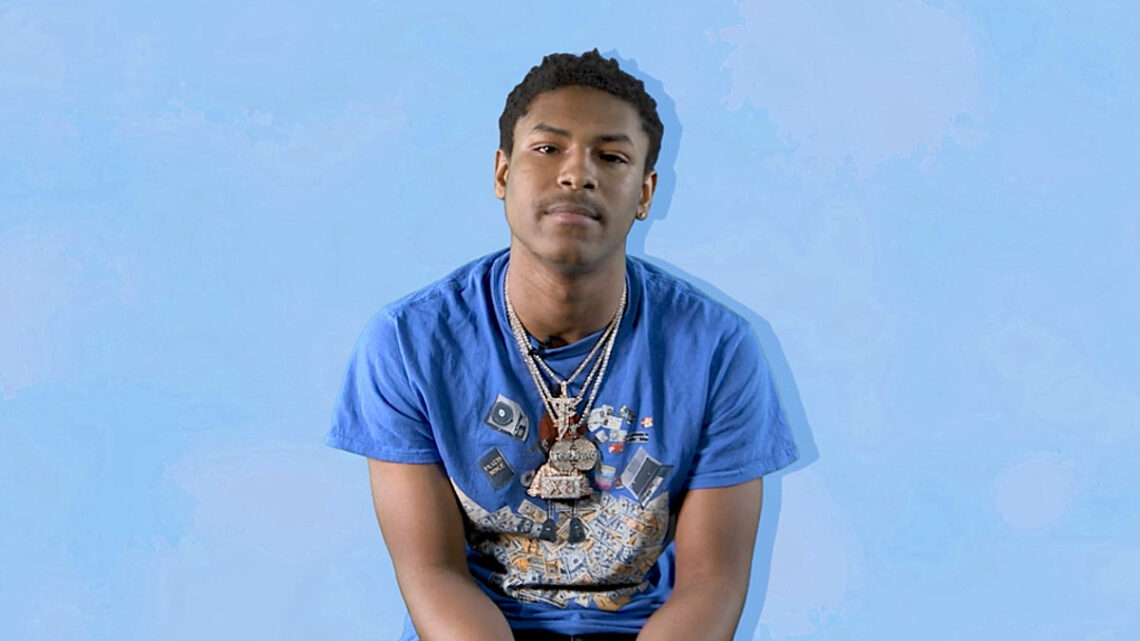 TeeJayx6 Biography: Net Worth, Songs Lyrics, Age, Girlfriend, Instagram, Netflix Documentary, Real Name
---
Biography
Dallas Antonio Asberry (born August 28, 2001), known professionally as TeeJayx6, is a talented American rapper and songwriter. His lyrical prowess delves into the intricate world of credit card fraud, identity theft, and the mysterious domain of the dark web, painting a vivid portrait of a society shrouded in shadow.
TeeJayx6, hailing from the vibrant Detroit music scene of the late 2010s, swiftly rose to prominence with his unconventional approach to hip-hop. Pioneering the sphere of scam rap, he fearlessly delved into the murky depths of identity theft, credit card fraud, and the clandestine world of the dark web.
In 2019, TeeJayx6 unleashed Dark Web, a track that would cement his reputation as a trailblazer. With each verse, he skillfully unraveled the intricacies of an underground subculture, captivating listeners with his audacious storytelling and unapologetic perspective.
With a stream count that reaches the millions on Spotify and other platforms, TeeJayx6 has unleashed a torrent of mixtapes and EPs that showcase his contentious lyricism and magnetic social media presence. His audacious verses dance on the edge of controversy, captivating listeners with their unfiltered authenticity.
While facing accusations of defrauding his followers and promoting violence, TeeJayx6 vehemently denies these claims, maintaining his position as a respected figure within Detroit's rap scene. Despite the swirling controversies, he remains an enigmatic force, drawing intrigue and admiration from fans and critics alike.
TeeJayx6

TeeJayx6: History ‧ Bio ‧ Photo

Wiki Facts & About Data
Full Name:
Dallas Antonio Asberry
Stage Name:
TeeJayx6, Teejay Witherspoon; Dallas Witherspoon; Teejay6x; TJx6
Born:
28 August 2001 (age 22 years old)
Place of Birth:
Detroit, Michigan, United States
Education:
N/A
Nationality:
American
Height:
1.77 m
Parents:
N/A
Siblings:
N/A
Spouse:
Not Married
Girlfriend • Partner:
@detriotsmiley_
Children:
1
Occupation:
Rapper • Songwriter
Net Worth:
$250,000
Early Life & Education
Teejayx6, a Detroit-born prodigy, entered this world on August 28, 2001. Raised amidst the concrete jungles of Detroit's East Side, he navigated life's challenges under the watchful guidance of his remarkable mother.
From an early age, a magnetic pull toward music tugged at his soul, leading him down the lyrical path of rap. The influential sounds of Lil Wayne, Chief Keef, and Money Man reverberated through his being, serving as the catalysts for his creative journey.
While Teejayx6 keeps his educational endeavors hidden from the public gaze, he has boldly revealed that the halls of high school bid him adieu after the 11th grade. Instead, he embraced a different kind of education—one steeped in the school of hard knocks.
This unyielding pursuit of knowledge through life's trials and tribulations has shaped him into the artist he is today. It is a testament to his resilience, for even behind bars, he honed his craft and emerged as a musical force to be reckoned with.
Defying the odds, Teejayx6's artistry has thrived, propelling him to share stages with esteemed names like Lil Uzi Vert and Lil Yachty. Mixtapes and albums have become his sonic canvas, where he paints vivid pictures of life's complexities and personal narratives. He weaves his unique lyrical tapestry alongside notable collaborators such as Moneybagg Yo and Lil Baby, captivating listeners with his candid storytelling and introspective musings.
Career
Teejayx6, a rising star from Detroit, burst onto the music scene with his unconventional subject matter and captivating storytelling. His focus on scams, identity theft, and credit card fraud sets him apart in the rap world. With his thought-provoking track Dark Web released in 2019, Teejayx6 quickly caught listeners' attention, showcasing his unique style.
Born and raised in the heart of Detroit, Teejayx6 experienced the challenges of growing up on the East Side. Raised by a single mother, he developed a deep-rooted passion for music from a young age. Influenced by the likes of Lil Wayne, Chief Keef, and Money Man, Teejayx6 crafted his own distinct sound and lyrical approach.
While Teejayx6's educational background remains undisclosed, he has openly shared his unorthodox path. He claims to have left high school after the 11th grade, opting for alternative avenues of learning. Furthermore, his journey has been marked by encounters with the law, including periods of incarceration related to fraud charges.
Despite these obstacles, Teejayx6's rap career has thrived. Leveraging platforms like SoundCloud, he fearlessly shared his music, steadily gaining a dedicated following. His songs offer a unique blend of personal experiences with scams, infused with a clever sense of humor.
The release of Teejayx6's debut mixtape, The Swipe Lessons, in 2019 solidified his position as a rising star in Detroit's rap scene. The mixtape's success propelled him forward, leading to subsequent releases and collaborations with local artists such as BabyTron and Kasher Quon.
Social Media
Instagram: @teejayx6
Twitter: @teejayx6
YouTube: TeeJay6
TikTok: @teejayx6
Soundcloud: TeeJayx6
Spotify: TeeJay6
Personal Life
In 2020, Teejayx6 welcomed a son with his girlfriend. He is currently working on his debut album. Teejayx6 has a girlfriend whose Instagram username is @detriotsmiley_.
Discography
Albums
Scam Likely (2019)
The One (2020)
Sincerely, Teejayx6 (2021)
The Devil Made Me Do It (2022)
EPs
Crime Pays (2019)
Miami Sessions (2019)
Only Took 2 Days (2019)
Under Pressure (2019)
Singles
Dark Web (2019)
Swipe Story 3 (2019)
Method (2019)
The Source (2019)
Dynamic Duo (2019)
Super Smash Bros. (2019)
Beavis and Butthead (2019)
Free Lil Tjay (2020)
I'm Back (2020)
The Devil Made Me Do It (2022)
Reckless (2022)
No Hook (2022)
Net Worth
TeeJayx6's gathered net worth is projected to be $250,000. Rapping and singing are how he makes a living, but he also engages in other, less publicized sources of income.
Although TeeJayx6 is a divisive figure, he is a successful rapper. He has a sizable social media following and has released a number of mixtapes and singles. He is renowned for both his distinctive rapping style and his memorable songs.
Additionally, he is well known for his contentious lyrics, which frequently land him in hot water. TeeJayx6 is still a well-liked rapper despite his scandal.
---
---
---
---
---
---
---

Post Your Bio, Music, Quest Post & More On TheCityCeleb
---
---


---
---
---