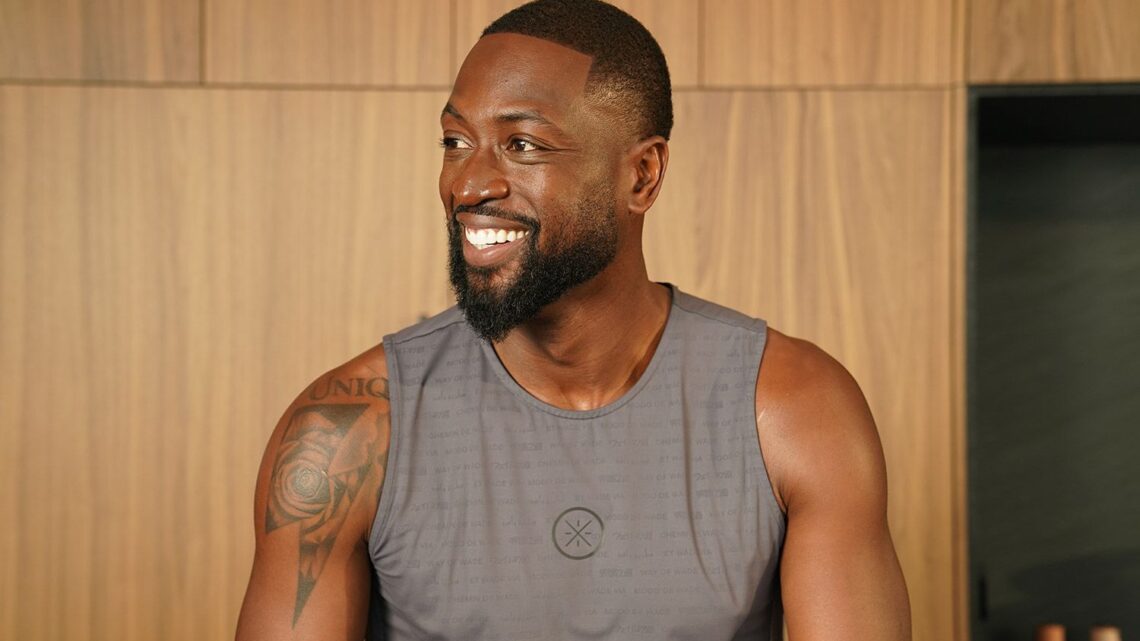 Dwyane Wade Biography: Wife, Daughter, Age, Parents, Siblings, Net Worth, Retirement, Children
---
Dwyane Tyrone Wade Jr., a former American basketball player, had a remarkable career primarily with the Miami Heat in the National Basketball Association for 16 years before retiring.
Wade is widely regarded as one of the greatest basketball players in history. Throughout his career, he achieved multiple championships, awards, and accolades.
An impressive recognition came in October 2021 when Dwyane was honored as one of the league's all-time greatest players and selected for the NBA 75th Anniversary Team. Additionally, the Miami Heat, his professional team, retired his jersey number, No. 3, as a tribute. Currently, Dwyane serves as the host of The Cube.
Profile
Full Name: Dwyane Tyrone Wade Jr.
Birth Date: January 17, 1982
Birth Place: Illinois, Chicago, United States
Nick Name: D-Wade, Flash
Religion : Christian
Nationality: American
Ethnicity: African
Education: Harold L. Richards High School, Marquette University
Horoscope: Pieces
Father's Name: Dwyane Wade Sr.
Mother's Name: JoLinda Wade
Siblings: 4; Two half-siblings and older sister Tragil Wade
Age: 40 Years Old
Height: 6 ft 4 in (1.93m)
Weight: 100 kgs (220 lb)
Hair Color: Black
Eye Color: Black
Build: Athletic
Profession: Basketball player
Current Team: Retired
Position: Shooting Guard
Active Years: 2003 – 2019
Marital Status: Married to Gabrielle Union
Children: 4; Zada Wade, Kaavia James Union Wade, Zaire Blessing Dwyane Wade, Xavier Zecharia Wade
Net Worth: $170 million
Social Media: Instagram, Twitter
Early Life
Dwyane Wade Jr., born on January 17, 1982, in Chicago, USA, is the son of JoLinda Wade and Dwyane Wade Sr.
Dwyane has one older sibling, Tragil Wade, and two stepsiblings. He credits his older sibling for guiding him in the right direction during his upbringing.
During his childhood, Dwyane faced difficulties as his parents divorced, resulting in his mother gaining custody of him and his sister. Unfortunately, his mother struggled with drug addiction and frequently ended up in prison.
At eight, Dwyane's sister left him with his father and stepmother, claiming they were going to the movies. Although he occasionally visited his mother, those visits ceased when his father and the family relocated to Robbins, Illinois.
To shield himself from the allure of drugs and gangs, Dwyane immersed himself in sports, a decision that would prove pivotal in his life and earn gratitude from the basketball community.
As Dwyane's basketball skills began to shine, his mother pledged to overcome her drug addiction and asserted that she had been sober since 2003.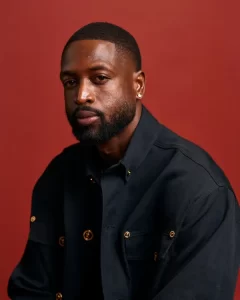 Dwyane participated in both football and basketball during high school at Harold L. Richards High School in Oak Lawn, Chicago. Initially, he excelled more as a wide receiver in football than in basketball.
Through his dedication and perseverance, Dwyane set school records at his high school, scoring 676 points and achieving 106 steals.
Career
Dwyane Wade enrolled in Marquette University, where he trained under the guidance of coach Tom Crean.
During his first year, Wade faced academic challenges that prevented him from participating in games. However, through diligent studying and receiving tutoring, he managed to improve his grades and make a comeback to the team during his sophomore year.
Wade's exceptional scoring skills significantly contributed to the success of the Marquette University team, surpassing their performance since the 1993-94 season.
His outstanding performance in the Midwest Regional final captured the attention of the entire nation, leading to him being named the Most Valuable Player (MVP) of the Midwest Regional.
Impressively, Wade's remarkable performance garnered attention from NBA scouts, and he decided to forgo his senior year to enter the NBA draft. In 2003, he officially began his professional basketball career in the NBA.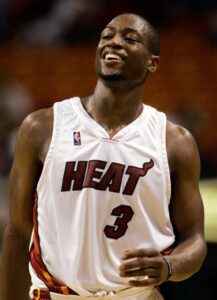 Dwyane Wade | Retirement
Following a 16-year playing career with the professional clubs Miami Heat, Chicago Bulls, and Cleveland Cavaliers, the gifted player Dwyane Wade announced his Retirement in 2019 at 39.
In 2020, the Miami Heat, Wade's professional team, paid tribute to him by retiring his jersey number, no. 3.
It is worth mentioning that Wade became the fifth player in Miami Heat history to receive the honor of having his jersey retired.
The Retirement of his jersey was commemorated over a weekend-long celebration consisting of three nights of festivities and recognition.
Dwyane Wade | Awards Accolades and Stats
---
---
3× NBA champion: 2006, 2012, 2013
NBA Finals MVP: 2006
The NBA scoring champion: 2009
NBA All-Star Game MVP: 2010
13× NBA All-Star: 2005, 2006, 2007, 2008, 2009, 2010, 2011, 2012, 2013, 2014, 2015, 2016, 2019
8× All-NBA:
First Team: 2009, 2010
Second Team: 2005, 2006, 2011
Third Team: 2007, 2012, 2013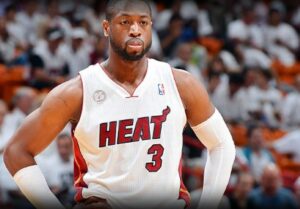 Second Team: 2005, 2009, 2010
NBA All-Rookie First Team: 2004
NBA Skills Challenge champion: 2006, 2007
Gold medal with Team USA: 2008 Summer Olympic Games
Bronze medal with Team USA: 2004 Summer Olympic Games
Bronze medal with Team USA: 2006 FIBA World Championship
Miami Heat all-time leading scorer
Miami Heat all-time assists leader
2005 Best Breakthrough Athlete ESPY Award
2006 Best NBA Player ESPY Award
Sports Illustrated Sportsman of the Year 2006
2006 Sporting News Sportsman of the Year
Wade won the 2012–13 season-long NBA Community Assist Award
Social Media
Instagram: @dwyanewade
Twitter: @DwyaneWade
Personal Life
Dwyane Wade tied the knot with his high school sweetheart, Siohvaughn Funches, in 2002. Unfortunately, their relationship hit a rough patch, and they separated in 2007, leading to a lengthy legal battle that ultimately resulted in their divorce in 2011.
Wade was granted sole custody of their two children and took on the responsibility of raising his nephew. In 2008, he began dating Gabrielle Union, who would later become his wife.
Although they briefly broke up in 2013, Wade had a child with Aja Metoyer during that time. However, Wade and Union reconciled, and they got engaged at the end of 2013. They sealed their love in 2014 with a wedding ceremony.
In 2020, Wade's 12-year-old child came out as transgender and changed their name to Zaya. Additionally, Wade and Union became parents in 2018 through surrogacy, welcoming a baby daughter into their lives.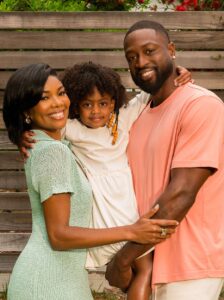 Besides his basketball career, Wade has established partnerships with brands such as Gatorade, Staples, Sean John, T-Mobile, Topps, and Lincoln. He was also recognized as one of the Time 100 most influential people in 2020.
Net Worth
With a net worth of $140 million, Wade actively engages in philanthropic endeavors through his foundation, The Wade's World Foundation, making a positive impact in the lives of others.
---
---
---
---
---

Post Your Bio, Music, Quest Post & More On TheCityCeleb
---
---


---
---
---