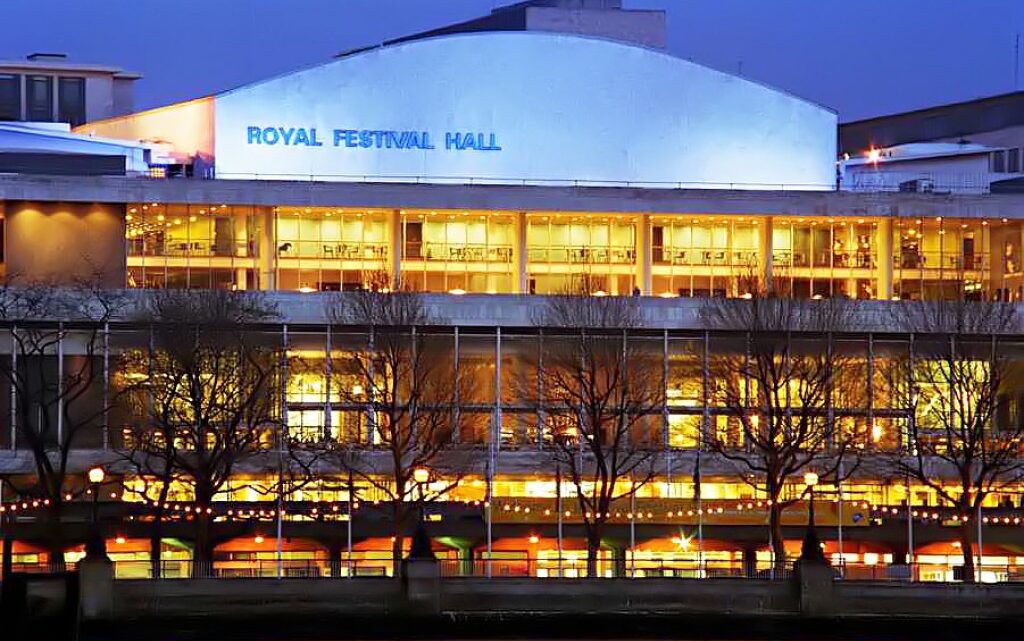 Royal Festival Hall: Tickets, Organ, Events & Concerts, Restaurant, Box Office, Bar, Parking
---
About Royal Festival Hall
The Royal Festival Hall is an impressive venue overlooking the Thames River in the heart of London's Southbank Centre. This iconic building has been a cultural hub for over six decades, attracting audiences from all around the globe with its diverse range of performances and events.
Designed by architects Leslie Martin, Peter Moro, and Robert Matthew, the Royal Festival Hall was officially opened in 1951 as part of the Festival of Britain, a post-World War II celebration of British arts, culture, and industry. The building's modernist design, featuring clean lines, geometric shapes, and large glass windows, starkly contrasted the classical architecture that dominated London at the time.
Today, the Royal Festival Hall is one of the world's most popular music and arts venues, with a capacity of over 2,700 seats. The auditorium boasts state-of-the-art acoustics, making it the ideal setting for classical concerts, operas, ballets, and other large-scale productions.
But the Royal Festival Hall isn't just about music and dance. The venue hosts various events, from film screenings and literary readings to talks and workshops. It's a place where people from all walks of life can come together to explore new ideas, learn new skills, and experience the richness of human creativity.
One of the most striking features of the Royal Festival Hall is its stunning riverside location. The building's terrace offers breathtaking views of the Thames, the London Eye, and other iconic landmarks. It's the perfect spot to relax and soak up the atmosphere, whether enjoying a drink or a meal at the bar and restaurant or simply taking a stroll along the riverbank.
In short, the Royal Festival Hall is a true gem of London's cultural landscape, a place with something for everyone. Whether you're a classical music lover, a budding artist, or just looking for a beautiful afternoon spot, this iconic venue will surely delight and inspire you.
Organ
The Royal Festival Hall Organ is an exceptional musical instrument that is visually and aurally stunning. Located at the rear of the Royal Festival Hall in London, this magnificent pipe organ is one of the largest concert organs in the world.
Built by the renowned British organ building firm Harrison & Harrison, the organ was inaugurated in 1954 as part of the Festival of Britain celebrations. It comprises more than 7,000 pipes, ranging in size from a few inches to over 32 feet in length, and it weighs a staggering 150 tons.
One of the most striking features of this instrument is its ornate façade, which is decorated with gilded pipes and intricate carvings. The organ's case was designed by the renowned architect Sir Leslie Martin, and it is a true masterpiece of mid-century modern design.
In addition to its stunning appearance, the Royal Festival Hall Organ boasts a rich and diverse tonal palette well-suited to a wide range of musical genres. Its versatility is partly due to its four manuals and 88 stops, which allow the organist to create an incredibly complex and nuanced sound.
Over the years, the Royal Festival Hall Organ has been played by some of the world's most renowned organists, including Simon Preston, Peter Hurford, and Thomas Trotter. It has also been featured in numerous recordings as a solo instrument and as part of larger orchestral works.
Despite its age, the Royal Festival Hall Organ remains a vital part of the London music scene and continues to inspire musicians and audiences alike. Whether you are a classical music aficionado or simply appreciate beautiful and unique instruments, visiting the Royal Festival Hall Organ is an absolute must.
Tickets
Securing tickets for the Royal Festival Hall can be a hassle, but it's worth the effort for its top-notch cultural experiences. Depending on the event, tickets can sell out weeks or even months in advance, so it's wise to plan ahead and purchase tickets early.
If you need clarification on what events are coming up, visit the Royal Festival Hall's official website or check out listings on other entertainment websites. It's also a good idea to sign up for the venue's newsletter or follow them on social media to stay up-to-date on any new releases or special offers.
Ticket prices vary widely depending on the event and seating location, so it's important to research and compare prices before purchasing. It's worth noting that many events at the Royal Festival Hall offer discounted tickets for students, seniors, and other groups, so be sure to check if you qualify for any of these deals.
Once you've found the perfect event and purchased your tickets, double-check the details, such as the performance's date, time, and location. The Royal Festival Hall also offers a range of dining and drink options, so plan a pre- or post-show meal to make the most of your experience.
Restaurant
The Royal Festival Hall houses a restaurant that is a haven for foodies seeking a gastronomic experience to complement their artistic excursion. The establishment features an exquisite menu highlighting the best British cuisine, expertly crafted by some of the most talented chefs in the industry.
The restaurant's interior design is equally impressive, with sleek and modern furnishings that create a cozy and intimate ambiance. The restaurant's large windows offer stunning views of the Thames River and the South Bank area, adding to the overall dining experience.
The restaurant caters to different dietary needs, with vegetarian and vegan options. Additionally, the restaurant boasts an extensive wine list, with sommeliers on hand to provide expert guidance on wine pairings.
Guests can make reservations in advance to ensure they secure a table. The restaurant is a popular destination for pre-concert meals, offering the perfect way to enhance a night of entertainment.
---
---
Events & Concerts
Royal Festival Hall is well-known for hosting a diverse range of events and concerts throughout the year, catering to the varied interests of its visitors. The hall's events calendar boasts an eclectic mix of classical, jazz, pop, and world music performances, spoken word events, comedy shows, and film screenings.
The hall's programming team is dedicated to bringing in top-notch talent from around the world, and it's not uncommon to see world-renowned musicians and performers take the stage at this iconic venue. From established legends to up-and-coming stars, the Royal Festival Hall has something to offer for everyone.
In addition to the regular concerts and events, the Royal Festival Hall hosts several festivals throughout the year, including the London Jazz Festival, Meltdown Festival, and the Women of the World Festival. These events provide a platform for artists and performers to showcase their work and engage with audiences from all walks of life.
One of the hall's most notable features is its acoustics, which are widely considered among the best in the world. The venue's unique design ensures that the sound quality is exceptional no matter where you are seated, creating an immersive and unforgettable experience for concert-goers.
Bar
The Royal Festival Hall's bar is a perfect spot to unwind and socialize while enjoying some of the city's finest drinks and snacks. With its trendy decor and comfortable seating, the bar offers a lively and sophisticated atmosphere to complement the cultural activities of the hall.
You can indulge in cocktails, mocktails, wines, beers, and spirits, all expertly mixed and served by skilled bartenders. Whether you prefer a classic martini or a contemporary concoction, the bar's extensive drink menu has something for every taste and mood.
The bar also offers a tempting selection of light bites, including charcuterie boards, cheese platters, and gourmet sandwiches, to satisfy your hunger while you enjoy your drink. The food is carefully crafted and sourced from top-notch ingredients to ensure the best quality and taste.
The bar is a popular pre-concert and post-concert destination, where you can mingle with other concert-goers, exchange your views on the performances, and even catch a live music act or DJ set on certain nights.
Box Office
The Royal Festival Hall Box Office is a gateway to a world of music and art, where cultural enthusiasts can indulge their passion for the performing arts. With a prime location on the Southbank Centre, the Box Office offers access to some of the most sought-after concert, event, and performance tickets.
The Box Office is manned by a dedicated team of professionals passionate about the arts and committed to providing a seamless ticketing experience. Whether you're looking for tickets to a classical music concert, a contemporary dance performance, or a spoken word event, the Box Office has got you covered.
The Box Office offers a range of ticketing options to suit every budget and preference, including online booking, phone bookings, and in-person purchases. The staff is always happy to offer advice on the best seats and events to suit your preferences.
Furthermore, the Box Office offers various services to ensure a stress-free and enjoyable experience. These include wheelchair access, assisted hearing devices, and other accommodations for patrons with disabilities.
Parking
Being located in a busy area, the Royal Festival Hall can be quite challenging when it comes to finding parking spots. However, a few options are available to visitors traveling by car.
The nearest option is the Southbank Centre Car Park, just underneath the Royal Festival Hall. This parking lot is quite convenient for visitors as they can easily access the venue through lifts and stairs from the car park. However, it is important to note that parking here can be quite expensive and add to the trip's overall cost.
Another option available to visitors is the APCOA Cornwall Road Car Park, located about 5 minutes' walk from the venue. This parking lot is more affordable than the Southbank Centre Car Park and can be a good option for visitors who are on a budget.
Several other parking options are also available in the surrounding areas, including street parking, which can be quite challenging to find during peak times. Visitors are advised to plan ahead and arrive early to secure a spot.
Visitors can also consider using public transportation options to get to the venue. The Royal Festival Hall is conveniently located near several major tube stations and bus stops, making it easily accessible to those traveling by public transport.
---
---
---
---
---

Post Your Bio, Music, Quest Post & More On TheCityCeleb
---
---


---
---
---