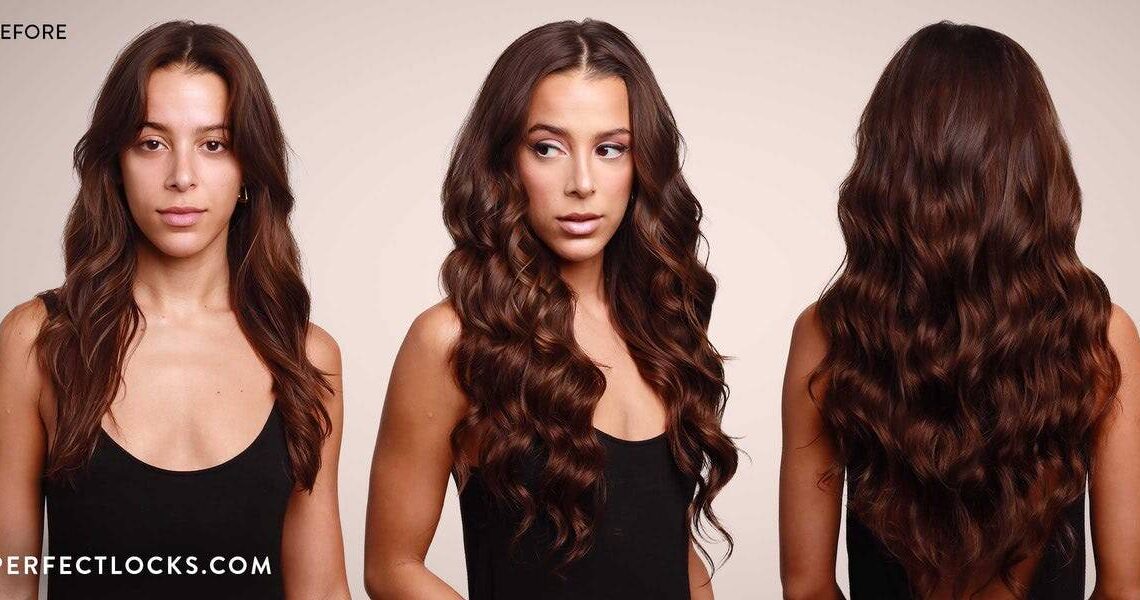 How Do Tape In Extensions Work?
September 1, 2023
---
Are you looking to add length and volume to your hair? Do you want to change how you look and feel extra beautiful? Tape-in extensions might be the perfect solution for you! These extensions are popular among many women because of their seamless and natural look.
But how do tape-in extensions work? Let's break it down for you.
What are Tape In extensions?
Tape-in extensions are extensions with high-quality human hair attached to a thin adhesive strip. This strip is then sandwiched between a small section of your natural hair, creating a secure bond for weeks. The application process is quick and easy, with a trained stylist carefully placing the extensions close to your scalp.
One of the major advantages of tape-in extensions is their versatility. You can style your hair in various ways without worrying about the extensions showing.
When wearing this type of extension, the challenge is learning how to care for them to maintain their longevity properly. Tape-in Hair Extensions by Perfect Locks can last a few months to two years when properly cared for. The secret to longevity is choosing a reputable brand and caring for the extensions correctly.
The Application Process
When applying tape-in extensions, hairstylists use a gentle and seamless method to enhance your hair effortlessly. They first section your hair into small, thin parts.
Then, they attach the extensions by sandwiching a thin strip of your natural hair between two tape-in extensions. This process ensures a secure and discreet attachment.
The adhesive on the tape is designed to be strong enough to hold the extensions in place and gentle enough not to damage your natural hair.
The extensions are applied close to the roots, giving you a natural and seamless look. The application process is quick and easy, taking only about an hour to complete. With tape-in extensions, you can instantly add length, volume, and thickness to your hair without hassle.
Caring for Tape In Extensions
To keep your tape-in extensions looking their best, you'll want to follow a proper care routine that includes:
Regular brushing, gentle washing, and avoiding excessive heat styling.
Preventing tangling and matting. Use a detangling brush or a wide-tooth comb, starting from the ends and working up to the roots.
When washing, use a sulfate-free shampoo and conditioner, focusing on the mid-lengths to ends of your hair. Avoid applying conditioner directly to the tape area to prevent slippage.
After washing, gently squeeze out excess water and pat dry with a towel. To avoid damage, limit the use of heat styling tools and always use a heat protectant spray.
Remember, proper care and maintenance will ensure that your tape-in extensions last longer and look fabulous.
Removing Tape In Extensions
To remove tape-in extensions, apply a solution designed to break down the adhesive. Carefully saturate the tape with the solution, ensuring it does not soak the scalp or hair. After a few minutes, gently peel back the tape, starting from the bottom and working your way up. If you encounter any resistance, apply more solutions and wait longer.
Once the tape is removed, use a fine-toothed comb to comb out any residue or tangles gently. Finally, wash and condition your hair to remove any remaining adhesive or product buildup.
Conclusion
Tape-in extensions are a convenient and popular option for adding length and volume to your hair. They're applied using a simple and quick process, allowing for a natural look and feel. Tape-in extensions have their benefits, such as easy maintenance and versatility. However, they also come with some drawbacks, such as the need for regular maintenance and the potential for damage if not cared for properly.
Overall, tape-in extensions can be a great choice for those looking to enhance their hair, as long as they're willing to put in the necessary effort to maintain them.
---
---
---
---
---

Post Your Bio, Music, Quest Post & More On TheCityCeleb
---
---


---
---
---