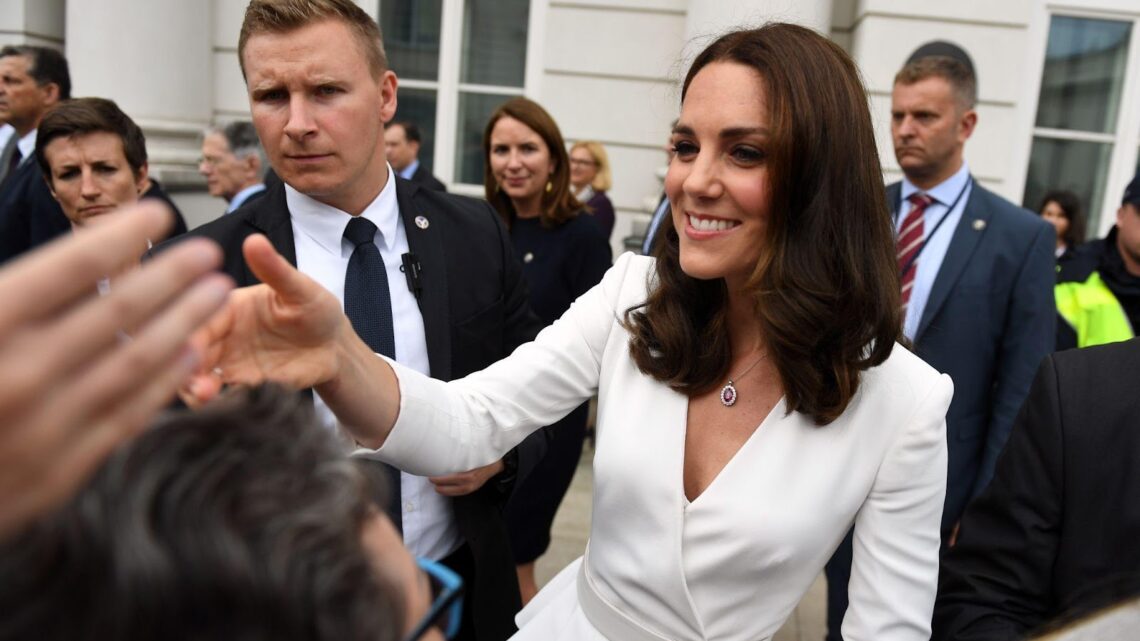 Kate Middleton Ball Gown: Following a Style Icon
---
Kate Middleton is used to being in the public eye as a member of the royal family, and she is known for her iconic sense of fashion, especially when it comes to ball gowns and formal events. 
Admiring Kate Middleton's effortless style and unique choice in ball gowns may result in wanting to find a beautiful ball gown you can wear to formal events. Our article advises finding a ball gown that mirrors Kate Middleton's style and helps you feel confident.
Kate Middleton's Ball Gown Style
Kate Middleton's evening wear is frequently photographed and reported on due to the many unique and effortless styles she displays. 
The ball gown style you are looking for if you wish to emulate Kate Middleton includes ball gowns created from silky satin or chiffon-style materials. A-line ball gowns and ball gowns with full skirts will give you the feeling of royalty. 
Other common style elements in Kate Middleton's ball gown wardrobe include neutral colors and off-the-shoulder dresses with unique style elements. 
What Makes a Ball Gown?
A ball gown is another term for evening wear, and ball gowns are typically worn to formal events or events that require 'black-tie' attire.
Ball gowns will generally have more fitted bodice areas that lead into a full skirt. This skirt may be made from many layers of fabric or just one or two layers, but it typically creates a bell-shaped appearance.
Ball gowns are popular among those who love a more dramatic and show-stopping style, and the full skirts of a ball gown can make anyone feel regal.
Materials popular for ball gowns include chiffon, satin, and tulle to give a floaty, full skirt effect. Popular adornments on ball gowns include lace embellishments, corset-style bodices, and ribbons or sequins found in the skirts of a ball gown.
Stores to Find Your Ball Gown for Kate Middleton Vibes
You're in luck if you are searching for the perfect ball gown reminiscent of Kate Middleton's timeliness style. Below, we give you the best stores to start your search for a ball gown that reflects this style and helps you feel like royalty.
Sherri Hill
Sherri Hill offers a wide range of ball gowns in all styles, and their online website is easily used to filter your ball gown search results by size, color, and material, among other important factors.
Ball gowns from Sherri Hill can be found in popular A-line, strapless, and one-shoulder styles. The one-shoulder style is especially popular if you wish to find a ball gown that reminds you of one of Kate Middleton's unique evening gowns.
Windsor
Windsor is one of the most popular stores to purchase formal gowns, prom dresses, and ball gowns, and you are sure to find a variety of ball gown styles in this store. You can shop at Windsor online or in person, and you will be able to choose from ball gowns that come in all kinds of materials with unique embellishments.
Local Boutiques
Local boutiques are a great place to shop for ball gowns that offer a one-of-a-kind style like many of Kate Middleton's ball gowns. When shopping for a ball gown locally, you may be able to find unique dresses complete with adornments or created from luxury materials in popular and eye-catching styles so that you can make a statement.
David's Bridal
David's Bridal is a common store to shop for wedding dresses, but you might not know that you can also find bridesmaid dresses and ball gowns here. You can browse David's Bridal in person at a local store or online to find ball gowns that bring dramatic and unique style.
Where Can I Wear My Ball Gown?
While you might not be attending any royal functions like Kate Middleton any time soon, once you have your ball gown, there are a variety of places where you can wear it. Occasions to wear your ball gown include:
At a formal event, or an event wear black-tie dress is required
At a prom event or a homecoming event
During a wedding, as long as it fits the dress code, or if you are a bride that wishes to wear a ball gown style dress
During public or private events where formal gowns are required
It's important to note that while you can wear your ball gown at most formal events, you should always check the dress code ahead of time to ensure you are not making a fashion faux pas.
Ensuring your ball gown and any accessories match the theme and dress code restrictions defined allows you to confidently dress for the occasion and show off your unique style appropriately.
Finding a Ball Gown That Suits Your Style
Ball gowns may be difficult dresses to purchase due to the wide range of styles available today.
If you are interested in finding a ball gown that mirrors Kate Middleton's popular style, you should look for a dress with unique embellishments, one-shoulder styles, and a full skirt. These styles are the most common in Kate Middleton's wardrobe and allow you to select a dress reminiscent of this style.
---
---
Once you've selected your Kate Middleton-inspired dress, you can confidently attend any formal event in your ball gown.
---
---
---
---
---

Post Your Bio, Music, Quest Post & More On TheCityCeleb
---
---


---
---
---