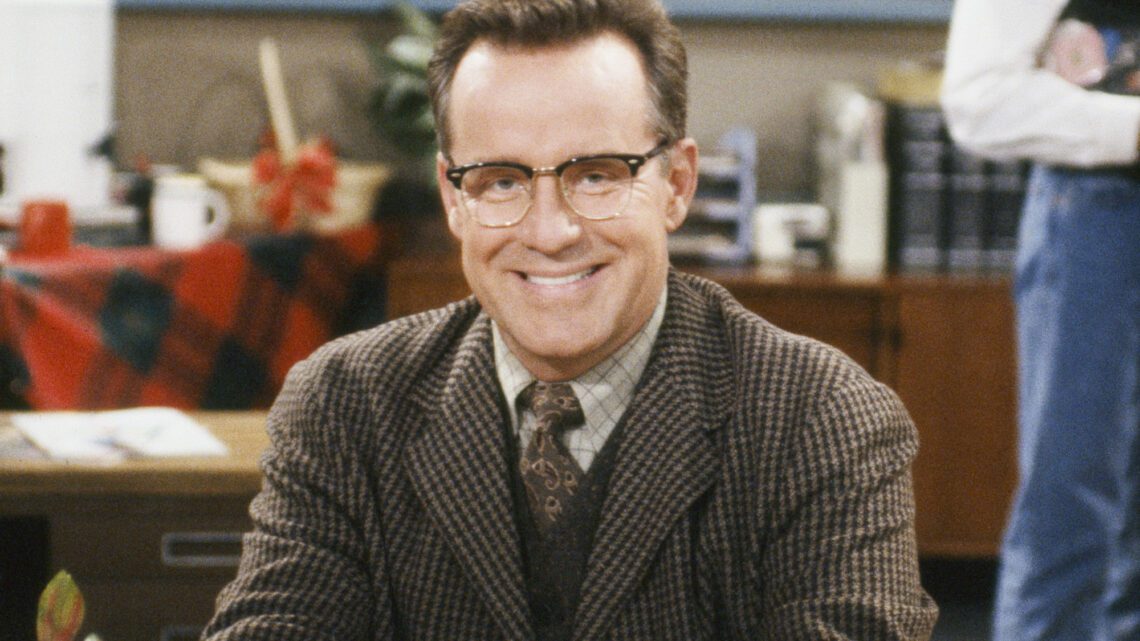 Phil Hartman Biography: Wife, Children, Age, Net Worth, Cause Of Death, Movies, TV Shows, Album Covers, Documentary, Wikipedia, IMDb
June 27, 2022
---
Biography
Philip Edward "Phil" Hartman (born 24 September 1948), addressed professionally as Phil Hartman, was a renowned American actor, writer, graphic designer, and comedian. 
He was a personality who was born in Canada and was well known for his peculiar sense of humour and caustic humour. Despite being, by all accounts, a typical, calm, easy-going demeanour in real life, he was at his best portraying haughty, annoying, and nasty characters. 
Phil Hartman started working as a graphic artist after he finished his education. He enrolled in the comedy classes offered by the California-based improvisational comedy troupe "The Groundlings" in search of a more engaging outlet for his talents after becoming dissatisfied with his routine job. He later joined the group and redesigned their logo in place of payment.
He worked with Paul Reubens to develop the character of Pee-wee Herman. He joined the cast of NBC's "Saturday Night Live" in 1986, where he swiftly rose to fame thanks to his extraordinary talent for impersonating famous people. 
Other attractive offers soon began to flood in. He voiced Troy McClure and Lionel Hutz in "The Simpsons," as well as Bill McNeal in "NewsRadio." 
He was a rising screenwriter who had sold his first feature script at the time of his death in 1998, one of the busiest character actors in the business. Phil Hartman was honoured with a posthumous star on the Hollywood Walk of Fame in 2014.
Phil Hartman

Phil Hartman: History • Bio • Photo

Wiki Facts & About Data
Full Name:
Philip Edward Hartman
Stage Name:
Phil Hartman
Born:
24 September 1948 (age 49 years old)
Place of Birth:
Brantford, Canada
Died:
28 May 1998, Encino, Los Angeles, California, United States
Nationality:
American, Canadian
Height:
1.79 m
Parents:
Doris Hartmann, Rupert Hartmann
Siblings:
Mary Hartmann, John Hartmann, Paul Andrew Hartmann, Jane Hartmann, Nancy Hartman-McCoy, Martha Hartmann, Sara Hartmann
Wife • Spouse:
Brynn Hartman (m. 1987–1998), Lisa Strain (m. 1982–1985), Gretchen Lewis (m. 1970–1972)
Girlfriend • Partner:
N/A
Children:
Birgen Anika Hartman, Sean Edward Hartman
Occupation:
Actor • Comedian
Net Worth:
US$3 million
Early Life
The fourth of eight children born to Doris Marguerite (née Wardell) and Rupert Loebig Hartmann, Philip Edward Hartmann (he later dropped the last 'n' from his last name to spell it "Hartman") was born on September 24, 1948, in Brantford, Ontario, Canada. He was born to Doris Hartmann (mother) and Rupert Hartmann (father).
In 1958, his father, a seller of building supplies, brought the family to the US. Before moving to California, they spent a short time in Connecticut. He had two brothers, John Hartmann and Paul Andrew Hartmann, and five sisters, Mary Hartmann, Sara Hartmann, Nancy Hartman-McCoy, Martha Hartmann, and Jane Hartmann. 
He attended Westchester High School and comes from a Catholic background. After that, he went to Santa Monica City College, but in 1969, he left to join a rock band's road crew.
He returned to California State University, Northridge, in 1972 to finish his graphic arts degree. Following college, he found success as an entrepreneur, founding his graphic design firm where he created the album covers for more than 40 bands, including Poco and America.
Career
At the age of 27, Phil Hartman enrolled in The Groundlings' evening comedy class in 1975. His creativity soon found a social outlet in comedy, and one night, after watching other troupe members perform, he went up to the stage and joined the show. He had advanced to become one of its stars by 1979. After one of these performances, he first met Betty Fanning McCann, his future agent. 
Paul Reubens was one of his fellow performers with The Groundlings. They eventually grew close and collaborated on several tasks, including creating the Pee-wee Herman persona. 
They put on a live production of "The Pee-wee Herman Show" in 1981, which HBO eventually aired. As the grubby Kap'n Karl in the CBS TV spinoff series "Pee-Playhouse," wee's Hartman also co-wrote the scripts for the 1985 feature "Pee-Big wee's Adventure" and its sequel. 
He made his voice acting debut on television in 1979 with the Scooby-Doo and Scrappy-Doo cartoon.
He appeared in other tiny roles over the following several years in films like "The Six O'Clock Follies" (1980), "The Gong Show Movie" (1980), "Pandemonium" (1982), and "Magnum, P.I." (1984). He also provided the voice for several animated films, such as "Red Pepper" (1981), "The Little Rascals" (1982), and "The Dukes" (1983). 
He provided the voices for Henry Mitchell and George Wilson in "Dennis the Menace" (1986). He co-starred in films with Steve Martin, Chevy Chase, and Martin Short in "Three Amigos" (1986), with Bruce Willis in "Blind Date" (1987), with Bill Murray and Geena Davis in "Quick Change" (1990), and with Dan Aykroyd in "Coneheads." He was at ease playing supporting roles (1993).
In the second season of "The Simpsons" (1991–1998), Phil Hartman was originally just meant to lend his voice to one episode, but the experience was so beneficial that he was subsequently awarded the regular parts of Lionel Hutz and Troy McClure. 
Additionally, he was considering producing a live-action movie about Troy McClure. The showrunners Bill Oakley and Josh Weinstein retired the characters after Phil Hartman's passing.
Major Works
From 1986 to 1994, Phil Hartman was a member of the SNL cast and writing crew for eight years. He was known as "The Glue" backstage for his helpful and considerate demeanour, and many of his fellow cast members credit him with keeping the performance together. 
He was also an excellent impersonator and performer of improvisation. He performed impersonations of people like Frank Sinatra, Ronald Reagan, Ed McMahon, Barbara Bush, Charlton Heston, Phil Donahue, and Bill Clinton during his time on the variety show; the last is largely regarded as his best performance.
---
---
On the NBC sitcom "NewsRadio," he was chosen to play Evelyn William "Bill" McNeal (1995-98). McNeal is the news co-anchor for WYNX, the radio station where the narrative is set and is bombastic, egotistical, and disobedient. 
Phil Hartman garnered a TV Land nomination for the part despite allegedly claiming that he based the character's performance on himself with all ethics removed.
Achievements & Awards
As a member of the writing staff for "Saturday Night Live," Phil Hartman won the Primetime Emmy Award for Outstanding Writing in a Variety or Music Program in 1989.
The address of His Television Star is 6600 Hollywood Boulevard on the Hollywood Walk of Fame. On August 26, 2014, the event took place.
Moreover, he received a posthumous induction onto Canada's Walk of Fame (Class of 2012).
Filmography
Skateboard Madness (1980)
Spaceballs (1987)
Pee-wee's Big Adventure (1985)
Ruthless People (1986)
Quick Change (1990)
Cheech and Chong's Next Movie (1980)
Three Amigos! (1986)
So I Married an Axe Murderer (1993)
Greedy (1994)
Amazon Women on the Moon (1987)
Personal Life
Phil Hartman married three times. In 1970, he wed Gretchen Lewis, his first wife. In 1972, the couple filed for divorce. 
He wed Lisa Strain, a real estate salesperson, in 1982, and the two separated in 1985. His first two marriages resulted in no offspring for him. 
He went on a blind date with Brynn Hartman (born Vicki Jo Omdahl), a former model and aspiring actress, and they got married in November 1987. 
Due to Brynn Hartman's despair and ongoing drug use, their relationship was turbulent and steadily got worse. Sean Edward Hartman, his son, was born to her in 1989; Birgen Anika Hartman, his daughter, was born to her in 1992.
Brynn Hartman was more frustrated as Phil Hartman's career prospered because she was still finding success on her own. He didn't want to be apart from her, so he gave her many jobs and briefly thought about retiring. 
After returning from supper with friends on May 27, 1998, Brynn Hartman got into a furious disagreement with her husband, who threatened to leave if she started using narcotics again. 
She killed Phil Hartman three times at 3 a.m. by breaking into his bedroom while high on cocaine and alcohol. She locked herself in the bedroom, dialled her friends and the police, put the 38 calibre revolver in her mouth, and then pressed the trigger to terminate her life.
Net Worth
Phil Hartman's estate was worth an estimated US$1.23 million at the time of his passing.
After accounting for inflation is equivalent to about $3 million today. His home's value contributed the lion's share of his fortune.
Phil Hartman garnered a total net worth of US$3 million.
Social Media
Instagram: @phil_hartman_507
Twitter: @philhartman1948
---
---
---
---
---

Post Your Bio, Music, Quest Post & More On TheCityCeleb
---
---


---
---
---