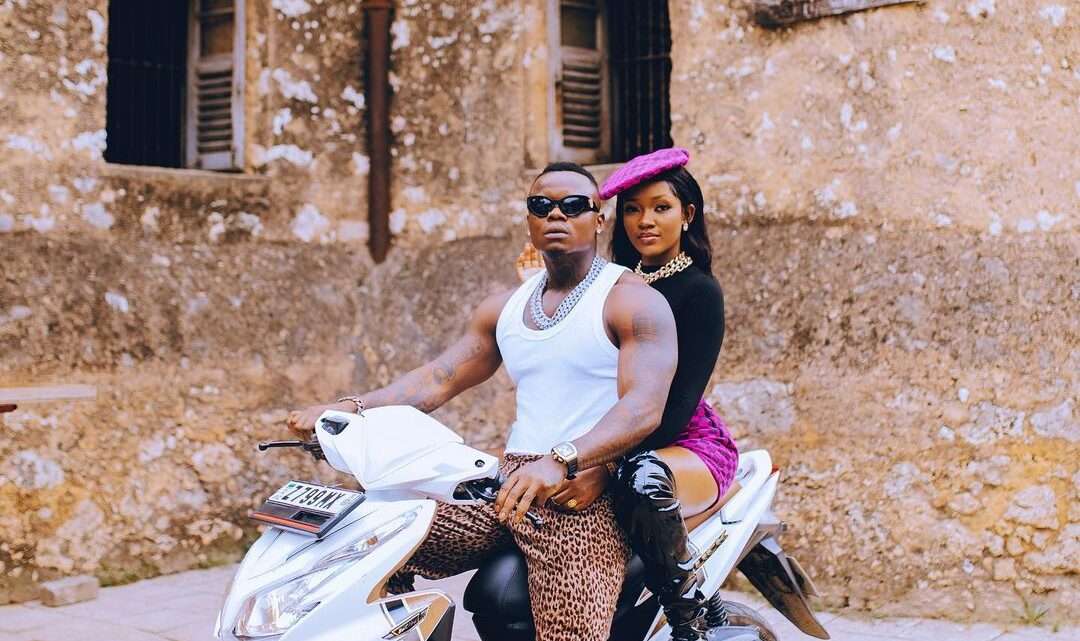 Harmonize Biography: Age, Songs, Wife, Net Worth, Albums, Girlfriend, Children
---
Biography
Harmonize (born March 15, 1991), known by his birth name Rajab Abdul Kahali, hails from the vibrant Tanzanian music scene. He is a multi-creative singer, songwriter, artist, and entrepreneur.
A maestro of Bongo Flava, he effortlessly melds captivating melodies, crafting lyrical poetry that resonates with the depths of the soul. Since embarking on his musical journey in 2011, he has enchanted audiences with an array of albums and singles, each showcasing his limitless creativity and innate talent.
Harmonize's artistry has not gone unnoticed, earning him a mantle adorned with esteemed accolades. The WatsUp TV Award, the AFRIMMA Award, and the AEA USA Award witness his captivating musical prowess as he traverses cultural boundaries and captivates hearts with his stirring compositions.
But Harmonize's impact extends beyond the realm of music. He is a visionary entrepreneur, the creative force behind Konde Music Worldwide. This record label serves as a nurturing sanctuary for emerging talents, fostering a vibrant collaboration and artistic growth community under his guidance.
With every note, Harmonize weaves a tapestry that honors Tanzanian traditions while captivating audiences worldwide. His melodies become vessels of cultural heritage, transcending borders and embracing the diverse tapestry of the human experience. He beckons listeners on a harmonious journey through his artistry, celebrating life's rhythms intricately woven into his musical fabric.
As Harmonize's symphony plays on, it strikes a chord that resonates deeply with his devoted fans. His music transcends language and cultural barriers, evoking a spectrum of emotions that unites and uplifts. With his magnetic presence, he inspires his followers to embrace their creative passions and chart their melodic destinies.
Harmonize

Harmonize: History ‧ Bio ‧ Photo

Wiki Facts & About Data
Full Name:
Rajab Abdul Kahali
Stage Name:
Harmonize
Born:
15 March 1990 (age 33 years old)
Place of Birth:
Mtwara, Tanzania
Nationality:
Tanzanian
Height:
1.73 m
Parents:
Mzee Konde
Siblings:
N/A
Spouse:
Sarah Michelotti (div.)
Girlfriend • Partner:
Sishkikii, Jacqueline Wolper, Frida Kajala Masanja, Feza Kessy, Sophie, Shanteel, Briana Jai
Children:
Zureha Nasra
Occupation:
Singer • Songwriter
Net Worth:
$2 million
Early Life & Education
Harmonize, born Rajab Abdul Kahali on March 15, 1991, in the vibrant city of Mtwara, Tanzania, emerged from humble beginnings. Raised in a modest family, with his father being Mzee Konde, he experienced the challenging journey of his parents' separation during his formative years. Nevertheless, his indomitable spirit propelled him forward, as he completed his secondary education at Mkundi Secondary School in 2009.
Driven by an unyielding passion for music, Harmonize sought to carve his own path in the bustling city of Dar es Salaam. Embracing the metropolis as his creative sanctuary, he embarked on a tireless pursuit of his musical dreams while shouldering the weight of various odd jobs to sustain himself.
Fate intervened when his undeniable talent caught the discerning ear of Diamond Platnumz, a notable figure in the Tanzanian music scene. This pivotal encounter led to Harmonize's signing with Wasafi Classic Baby (WCB), Diamond Platnumz's prestigious record label. In 2015, Harmonize unleashed his inaugural chart-topping hit, Bado, a musical triumph that propelled him into the spotlight.
Since that breakthrough moment, Harmonize's star has continued to ascend, illuminating the global stage with his infectious rhythms and lyrical prowess. With each album release, he unleashes a captivating fusion of genres, captivating audiences with his artistry and commanding presence. Collaborating with a diverse range of artists, locally and internationally, he has built bridges that transcend borders and unite cultures through the universal language of music.
Career
Harmonize, a musical star from Tanzania, made his dazzling debut in 2015 with the enchanting single Aiyola. This melodious masterpiece served as his sonic baptism, propelling him into the heart of the Tanzanian music landscape. Since then, Harmonize has graced our ears with a string of chart-topping hits, including the infectious beats of Kwa Ngwaru, the soul-stirring vibes of Show Me, and the magnetic allure of Kwangwaru.
Having garnered recognition and acclaim, Harmonize found his creative haven in 2017 when he joined forces with the illustrious Diamond Platnumz and signed with the WCB Wasafi record label. Under their tutelage, he honed his craft and unleashed a torrent of captivating singles and albums, imprinting his musical brilliance on the industry's canvas. However, driven by an unquenchable thirst for autonomy, Harmonize embarked on a bold journey in 2019, bidding farewell to WCB Wasafi to establish his musical empire, Konde Music Worldwide.
Even after parting ways, Harmonize's star continued to rise, illuminating the Tanzanian music sphere with his sonic prowess. His discography burgeoned with various captivating compositions, each resonating with ineffable power. The industry took notice, showering him with accolades that affirmed his indomitable spirit and boundless talent. Today, he stands as a revered titan of Tanzanian music, his melodies pulsating with a transcendent energy that reverberates within the hearts of his devoted followers. And when he takes the stage, his electrifying performances electrify the atmosphere, weaving a spellbinding tapestry of sound and soul.
Yet, Harmonize's talents extend beyond the realm of music. With the astute mind of an entrepreneur, he navigates the intricate tapestry of business ventures with finesse. From his record label, Konde Music Worldwide, to his fashion endeavors and culinary haven, Harmonize leaves an indelible mark on multiple industries. His brand ambassadorships add yet another layer of influence, bridging the gap between his musical prowess and the world of commerce.
Awards & Nominations
2016: WatsUp TV Music Awards – Best New Artist
2016: AFRIMMA Awards – Best New Artist
2016: AEA USA Awards – Best New Artist
2017: Kili Music Awards – Best Male Artist
2017: Tanzania Music Awards – Best Male Artist
2018: All Africa Music Awards – Best Male Artist
2019: MTV Europe Music Awards – Best African Act
2022: Tanzania Music Awards – Artiste of the Year
Nominations
2016: MTV Africa Music Awards – Best Male Artist
2016: The Headies Award – Next Rated
2017: MTV Africa Music Awards – Best Male Artist
2018: BET Awards – Best International Act: Africa
2019: MTV Africa Music Awards – Best Male Artist
2020: All Africa Music Awards – Artiste of the Year
2022: BET Awards – Best International Act: Africa
Social Media
Instagram: @harmonize_tz
Twitter: @harmonize_tz
Facebook: @harmonize_tz
YouTube: Harmonize
Personal Life
Harmonize, a man of captivating connections and romantic entanglements, has embarked on a myriad of love stories. His heart has danced to the melodies of companionship, experiencing the ebbs and flows of relationships that have left an indelible impression on his soul.
In the realm of love, Harmonize found solace and enchantment in the arms of Jacqueline Wolper, a Tanzanian actress, and astute businesswoman. Their union was a tapestry of vibrant emotions and shared dreams, but destiny led them on separate paths in 2017, each pursuing their individual quests for personal growth.
Fate then guided Harmonize into the embrace of Sarah Michelotti, an alluring Italian model. Bound by the sacred vows of matrimony, their union promised a lifetime of devotion and exploration. From the depths of their love, a precious gift emerged—their beloved child, Zureha Nasra, a testament to the unbreakable bond they shared. The revelation of a DNA result further cemented their connection, affirming the unbreakable ties of fatherhood and strengthening the tapestry of their family.
The symphony of love composed various harmonies within the intricate weave of Harmonize's life. Kajala Masanja, also known as Frida Kajala, graced his journey, their encounter a dance of passion and serendipity. Feza Kessy, Sophie, Shanteel, and Briana Jai, each a radiant star in her own right, intertwined their lives with his, igniting sparks of desire and fostering unique connections. Yet amidst the ever-changing rhythm of romantic encounters, Harmonize finds solace and companionship in the radiant spirit of Sishkikii, a lady whose presence resonates with synchronicity and shared aspirations, painting new strokes upon the canvas of his heart.
And in the realm of fatherhood, Harmonize's essence expands, embracing the role of a guiding light for his beloved offspring. The blessings of fatherhood have graced his path, leaving an indelible imprint upon his soul. Shanteel and Frida Kajala, bearers of his love's legacy, have illuminated his world, their presence serving as a testament to the joys and responsibilities that fatherhood entails.
Discography
Albums
Afro Bongo (2019)
Afro East (2020)
High School (2021)
Made For Us (2022)
EPs
Singles
Kainama (2019)
Uno (2020)
Sandakalawe (2021)
Teacher (2021)
Sorry (2021)
Moyo Wangu (2022)
Kwangwaru (2022)
Nitasubiri (2022)
Net Worth
Harmonize's net worth is estimated at $2 million. He has earned wealth through his music career, which has seen him release several hit songs, including Aiyola, Kwangwaru, and Never Give Up.
---
---
He has also earned money through endorsements, advertising, and record labels.
---
---
---
---
---

Post Your Bio, Music, Quest Post & More On TheCityCeleb
---
---


---
---
---