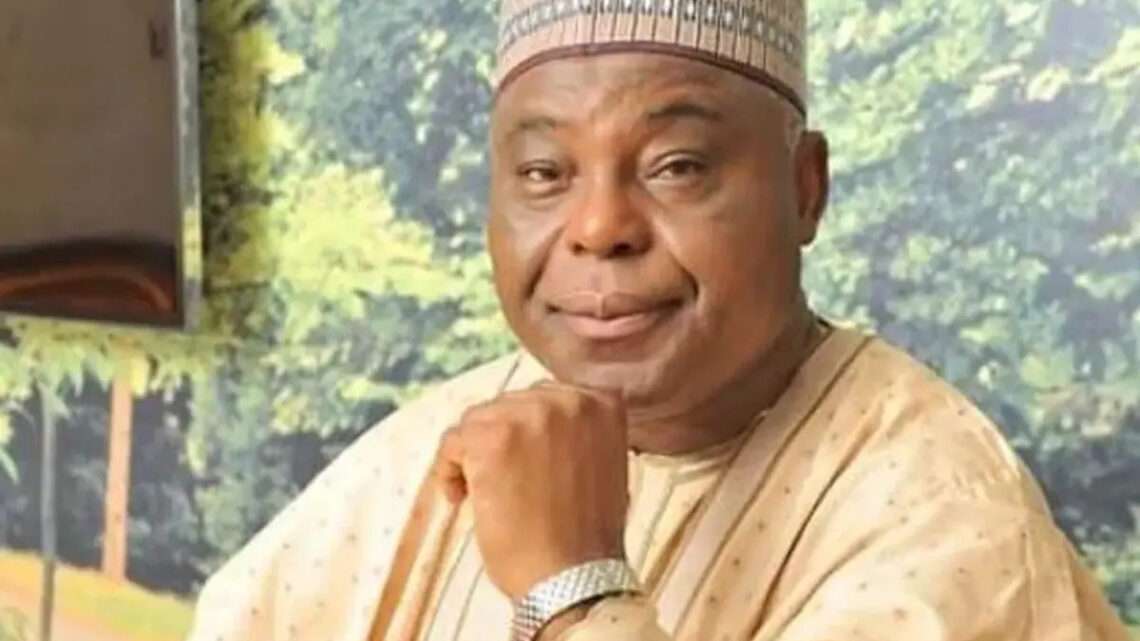 Raymond Dokpesi Biography: Age, Wife, Net Worth, Children, Cause Of Death, News, Religion
May 29, 2023
---
Biography
Chief Raymond Anthony Aleogho Dokpesi (born 25 October 1951), addressed as Raymond Dokpesi, was a renowned Nigerian businessman, politician, media mogul, and activist. His name reverberated throughout the Nigerian media landscape as the visionary founder of DAAR Communication and Africa Independent Television (AIT), a formidable media company.
His influence extended beyond the realm of business. In 2015, he assumed the pivotal role of organizing committee chairman for the People's Democratic Party national conference, showcasing his astute leadership and commitment to democratic ideals.
However, Raymond Dokpesi's journey had its share of challenges. March 2020 marked the onset of a trial on corruption charges, a tumultuous chapter that tested his resilience and determined resolve to seek justice. Despite the storm, he persevered, navigating the complex legal landscape with unwavering determination.
In a twist of fate, Raymond Dokpesi encountered yet another trial—a battle against the perils of COVID-19. Becoming a survivor in May 2020, he exemplified the strength of the human spirit and emerged as a symbol of hope in the face of a global crisis.
Raymond Dokpesi

Raymond Dokpesi: History ‧ Bio ‧ Photo

Wiki Facts & About Data
Full Name:
Raymond Anthony Aleogho Dokpesi
Stage Name:
Raymond Dokpesi
Born:
25 October 1951 (age 71 years old)
Place of Birth:
Ibadan, Oyo, Nigeria
State Of Origin:
Edo State
Nationality:
Nigerian
Height:
1.58 m
Parents:
Williams Ayaoghena Dokpesi, Alice Aishetu Dokpesi
Siblings:
6
Spouse:
Tosin Dokpesi, Angela Dokpesi
Died:
29 May 2023, Abuja, Nigeria
Children:
Raymond Dokpesi Jr, Homto Zaida Dokpesi, Regina Dokpesi
Occupation:
Businessman • Politician
Net Worth:
$50 million
Tragically, following the conclusion of the 2023 Ramadan fasting, Raymond Dokpesi was struck by a stroke, a solemn reminder of life's fragility. Despite the best efforts of medical professionals and the support of his loved ones, he eventually succumbed on May 29, 2023.
His legacy is etched into the fabric of Nigeria's history—proving his entrepreneurial prowess, political engagement, and dedication. His contributions will forever resonate, inspiring future generations to strive for excellence and leave an indelible mark on society.
Though his physical presence may be absent, his spirit lives on, a guiding light illuminating the path toward progress and transformation. Raymond Dokpesi is a name that shall forever echo in the annals of Nigerian greatness.
Early Life & Education
Raymond Dokpesi, a remarkable Nigerian figure, was born on October 25, 1951, in the vibrant city of Ibadan, Oyo State. Hailing from the indomitable lineage of Edo State, he was raised in the embrace of a family rooted in ambition and tradition. His father, the enterprising Williams Ayaoghena Dokpesi, carved a path in business, while his revered mother, Alice Aishetu Dokpesi, held esteemed status as a chief within their community. He had six siblings.
Raymond Dokpesi's educational journey began in the prestigious halls of Loyola College in Ibadan, where his thirst for knowledge was nurtured. Seeking to explore his artistic inclinations, he found solace and creative expression in the inspiring grounds of Immaculate Conception College (ICC) in Benin City, where he cultivated a dance and theater group that ignited his passion for the arts.
Fueling his intellectual pursuits, Raymond Dokpesi pursued a bachelor's degree in marine engineering at the esteemed University of Benin, Edo State. Driven by an insatiable hunger for knowledge, he embarked on an international adventure, venturing to the University of Gdansk in Poland, where he further honed his expertise, earning a master's degree in marine engineering. Notably, his educational endeavors were buoyed by the support of Alhaji Bamanga Tukur.
Career
Raymond Dokpesi, a notable figure in the Nigerian media field, left an indelible imprint on the industry with his visionary initiatives. His brainchild, DAAR Communications, emerged as a formidable juggernaut, reshaping the Nigerian media landscape.
At the forefront of his ventures was the inception of Africa Independent Television (AIT), a pioneering privately-owned television network that sent shockwaves through the media milieu, redefining the very essence of broadcasting in Nigeria.
Yet, Raymond Dokpesi's entrepreneurial spirit knew no bounds, venturing beyond the confines of media. He unfurled the Nigerian Compass newspaper, an intellectual beacon that enriched the media landscape with its insightful chronicles and captivating narratives. Moreover, he masterminded the establishment of Raypower FM, a vanguard radio station that harmonized voices and enraptured the populace across the nation.
Raymond Dokpesi's sphere of influence transcended media as he delved into the intricate tapestry of Nigerian politics, becoming a champion within the ranks of the People's Democratic Party (PDP), assuming multifaceted roles that fortified the party's organizational fabric.
In the annals of history, 1989 etched a milestone as he birthed his media conglomerate, DAAR Communications Plc, which burgeoned into an indomitable entity, ascending to the upper echelons of Nigeria's news hierarchy. DAAR Communications is the steward of Africa Independent Television (AIT), an eminent bastion of broadcasting prowess, revered for its detailed reportage, enthralling programming, and cinematic marvels that provoke cogitation.
Personal Life
Being a family man, Raymond Dokpesi has valued the importance of his family in his life. He is wed to Angela Dokpesi, and they have a large family. The accomplishments of Raymond Dokpesi's children continue the tradition of distinction in the family.
One of Raymond's adult children, Regina Dokpesi, is well-known. For the Nigerian media company DAAR Communications Plc, which her father started, Regina Dokpesi serves as an on-air personality. He also has other children, Raymond Dokpesi Jr and Homto Zaida Dokpesi. As a polygamous family man, his other wife is named Tosin Dokpesi.
The chairman of DAAR Communications Plc, Raymond Dokpesi, has faced various difficulties in his personal life. He made the error of getting into polygamy out of family disputes, which he now views as one of the biggest regrets of his life.
He had been married to several women before, and his second marriage was brought on by domestic issues. Despite being a committed Catholic, he acknowledges that he was forced to accept polygamy because of the situation.
Despite his problematic marital situation, Dokpesi cherishes his first wife, a Polish immigrant. He had wanted to be with her for the rest of his life. She had to stay with her parents in Poland because she was their only child. Therefore they were physically apart.
---
---
Philanthropy
Building community schools and offering scholarships to aspiring kids to attend academic institutions are two things Raymond Dokpesi has done.
Controversy
Raymond Dokpesi was detained on October 4, 2010, for allegedly taking part in a car bombing in Abuja. After being held for nine hours, he was freed, and he later sued the nation's secret police for allegedly torturing him.
He apologized publicly on behalf of the PDP party for the poor management of Nigeria under PDP regimes on November 11, 2015.
Health Challenge
Recently, Raymond Dokpesi has experienced health challenges affecting his personal and professional life. In 2017, he suffered a stroke that required intensive medical attention and rehabilitation. He did, however, display tenacity and a strong will to heal.
In 2020, Raymond Dokpesi and a few of his family tested positive for COVID-19. Despite the virus's severity, he managed to survive and utilized his ordeal to spread knowledge of the pandemic's effects.
Cause Of Death
Family members claim Raymond Dokpesi died while receiving medical care at an Abuja hospital. After Ramadan fasting, he suffered a stroke and is currently recovering.
He was electrocuted while using the equipment during a typical gym exercise, which led to a stroke and, regrettably, his death.
Net Worth
Raymond Dokpesi's contributions to the media industry and his entrepreneurial ventures brought his financial prosperity. He became one of Nigeria's most influential and successful businessmen, with a net worth estimated at $50 million.
Social Media
---
---
---
---
---

Post Your Bio, Music, Quest Post & More On TheCityCeleb
---
---


---
---
---