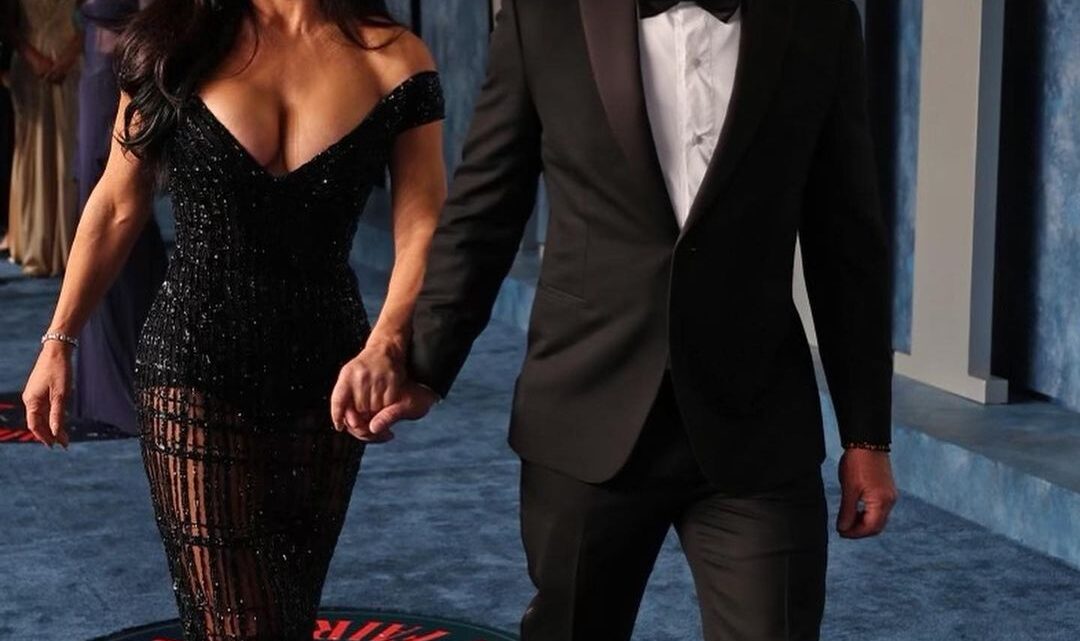 Jeff Bezos' girlfriend Lauren Sanchez Biography: Net Worth, Age, Children, Plastic Surgery, Height, Instagram, Images
Posted By
Lorenza Nicolas

---
Biography
Lauren Sanchez (born December 19, 1969), known by her birth name Lauren Wendy Sánchez, is a magnetic force in the media world. Hailing from the United States, she juggles multiple roles as a media personality, actress, producer, pilot, and entrepreneur, showcasing her diverse talents and captivating audiences.
Her name has become synonymous with news anchoring and entertainment reporting, where she has dazzled viewers with her magnetic presence and engaging storytelling. From her beautiful appearances as a distinguished guest on the esteemed talk show, The View to her dynamic co-hosting gig on KTTV Fox 11's beloved Good Day LA, Lauren Sanchez has firmly established herself as a formidable presence in the industry.
Through her anchor position on Fox 11's esteemed Ten O'clock News, Lauren Sanchez has charmed viewers with her poise and professionalism, delivering the latest updates with finesse and garnering admiration for her astute reporting. Additionally, her roles as an anchor and special correspondent on the renowned entertainment show Extra have allowed her to delve into celebrity news, captivating audiences with her wit and charm.
Beyond the small screen, Lauren Sanchez's star power has extended to esteemed talk shows such as Larry King Live, The Joy Behar Show, and Showbiz Tonight, where she has graced the stage with her unique insights and fascinating conversations. Her ability to effortlessly navigate discussions and offer thought-provoking perspectives has earned viewers and industry insiders respect.
Lauren Sanchez

Lauren Sanchez: History ‧ Bio ‧ Photo

Wiki Facts & About Data
Full Name:
Lauren Wendy Sánchez
Stage Name:
Lauren Sanchez
Born:
19 December 1969 (age 53 years old)
Place of Birth:
Albuquerque, New Mexico, United States
Education:
University of Southern California
Nationality:
American
Height:
1.6 m
Parents:
Ray Sanchez, Eleanor Sanchez
Siblings:
Michael Sanchez, Elena Sanchez
Spouse:
Patrick Whitesell (m. 2005–2019)
Boyfriend • Partner:
Jeff Bezos (eng'd. 2023), Henry Simmons (2002-2003), Derek Fisher (2001-2002), Tony Gonzalez (2000-2001), Anthony Miller (1996-2000), Rory Markas
Children:
Nikko Gonzalez, Evan Whitesell, Ella Whitesell
Occupation:
Actress • TV Personality
Net Worth:
$30 million
Early Life & Education
Lauren Sanchez, a captivating soul from Albuquerque, New Mexico, was born on December 19, 1969. Born into a family of aviation enthusiasts, with her father, Ray Sanchez as a flight instructor and mechanic and her loving mother, Eleanor Sanchez, by her side, Lauren's journey began amidst a backdrop of dreams and aspirations. Growing up alongside her cherished siblings, Michael Sanchez and Elena Sanchez, she embraced a world brimming with possibilities.
Nurtured by the vibrant charm of Albuquerque, Lauren Sanchez's formative years unfolded with a blend of curiosity and ambition. At Sedona Red Rock High School, she shone brightly as an involved student, immersing herself in the tapestry of extracurricular activities. Whether gracing the stage of the esteemed drama club, leaving her mark in student government, or cheering on her classmates, Lauren's spirit radiated through every endeavor.
With high school behind her, Lauren Sanchez ventured towards the sun-drenched shores of Torrance, California, where El Camino College awaited her eager spirit. Within those hallowed halls, her passion for communication flourished, laying the foundation for her future endeavors. She emerged with an associate's degree in communications, a stepping stone toward her grand aspirations.
Fueling her thirst for knowledge and growth, Lauren Sanchez's path led her to the illustrious University of Southern California (USC). There, amidst the vibrant atmosphere and intellectual vigor, she delved into the world of broadcast journalism. Like an artist honing her craft, she sharpened her skills, culminating in the acquisition of a bachelor's degree that would become a cornerstone of her future achievements.
With her academic journey complete, Lauren Sanchez's professional odyssey unfurled before her. Phoenix, Arizona beckoned, offering her the chance to unleash her tenacious spirit as a reporter for KTVK-TV. Armed with a hunger for truth and an insatiable curiosity, she fearlessly pursued stories, immersing herself in journalism and leaving an indelible mark.
But the universe had even greater plans for Lauren Sanchez's boundless talents. The enchanting realm of entertainment beckoned, and she stepped into the spotlight. From the captivating sets of The View to the vivacious energy of KTTV Fox 11's Good Day LA, Lauren's presence infused each moment with an irreplaceable charm. As an anchor on Fox 11's Ten O'clock News and a special correspondent on Extra, she commanded attention with her insightful reporting and magnetic on-screen presence.
Beyond the confines of television, Lauren Sanchez's journey extended to captivating interviews on Larry King Live, The Joy Behar Show, and Showbiz Tonight. Her ability to engage with guests and bring their stories to life captivated audiences and solidified her reputation as a multifaceted media personality.
Career
Lauren Sanchez, a multifaceted force of nature in the media world, embarked on her illustrious career with a humble yet pivotal role at KCOP-TV in Los Angeles in 1995. As she navigated the station's corridors, her passion for storytelling burned bright, propelling her to new horizons in the broadcasting realm. From an anchor and reporter at KTVK-TV in Phoenix to a captivating presence on Extra, her journey was marked by a relentless pursuit of excellence.
In 1998, Lauren's star ascended even higher as she graced the screens of millions, captivating audiences with her insightful reporting and engaging interviews. During this time, her remarkable talents were recognized with an Emmy nomination, solidifying her position as a true trailblazer in the world of entertainment journalism.
But Lauren Sanchez's ambitions did not stop there. Driven by an insatiable thirst for new experiences, she delved into the realm of sports, becoming an anchor and correspondent for the esteemed sports magazine Going Deep. Her infectious enthusiasm and magnetic presence won the hearts of sports enthusiasts worldwide, while her foray into FSN's Best Damn Sports Show Period showcased her ability to merge the worlds of entertainment and athletics seamlessly.
Returning to familiar territory, Lauren Sanchez once again graced the stage at KCOP-TV as an anchor for UPN 13 News. Her dedication to delivering the truth with eloquence and authenticity garnered her an esteemed Emmy Award, a testament to her unwavering commitment to journalistic excellence.
In 2004, a new chapter beckoned as Lauren Sanchez became the co-host for Good Day LA's beloved morning show on KTTV Fox 11. With her infectious energy and vibrant personality, she became a cherished presence in countless households, brightening mornings and fostering community. As the sun set, she gracefully transitioned into the Fox 11 o'clock news realm, guiding viewers through the day's events with unwavering professionalism and a deep-rooted passion for keeping them informed.
Beyond her endeavors in front of the camera, Lauren Sanchez's spirit soared to new heights. In 2016, she spread her wings as a licensed pilot, exploring the skies and embracing the freedom of flight. This newfound passion led her to establish Black Ops Aviation, a visionary company dedicated to capturing awe-inspiring aerial footage that ignited the imaginations of audiences worldwide.
Awards & Nominations
Lauren Sanchez has won numerous awards and nominations as a television host, entertainment reporter, and helicopter pilot. Some of her most notable awards include:
Emmy Award for Outstanding Feature Story in a Regularly Scheduled Newscast (2009)
Gracie Award for Outstanding Anchor, News (2010)
40 Under 40 Award by The Hollywood Reporter (2013)
Women in Aviation International's Gold Wing Award (2016)
Ellis Island Medal of Honor (2017)
Lauren Sanchez has also been nominated for several other awards, including:
Emmy Award for Outstanding Morning News Program (2008)
Emmy Award for Outstanding News Special (2010)
Emmy Award for Outstanding Anchor, News (2011)
Gracie Award for Outstanding Anchor, News (2012)
40 Under 40 Award by The Hollywood Reporter (2014)
Women in Aviation International's Gold Wing Award (2017)
Personal Life
Lauren Sanchez, a woman of many facets, hails from the enchanting city of Albuquerque, New Mexico. She carries the vibrant heritage of her second-generation Mexican-American roots close to her heart. Guided by her father's entrepreneurial spirit and mother's nurturing warmth, Lauren blossomed into a remarkable individual with a thirst for success.
---
---
In the realm of love, fate led Lauren Sanchez to cross paths with the esteemed Patrick Whitesell, a luminary in Hollywood agency and a founding partner of Endeavor Talent Agency. Their love story commenced in 2005, and together they embarked on a journey that blended their lives and dreams. Two beautiful children, a son, and a daughter, blessed their union, bringing abundant joy and fulfillment.
Lauren Sanchez's ambitions extended beyond love and family as she carved a path for herself in media and aviation. Her passion for journalism propelled her into the captivating world of television, starting as a desk assistant at KCOP-TV in Los Angeles in 1995. From there, she spread her wings as an anchor and reporter for KTVK-TV in Phoenix, showcasing her innate talent and charisma.
1998 marked a significant turning point in Lauren Sanchez's career when she joined the popular entertainment show Extra as a reporter, earning accolades and even an Emmy nomination for her outstanding work. Her magnetic presence and eloquent storytelling captured nationwide viewers' hearts. During this time, she also delved into the realm of sports, serving as an anchor and correspondent for the esteemed Fox Sports Net.
Never one to rest on her laurels, Lauren Sanchez's insatiable curiosity led her to explore the skies above. In 2016, she embarked on a new adventure, obtaining her helicopter pilot's license and establishing Black Ops Aviation, a company dedicated to aerial film and production. Her courage to venture into uncharted territory as a skilled pilot showcases her indomitable spirit and thirst for new horizons.
Beyond her professional endeavors, Lauren Sanchez's compassionate nature shines brightly through her philanthropic efforts. She has dedicated her time and energy to organizations such as the Make-A-Wish Foundation and the American Red Cross, lending her support to those in need and making a positive impact on the lives of others.
Meaningful connections and relationships have punctuated Lauren Sanchez's journey through life. Before her union with Patrick Whitesell, she was married to the esteemed former NFL tight end Tony Gonzalez, with whom she shares a son named Nikko Gonzalez. Their union may have ended, but the bond between mother and child remains unbreakable. With Patrick, Lauren Sanchez experienced the joys and challenges of matrimony, cherishing their two children, Ella Whitesell and Evan Whitesell, as precious gifts illuminating their lives.
Subsequently, destiny smiled upon her again as she embarked on a new chapter with the esteemed Hollywood agent Patrick Whitesell, sealing their union in matrimony in 2005. Their sacred bond bore fruit in the form of two radiant offspring, Evan Whitesell and Ella Whitesell, illuminating their lives with their radiant presence.
Lauren Sanchez has in the past dated celebrities like Henry Simmons (2002-2003), Derek Fisher (2001-2002), Tony Gonzalez (2000-2001), Anthony Miller (1996-2000), and Rory Markas.
In a twist of fate, the enigmatic entrepreneur Jeff Bezos entered Lauren's life, igniting a new chapter of love and companionship. Their engagement in May 2023 heralds a promising future filled with shared dreams and aspirations.
Filmography
Fantastic Four (2005) as Reporter
Fantastic Four: Rise of the Silver Surfer (2007) as Fox News Reporter
Girlfriend's Day (2017) as Newscaster
Ted 2 (2015) as Boston Newscaster
White House Down (2013) as Reporter
Celeste & Jesse Forever (2012) as News Reporter
Lesser of the Two (2011) as Olivia
We Bought a Zoo (2011) as TV Anchor
The Big Picture (2010) as Layla
Days of Our Lives (2010) as Cece Chavez (2 episodes)
NCIS (2010) as NCIS Agent Sanchez (1 episode)
Gotham Tonight (2008) as Lydia Filangeri (3 episodes)
Killer Movie (2008) as Margo Moonhead
Dirt (2008) as Entertainment Anchor #1 (1 episode)
College Road Trip (2008) as News Anchor
Television
The View (2000-2014) as Guest Host (10 episodes)
Good Day LA (2011-2017) as Reporter / Substitute Co-Hostess
The Talk (2011) as Guest Co-Host
That's So Hollywood (2006) as Self
Randy Jackson (2005) as Self
So You Think You Can Dance (2005) as Hostess / Performer
Jimmy Kimmel Live! (2005) as Self
The Best Damn Sports Show Period (2003) as Self
Fox Sports News (1996) as Self
Fox News (1987) as Self
My 13 News (1954) as Self
Net Worth
Lauren Sánchez's net worth is estimated at $30 million. She is an American news anchor and entertainment reporter who is also Jeff Bezos' girlfriend.
Sánchez has a long history in the media, having worked for Fox News, Extra, and KNBC, among others. She is also a successful businesswoman who owns Black Ops Aviation, a production company.
Social Media
Instagram: @laurenwsanchez
Twitter: @laurensanchez
Facebook: Lauren Sanchez
LinkedIn: Lauren Sanchez
---
---
---
---
---

Post Your Bio, Music, Quest Post & More On TheCityCeleb
---
---


---
---
---