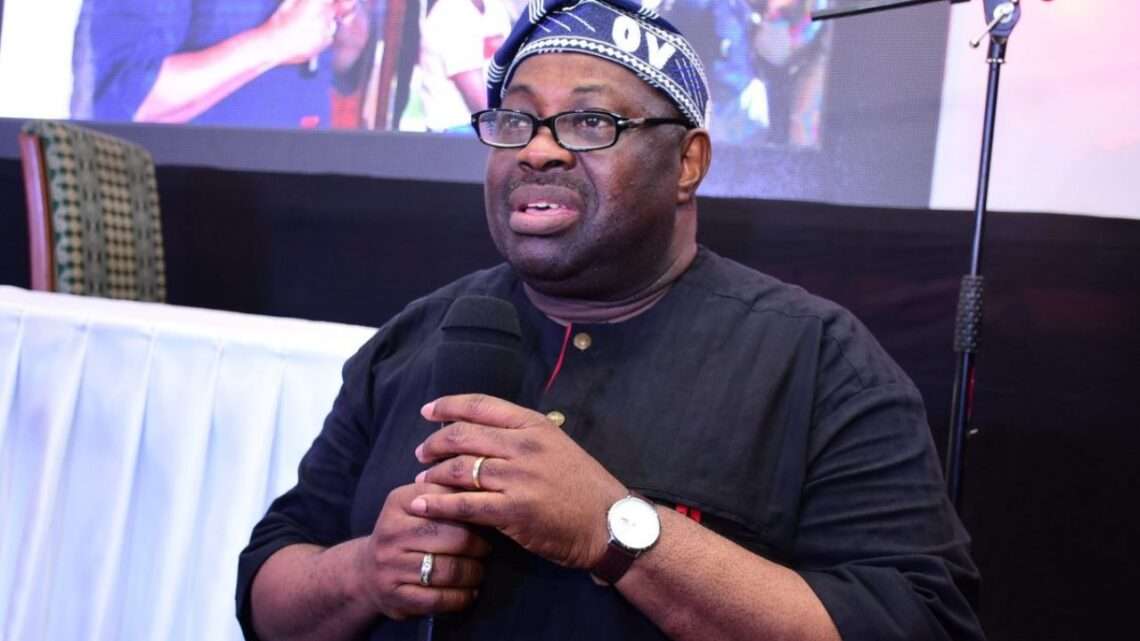 Dele Momodu Biography: Net Worth, Wife, State Of Origin, Age, Parents, Children, Twitter, House, Political Party, Instagram
May 29, 2023
---
Biography
Chief Dele Momodu (born May 16, 1960) is a mesmerizing Nigerian orator, a visionary publisher, businessman, politician, and an intrepid journalist. He has graced the realm of public discourse with his remarkable presence. As the CEO and publisher of Ovation International, an esteemed magazine renowned for its global reach and uncompromising commitment to Africa, he has illuminated the lives of countless individuals across continents.
With a voice that reverberates with conviction, Dele Momodu fearlessly confronts corruption and injustice, earning him acclaim and adversaries. His principles have led him on a path strewn with challenges, enduring imprisonments and detentions due to his political activism. Notably, in 2011, he valiantly stepped into the arena of Nigerian politics, vying for the presidency under the banner of the National Conscience Party, captivating the nation with his vision of transformation. Although victory eluded him on that occasion, his enduring influence and resonance within Nigerian politics remain undeniable.
Dele Momodu, a figure of intrigue and divisiveness, holds a position of tremendous influence in Nigeria's socio-political landscape. A steadfast advocate for democracy and human rights, he channels his unwavering commitment to amplifying the voices of the voiceless. His presence in public discourse has become synonymous with the quest for a more equitable society.
Dele Momodu

Dele Momodu: History ‧ Bio ‧ Photo

Wiki Facts & About Data
Full Name:
Chief Dele Momodu
Stage Name:
Dele Momodu
Born:
16 May 1960 (age 63 years old)
Place of Birth:
Ife, Osun, Nigeria
State Of Origin:
Osun State
Nationality:
Nigerian
Height:
1.55 m
Parents:
Mr. Momodu Abiodun Momodu, Mrs. Abiodun Momodu
Siblings:
Oladele Bolarinwa Ajayi, Feyisara Adeniran
Spouse:
Mobolaji Abiodun Momodu (m. 1992)
Education:
Obafemi Awolowo University
Children:
Eniafe Momodu, Korewa Momodu, Pekan Momodu, Yole Momodu
Occupation:
Journalist • Businessman
Net Worth:
$40 million
Early Life & Education
Dele Momodu, a remarkable figure from Ife in the vibrant land of Osun State, Nigeria, was born on May 16, 1960. Growing up as the cherished third and final sibling, he faced the challenges of life's tapestry with the love and support of his mother and extended family, navigating the loss of his father during his formative years.
Fueling his thirst for knowledge, Dele Momodu embarked on an educational journey at the prestigious Obafemi Awolowo University, immersing himself in English and Yoruba studies. Armed with a deep understanding of language and culture, he embarked on his professional voyage, setting sail into the vast world of journalism.
His path led him to respected newspapers like the African Concord and the Weekend Concord, where his words resonated with an eager audience hungry for truth and enlightenment. However, his aspirations extended beyond the confines of the written word, propelling him toward a new adventure.
In 1996, with a pioneering spirit and a twinkle of entrepreneurial ambition, Dele Momodu founded the iconic Ovation International magazine. Through its pages, he showcased the rich tapestry of African culture, bringing exposure and recognition to people across the globe, particularly in Africa. With each issue, he painted a vivid portrait of the dreams and aspirations of countless individuals, leaving an indelible mark on the cultural landscape.
But Dele Momodu's essence transcended the realms of media and communication. He donned the hat of an entrepreneur, fearlessly exploring new avenues, and became a compassionate philanthropist. The establishment of the Dele Momodu Foundation became a vessel of hope, offering scholarships to Nigerian students and championing various charitable causes.
While his convictions earned him praise and criticism, Dele Momodu stood firm in his commitment to social justice. His powerful voice condemned corruption and injustice, making him a divisive yet influential figure in Nigerian politics. In 2011, he took a bold step, running for the presidency under the National Conscience Party, leaving an indelible mark on the political landscape.
After graduating from university, Dele Momodu worked as a lecturer at the Oyo State College of Arts and Science in Ile-Ife. He became a private secretary for former Ondo State Deputy Governor, Chief Akin Omoboriowo. 
In 1986,  Dele Momodu managed the monarch's Hotel Royal Limited for the Ooni of Ife, Olubuse II.
Career
Dele Momodu, a renowned personality in Nigerian journalism, has led a remarkable career, weaving his words with finesse and challenging the status quo. From his early days at The Guardian and The Sunday Tribune, he honed his craft, captivating readers with his insightful prose. In 1988, destiny beckoned him to the Concord Group of Publications, where he ascended to the prestigious editor position for the illustrious Weekend Concord.
But his journey was not without turbulence. The tempestuous winds of political unrest swept him into the clutches of adversity. In 1995, Dele Momodu's commitment to truth and justice led to his imprisonment under the repressive rule of Sani Abacha. Yet, even behind bars, his spirit remained unbroken, a testament to his unwavering resolve.
Exile became both a refuge and a platform for his unwavering voice. Seeking solace in the United Kingdom and the United States, Dele Momodu continued to pour his thoughts onto paper, advocating for change and exposing the shadows of corruption. His resolute determination resonated with readers, ensuring his words reverberated across continents.
In 2002, the prodigal journalist returned to his homeland, heralding a new chapter in his career. The revival of Ovation International, his brainchild, shone a spotlight on African culture, casting a vibrant hue on the continent's stories and achievements. Through its pages, Dele Momodu became an agent of inspiration, empowering individuals to embrace their heritage and celebrate their accomplishments.
Not one to be confined to a single arena, Dele Momodu ventured into politics. In 2011, he fearlessly embraced the role of a presidential candidate under the National Conscience Party (NCP). Though victory eluded him, his presence left an unforgettable mark on the political landscape, capturing the hearts of many who yearned for a leader guided by integrity and compassion.
Dele Momodu's legacy extends beyond the realms of journalism and politics. He embodies the spirit of a Renaissance man, a champion of democracy and human rights. He challenges the status quo through his words, tirelessly advocating for a more just society. He stirs the hearts of the oppressed, empowering them to raise their voices and forge a path toward a brighter future.
Social Media
Twitter: @delemomodu
Facebook: Dele Momodu
Instagram: delemomodu
YouTube: Dele Momodu
LinkedIn: Dele Momodu
Personal Life
Dele Momodu is the son of retired public servant Chief Momodu Abiodun Momodu and Chief Mrs. Abiodun Momodu. He has a brother, Oladele Bolarinwa Ajayi, and a sister, Feyisara Adeniran, as siblings. 
Mobolaji Abiodun Momodu is Dele Momodu's wife. Eniafe Momodu, Korewa Momodu, Pekan Momodu, and Yole Momodu are their four children. He got married to his wife, Mobolaji Abiodun Momodu, in 1992.
Net Worth
Dele Momodu is a Nigerian publisher, businessman, and politician who has a net worth of $40 million. He founded and published Ovation International, a popular weekly magazine in Nigeria.
---
---
Dele Momodu also owns the Momodu Group, a diversified business empire interested in real estate, hospitality, and media.
---
---
---
---
---

Post Your Bio, Music, Quest Post & More On TheCityCeleb
---
---


---
---
---