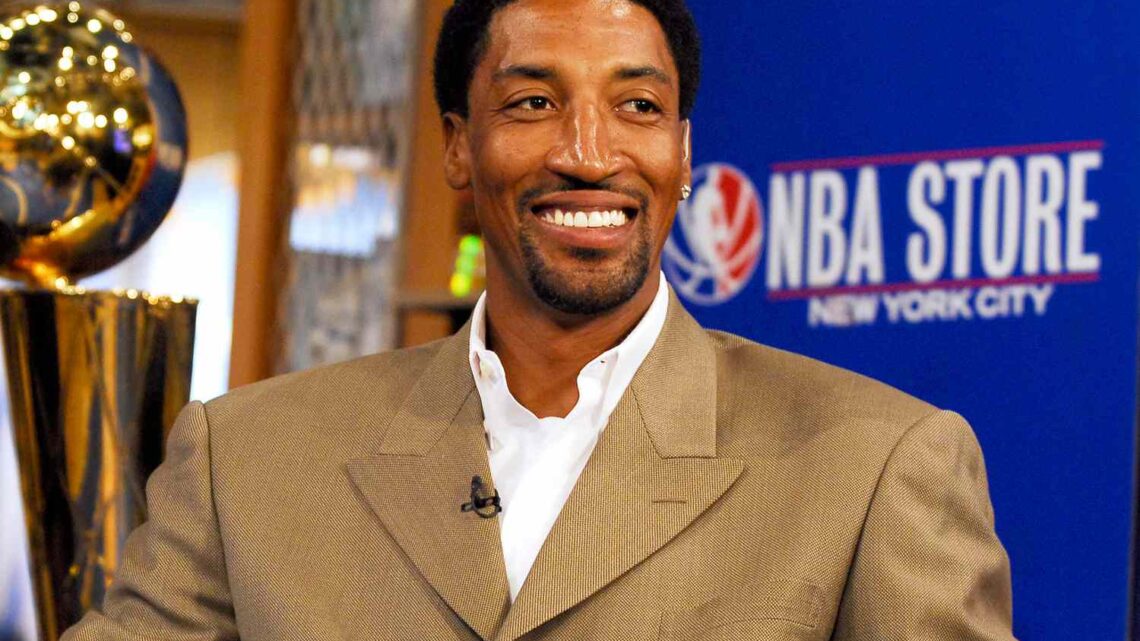 Scottie Pippen Biography: Net Worth, Wife, Age, Height, Children, Stats, Parents
---
Biography
Scotty Maurice Pippen Sr. (born September 25, 1965) is a respected figure in American professional basketball, fondly known as Scottie Pippen.
His name carries a legacy of excellence and triumph, forged through an illustrious career spanning 17 remarkable seasons in the revered National Basketball Association (NBA). During his tenure with the iconic Chicago Bulls, Scottie Pippen etched his name in the annals of sporting greatness, securing six impressive NBA championships.
Scottie Pippen's artistry on the court was unparalleled, earning him the distinction of being regarded as one of the finest small forwards to have graced the game. His defensive prowess was extraordinary, evidenced by his ten appearances on the NBA All-Defensive First Team. He possessed an innate ability to thwart opponents with skilful precision, leaving a lasting impact on the game and solidifying his place among the basketball elite. His exceptional contributions were also recognized with three appearances on the esteemed NBA First Team.
Beyond the borders of the NBA, Scottie Pippen proudly represented the United States on the international stage as a men's national basketball team member. In the illustrious Olympic Games, he showcased his prowess, capturing two coveted gold medals for his country in 1992 and 1996. His performances were a testament to his commitment to excellence and ability to thrive under pressure.
In 2010, Scottie Pippen's remarkable achievements were immortalized as he was inducted into the Naismith Memorial Basketball Hall of Fame. This prestigious accolade affirmed his status as a true legend of the game, a player whose impact transcended the court and inspired generations of aspiring athletes.
Scottie Pippen

Scottie Pippen: History ‧ Bio ‧ Photo

Wiki Facts & About Data
Full Name:
Scotty Maurice Pippen Sr.
Stage Name:
Scottie Pippen
Born:
25 September 1965 (age 58 years old)
Place of Birth:
Hamburg, Arkansas, United States
Education:
University of Central Arkansas
Nationality:
American
Height:
2.03 m
Parents:
Preston Pippen, Ethel Pippen
Siblings:
11
Spouse:
Larsa Pippen (m. 1997–2021), Karen McCollum (m. 1988–1990)
Girlfriend • Partner:
Claudia Bouza (2021), Yvette DeLeone (1994-1996), Sonya Roby (1993-1994), Chyvette Valentine (1987-1993), Madonna (rum.)
Children:
Scotty Pippen Jr., Antron Pippen, Justin Pippen, Preston Pippen, Sierra Pippen, Taylor Pippen, Tyler Roby Pippen, Sophia Pippen
Occupation:
Basketball Player
Net Worth:
$20 million
Early Life & Education
Scottie Pippen, the illustrious basketballer, was born on September 25, 1965, in the idyllic township of Hamburg, Arkansas. He emerged as the youngest scion amidst a colossal brood of twelve, nurtured by the loving embrace of his towering parents, Preston Pippen and Ethel Pippen.
Standing tall, like their progenitors, each member of the Pippen clan possessed a stature that seemed to touch the very heavens.
Amid modest means, Scottie Pippen's formative years were imbued with the hardships of his father's toil in a local paper mill. However, his true calling lay on the hardwood courts of Hamburg High School, where he exhibited his mettle as a masterful point guard. Leading his team to the hallowed grounds of state playoffs, Pippen's skills were undeniable, yet the allure of college scholarships eluded his grasp, a bittersweet twist in his budding narrative.
Destiny, however, had a grand design in store for the young virtuoso. The fates aligned to secure Scottie Pippen a full scholarship at the prestigious University of Central Arkansas. Here, amidst the hallowed halls of academia, his basketball acumen flourished. In his senior year, he reigned supreme as the Sun Belt Conference Player of the Year, adorning his journey with a crown of excellence.
His remarkable prowess did not go unnoticed, catching the discerning eyes of NBA scouts, leading to his selection as the fifth overall pick in the heralded 1987 NBA draft by the Seattle SuperSonics. Yet, a serendipitous trade soon unfolded, heralding Scottie Pippen's arrival in the majestic realm of the Chicago Bulls, forever intertwining his destiny with the Windy City.
Career
Scottie Pippen, a towering force at 6'8″, graced the NBA for an astounding 17 seasons, leaving an indelible mark on the game. He soared to new heights with the mighty Chicago Bulls as his canvas, capturing six impressive championships that cemented his legendary status.
Scottie Pippen's remarkable skills and versatility earned him seven All-Star selections and a place on the All-NBA team seven times. His defensive prowess was unmatched, as he garnered an astounding ten All-Defensive team nods and even claimed the prestigious NBA Defensive Player of the Year award in 1994.
The Bulls, recognizing Scottie Pippen's immense potential, selected him in the first round of the 1987 NBA Draft. Together, they embarked on a journey to the Eastern Conference Finals in 1989 and 1990. The pinnacle of their success came in 1991 when Pippen was integral in securing the team's first NBA championship. This triumph was followed by five more titles in the ensuing years, solidifying their dynasty.
Scottie Pippen's impact extended beyond championships. His defensive prowess and his offensive brilliance made him one of the most formidable small forwards of all time. He possessed an uncanny ability to shut down opponents while showcasing his scoring, rebounding, and playmaking skills.
After his unforgettable tenure with the Bulls, Scottie Pippen continued his basketball journey with the Houston Rockets and the Portland Trail Blazers. In 2008, he bid farewell to the NBA, leaving a legacy of excellence and inspiring future generations.
In recognition of his contributions to the game, Scottie Pippen was rightfully inducted into the esteemed Naismith Memorial Basketball Hall of Fame in 2010. His name will forever be etched in the annals of basketball history, a testament to his relentless pursuit of greatness and dedication to the sport.
Awards & Nominations
6× NBA champion (1991–1993, 1996–1998)
7× NBA All-Star (1990, 1992–1997)
NBA All-Star Game MVP (1994)
3× All-NBA First Team (1994–1996)
2× All-NBA Second Team (1992, 1997)
2× All-NBA Third Team (1993, 1998)
8× NBA All-Defensive First Team (1992–1999)
2× NBA All-Defensive Second Team (1991, 2000)
NBA steals leader (1995)
NBA anniversary team (50th, 75th)
No. 33 retired by Chicago Bulls
USA Basketball Male Athlete of the Year (1996)
2× Consensus NAIA All-American (1986, 1987)
No. 33 retired by Central Arkansas Bears
Social Media
Twitter: @ScottiePippen
Instagram: @scottiepippen
Personal Life
Scottie Pippen, a man of intertwining relationships and diverse chapters, has experienced the ebb and flow of love and marriage throughout his life.
His first foray into wedlock was in 1988, when he tied the knot with Karen McCollum. Together, they nurtured a blossoming family, blessed with the gift of eight children—Scotty Pippen Jr., Antron Pippen, Justin Pippen, Preston Pippen, Sierra Pippen, Taylor Pippen, Tyler Roby Pippen, and Sophia Pippen. These cherished children emerged as vibrant branches sprouting from the roots of Scottie Pippen's shared love with Karen McCollum, Sonya Roby, Yvette Deleone and Larsa Pippen. However, the bittersweet hand of fate cast a shadow of sorrow with the untimely passing of Antron Pippen in 2021, a poignant reminder of life's fragile nature.
Amidst the tapestry of romance, Scottie Pippen's heart found solace in the company of enchanting souls. The allure of Claudia Bouza graced his world in 2021, while the tender flame of affection burned between Yvette DeLeone from 1994 to 1996. Sonya Roby, a fleeting muse, captivated his senses from 1993 to 1994, and the tender bond with Chyvette Valentine lingered from 1987 to 1993. In a surprising twist, the legendary Madonna crossed paths with Scottie Pippen, leaving an indelible mark on their shared journey.
The next chapter of matrimony unfolded when Scottie Pippen joined Larsa Pippen in 1997. Together, they embarked on a shared path, nurturing dreams and building a life intertwined. Their union bore fruit in the form of precious offspring. Scotty Pippen Jr., their firstborn, entered the world in 2000, followed by the arrival of Preston Pippen in 2002. Justin Pippen, a cherished addition, graced their lives in 2005, while Sophia Pippen, their precious daughter, brought joy to their hearts on a wintry December in 2008. Notably, the luminous presence of Kim Kardashian as Sophia Pippen's godmother added a touch of magic to their familial tapestry.
---
---
Yet, as the currents of existence carried them forward, the ties that bound Scottie Pippen and Karen McCollum unravelled in 1990. Subsequently, his path intertwined with Larsa Pippen's connection, which ultimately concluded in 2021.
Net Worth
Scottie Pippen's accumulated net worth is estimated at around $20 million. He is a retired American professional basketball player who played 17 seasons in the NBA. During that time, he earned $109 million in salary alone. He also made tens of millions more from endorsements.
Scottie Pippen played nine seasons with the Chicago Bulls, where he was instrumental in winning six NBA championships. He was a seven-time NBA All-Star and the NBA All-Star Game MVP in 1994.
---
---
---
---
---

Post Your Bio, Music, Quest Post & More On TheCityCeleb
---
---


---
---
---