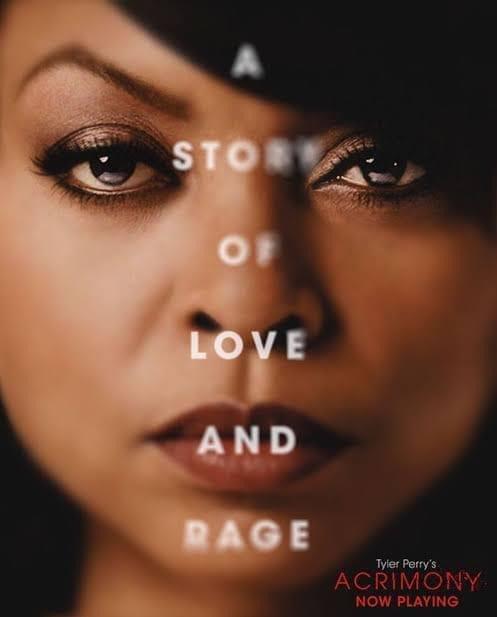 Acrimony – The Movie: Who Was Right and Who Was Wrong?
---
There are movies you watch and delete and there movies you watch and the writer in you comes alive. Acrimony belongs to the latter category. This was a movie that generated a lot of debate and controversy on who was right and wrong between the protagonist, Melinda and her ex-husband, Robert.
What if I tell you Robert had no part to take in the blame? Yes, he rode on her back on his bumpy ride to success but he didn't force her to do any of that. All she did she did out of love. I agree that no woman would have put up with Robert's failures for that long but she had a choice and she chose to stick with him although not to the very end.
---
So who is to blame for the dark events that unfurled at the tail end of Acrimony? The downfall of Melinda was a function of two risk factors: mental illness and fate.
Beneath the surface of a loving and supportive wife lurked an aspect of Melinda that many viewers failed to be cognizant of; her mental health.
Melinda suffered from Borderline personality disorder (BPD) also known as Emotionally Unstable Disorder (EUD). In my final year in medical school I was introduced to the subject of Psychiatry and it open a whole new world, helping me understand the mental undertone behind people's behavior and actions.
In Melinda case she had all the symptoms of BPD and I'll take advantage of this platform to educate you on the symptoms of the personality disorder.
Unstable Emotions
The patient experiences mood swings and changes in emotions from euphoria (short-lived feeling of excitement) to dysphoria (feeling of dissatisfaction)
Unstable Relationships
These unstable emotions eventually trickle down to interpersonal interactions with others thus damaging their relationships.
Impulsivity and Rage
Patients with BPD act on impulse without thinking about their actions. This could be seen when Melinda caught Robert cheating and rammed her car into his house.
Paranoia
Sufferers easily get suspicious of other people's motives. In Melinda's case she never stopped suspecting Robert after the first time he cheated even though he never cheated again. Her paranoia was set the stage for their break-up.
Idealization and Devaluation
One could easily see how Robert regressed from a charming angel to a horrific demon in the eyes of Melinda as she told her story.
Fear of Abandonment
Most patients can not deal with separation from a loved one. Separation leads to clinically significant distress. This was a trigger that eventually led to her outburst at the end of the movie. She couldn't process her another woman could reap the fruits of her years of sacrifice
Self-harm
This is where all the emotional rollercoaster rides eventually boils down to. The patient becomes a danger to his/her self and others.
In Melinda's case she shot her ex-husband and chopped of his foot before dropping to her own death.
So you see Melinda was a ticking emotional time bomb, a disaster waiting to happen and all it took to get her flying unhinged was a few emotional and environmental stressors which is often the case for most mentally ill people.
Written By: Prosper Okezie
---
---
---
---

Post Your Bio, Music, Quest Post & More On TheCityCeleb
---
---


---
---
---