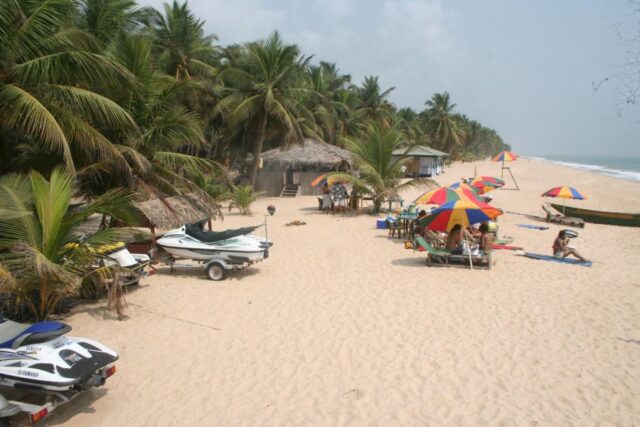 Challenges Facing Tourism in Nigeria: Proposed Solutions
---
Tourism is a dynamic industry with enormous potential to boost Nigeria's economy. The nation's varied topography, breathtaking scenery, and numerous historical landmarks should make it a thriving tourism hub. Yet, regrettably, this is not the case, and this essay sets out to examine the main issues with Nigerian tourism and offer some solutions.
Tourism is a complex industry that extends beyond mere vacationing. It significantly contributes to any nation's GDP, which is no different in Nigeria. The country has several tourist attractions, and if appropriately harnessed, they can significantly contribute to the nation's economic growth.
Yankari Game Reserve in Bauchi State, Olumo Rock in Ogun State, and Obudu Mountain Resort in Cross Rivers State are among Nigeria's most popular tourist destinations. The country also has numerous celebrations that are attractive to visitors, such as the Calabar Carnival and the Eyo Masquerade Festival (Eyo festival).
The critical factors limiting the industry's growth are inadequate infrastructure, insufficient investment, poor regulation, and inadequate promotion and marketing. These challenges call for a deliberate effort to create a conducive environment that welcomes tourists.
One potential solution to these issues is investing in adequate tourism infrastructure, both hard and soft. This can go a long way in creating a conducive environment for tourists. It is also essential to have better regulation, promotion, and marketing of the nation's tourism potential to attract more visitors worldwide.
Another vital consideration is sustainable tourism practices that prioritize responsible travel. This approach aims to preserve natural and cultural resources while promoting socio-economic development in local communities. It is a vital factor in ensuring the industry's growth is not at the expense of environmental degradation or cultural erosion.
Nigeria has enormous potential for the tourism industry, and with the right investments in infrastructure, promotion, and regulation, the industry can thrive. Sustainable tourism practices must be embraced to ensure the industry's growth does not come at the cost of environmental and cultural degradation. Nigeria's cultural and natural heritage is a treasure trove that can contribute significantly to the nation's economic growth, and it's high time that we harness this potential.
What is tourism?
Tourism is a fascinating and captivating industry that involves individuals traversing across different destinations for purposes varying from leisurely retreats to conducting business. It encompasses diverse activities, ranging from sightseeing to engaging in adventure tourism, cultural expeditions, ecotourism, and many other engaging pursuits. In recent times, tourism has emerged as one of the fastest-growing industries, driving significant economic, social, and environmental benefits for tourists and their destinations.
The financial gains that come with tourism have transformed it into a primary source of income for many countries globally, particularly those with unique cultural heritage, natural beauty, and historical significance. The industry provides direct employment to millions of people and creates numerous indirect job opportunities, ranging from transportation and hospitality services to food and retail offerings. Tourism contributes significantly to foreign exchange earnings, tax revenues, and developing infrastructural facilities in several nations.
Tourism has positive social and cultural impacts on tourists and local communities. It promotes cross-cultural understanding and increases awareness of diverse traditions, lifestyles, and beliefs while enhancing respect for the many different value systems across our world. Furthermore, tourism can generate a sense of pride and identity among local communities, preserving their heritage and culture while promoting sustainable development.
However, if not appropriately managed, tourism can lead to negative environmental, societal, and cultural impacts. Over-tourism, which results from too many tourists visiting a destination, can trigger environmental degradation, pollution, and overcrowding. It can also result in social and cultural disruptions, such as increased crime, traffic congestion, and loss of traditional values.
Sustainable tourism practices are a crucial necessity to minimize the negative impacts of tourism and maximize its benefits. Sustainable tourism entails responsible travel and respectful behaviour towards local communities, cultures, and environments. It prioritizes the preservation of natural and cultural resources, minimizes waste and pollution, and contributes to the socio-economic development of local communities.
Tourism is an enthralling and important industry that yields significant economic, social, and environmental benefits for tourists and destinations. It possesses the potential to foster sustainable development, cross-cultural understanding, and the preservation of natural and cultural resources. However, achieving these benefits requires responsible and sustainable practices to minimize negative impacts while ensuring that tourism's advantages are distributed fairly and equitably.
Many nations have benefited from the potential of tourism to greatly boost their GDP. It is clear from their tourist attractions' creation, upkeep, and marketing.
A tourist attraction is a location that attracts tourists due to its inherent or shown natural or cultural worth, historical significance, natural or architectural beauty, and ability to provide leisure, adventure, and entertainment. There are a ton of these places in Nigeria.
Problems of Tourism in Nigeria
Poor Infrastructure
Any country needs to have certain conditions in place for tourism to flourish, like excellent roads, reliable energy, and even potable water. All three of these are issues in Nigeria. Moving around will be difficult if the roads are terrible.
In addition, many of Nigeria's well-known tourist attractions are found in remote places devoid of these fundamental amenities. The absence of such necessities will deter some travelers.
The availability of hotels that meet international standards worries tourists from other countries visiting Nigeria. Top competitors in the tourism sector include the United States, France, Switzerland, Austria, Spain, and a few more nations.
These nations are home to a large number of hotels that adhere to international standards as well as high-quality road systems, seaports, and airports, all of which are essential components of the tourism infrastructure.
Tourism will continue to be hampered until this infrastructure is enhanced, abundant, and decentralized across the nation.
Security and Terrorism Issues
Nigeria's challenges with its tourism industry are largely due to terrorism, robberies, kidnappings, etc. Nigeria has experienced its fair share of insecurity problems, which deter tourists from visiting the nation.
It has gotten so terrible that even other countries are now alerting their nationals to the risks associated with travelling to the country.
As a secondary school student studying geography, I recall that we eagerly anticipated our field trips. Visits to notable locations and historical sites in the nation were necessary for the subject.
In Rivers State, my class saw the RISON Palm; we visited the Yankari Game Reserve in Bauchi State.
Today, however, with terrorist attacks on the rise, the kidnapping of Chibok and Dapchi pupils, and the widespread kidnapping of people in other areas of the nation, I doubt any school would want to take the danger of sending students and staff on such vacations. These horrifying tales are covered by print, radio, and visual media channels in the nation, which makes going there unpleasant.
International news organizations like CNN continuously inform people throughout the world about security threats. If we don't feel secure travelling in such nations, we can't assume that others will. If these terrorist assaults and security issues continue, Nigerian tourism will continue to suffer.
International misrepresentation of Nigeria
Due to its negative reputation overseas, Nigeria loses potential foreign tourists in the area of tourism. Many foreigners have a poor opinion of the nation due to problems including poverty, illiteracy, food shortages and hunger, diseases (such as AIDS, Lassa fever, and Ebola), and crimes like kidnapping, robbery, and murder.
Lack of proper management
The majority of our tourist attractions are underwhelmingly run. Our beaches are packed, and other tourist destinations lack the basics for guests' comfort and happiness.
Insufficient data
This is related to the previous point. The government appears to lack accurate information about Nigerian tourism. Of course, the information obtained is used to provide suitable accommodations for tourists.
Therefore, we will inevitably have a management issue if this is lacking. To plan and advance the field, we need sufficient data.
Nigeria offers a lot of potential. We can show the world a lot about our culture. Numerous indigenous art, crafts, and cultural practices must be preserved. Our tourism industry appears to be more interested in emulating other cultures. The country lacks the "packaging" to properly compete in the tourism industry.
Insufficient funding and investment
This is a significant issue given that tourism is one of the industries that employ the most people globally and that its growth has enormous positive effects on the economy.
Our budgets over the years show that tourism is underfunded compared to its potential. As a result, development in the industry is moving quite slowly.
Nigeria is a nation that has placed a great deal of emphasis on its oil industry while ignoring other vital economic sectors like agriculture and tourism.
Air travel problems
Nigerian airports perform at a far lower level than the global average. The airports of a nation are the first thing foreign visitors notice there. Nobody would want to return if airports provided subpar services.
Additionally, there are issues with abrupt flight cancellations and delays, rising ticket rates, and other issues with local air travel.
Insufficient training
To offer specialized training in the hospitality and tourist industries, the National Institute for Hospitality and Tourism was founded in 1994.
Unfortunately, this institute has only just been able to come close to meeting its objectives or the global standards set for institutions that are similar to it. Without question, proper tourist training is a crucial component of tourism growth.
Corruption
One word that is frequently used in Nigeria is this one. Our government has been severely damaged by corruption, and everyone can see this. The business has issues because of budget "padding," theft of public monies, and corruption at the highest levels of government.
Conclusion
Nigeria has been so heavily dependent on oil that it would be wise to heed the suggestions and act appropriately.
Indeed, Nigeria's tourism sector has enormous potential to benefit the general public and spur the nation's much-needed growth.
---
---
---
---

Post Your Bio, Music, Quest Post & More On TheCityCeleb
---
---


---
---
---