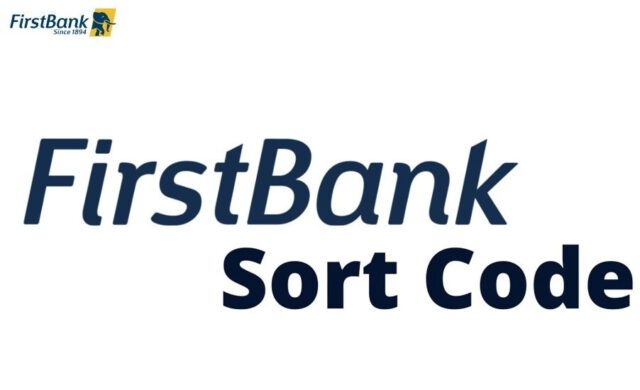 First Bank Sort Codes and Branches in Nigeria
---
You can find a 9-digit number printed on the MICR of your financial document and visible in the middle of your check leaf if you look at it closely. However, there are times when you need to know the First Bank sort code in Lagos or another location in Nigeria even though you don't have a check leaf in your hands.
How will you accomplish this task? Where should you look for the First Bank's branch or general sort codes?
Sort codes vary among various branches of the same financial institution. For instance, having knowledge of the First Bank sort code enables you to transfer money between branches of the same bank or between banks.
Table Below shows the complete list of First Bank Sort Codes in Nigeria
| S/N | SORT CODES | BRANCHES |
| --- | --- | --- |
| 1 | 011151003 | F.B.N. H/OFFICE FIN CONTROL |
| 2 | 011231017 | ABA [MAIN] |
| 3 | 011171025 | ABEOKUTA |
| 4 | 011241036 | AGBOR |
| 5 | 011151045 | APAPA |
| 6 | 011151058 | IJORA LAGOS |
| 7 | 011151061 | AJEGUNLE |
| 8 | 011231017 | ABA TOWN |
| 9 | 011181086 | AKURE MAIN |
| 10 | 011161093 | SULEJA |
| 11 | 011041100 | BENIN KING SQUARE |
| 12 | 011041113 | BENIN MISSION ROAD |
| 13 | 011201128 | BUKURU |
| 14 | 011121130 | BOMPAI |
| 15 | 011031149 | BAUCHI |
| 16 | 011201157 | BASSA |
| 17 | 011201160 | BARKIN LADI |
| 18 | 011161190 | BIDA |
| 19 | 011071206 | CALABAR |
| 20 | 011191212 | IBADAN (ORITA CHALLENGE) |
| 21 | 011191238 | UNIVERSITY OF IBADAN |
| 22 | 011071248 | UNIVERSITY OF CALABAR |
| 23 | 011171261 | IDIROKO |
| 24 | 011011279 | IKOT ABASI |
| 25 | 011311306 | DAMATURU |
| 26 | 011311306 | DARAZO |
| 27 | 011061326 | DAMBOA |
| 28 | 011311306 | DAMAGUN |
| 29 | 011241382 | EVWRENI (DELTA STATE) |
| 30 | 011011350 | EFA |
| 31 | 011291361 | ERIN-OSUN |
| 32 | 011071374 | EKORI |
| 33 | 011241382 | EVWRENI |
| 34 | 011251437 | ENUGU (MAIN) |
| 35 | 011241421 | DELTA |
| 36 | 011254137 | ENUGU (UWANI) |
| 37 | 011181442 | EFON ALAYE |
| 38 | 011151456 | EPE |
| 39 | 011041469 | EKPOMA |
| 40 | 011281478 | EGBE |
| 41 | 011011486 | ETINAN |
| 42 | 011251495 | EZZAMGBO |
| 43 | 011131502 | FUNTUA |
| 44 | 011091529 | FUFORE |
| 45 | 011251534 | EMENE IND. ESTATE |
| 46 | 011251547 | EHA ALUMONA |
| 47 | 011181552 | EMURE EKITI |
| 48 | 011181565 | ERIJIYAN EKITI |
| 49 | 011151579 | ORILE IGANMU |
| 50 | 011311607 | GASHUA |
| 51 | 011311610 | GEIDAM |
| 52 | 011031628 | GOMBE |
| 53 | 011221632 | GUSAU |
| 54 | 011091642 | GANYE |
| 55 | 011221658 | GUMMI |
| 56 | 011201665 | KURGWI |
| 57 | 011111674 | KADUNA KAWO |
| 58 | 011081681 | ABAJI |
| 59 | 011241696 | AGBARHO |
| 60 | 011091707 | HONG |
| 61 | 011261715 | HADEJIA |
| 62 | 011181727 | ILASA EKITI |
| 63 | 011221739 | ILLELA |
| 64 | 011251741 | INYI |
| 65 | 011181947 | IGBOGILA |
| 66 | 011181769 | IKARAM AKOKO |
| 67 | 011071785 | IKOM |
| 68 | 011151799 | IKORODU |
| 69 | 011191212 | IBADAN (BANK ROAD) |
| 70 | 011191814 | IBADAN (AGODI) |
| 71 | 011191827 | IBADAN (AMUNIGUN) |
| 72 | 011181837 | IKARE |
| 73 | 011151841 | IKEJA |
| 74 | 011011855 | IKOT EKPENE |
| 75 | 011291866 | ILESHA |
| 76 | 011151870 | AGEGE |
| 77 | 011151883 | IKEJA IND EST |
| 78 | 011151896 | ILUPEJU IND EST |
| 79 | 011141903 | ILORIN |
| 80 | 011151919 | IGANMU |
| 81 | 011151922 | ISOLO LAGOS |
| 82 | 011181934 | ILE OLUJI |
| 83 | 011181947 | IGBOKODA |
| 84 | 011291950 | IPETU-IJESHA |
| 85 | 011151964 | MURTALA MOHAMMED AIRPORT |
| 86 | 011171973 | IJEBU-ODE |
| 87 | 011181989 | IDO-ANI |
| 88 | 011291992 | ILE-IFE |
| 89 | 011202004 | JOS (MAIN) |
| 90 | 011202017 | JOS (MARKET) |
| 91 | 011202020 | JOS (SECRETARIAT) |
| 92 | 011202046 | UNIVERSITY OF JOS |
| 93 | 011232058 | ABA FACTORY ROAD |
| 94 | 011282066 | IYAMOYE |
| 95 | 011032070 | GAMAWA |
| 96 | 011282082 | AKPANYA |
| 97 | 011152099 | IKEJA (ALLEN AVENUE) |
| 98 | 011112107 | KADUNA (MAIN) |
| 99 | 011112110 | KADUNA (BANK ROAD) |
| 100 | 011112123 | KADUNA (SOUTH) |
| 101 | 011032148 | KALTUNGO |
| 102 | 011122155 | KANO (MAIN) |
| 103 | 011122168 | KANO (FAGGE TA KUDU) |
| 104 | 011032177 | KATAGUM AGENCY |
| 105 | 011162186 | KATCHA |
| 106 | 011222194 | KAURA NAMODA |
| 107 | 011162209 | KONTAGORA |
| 108 | 011132213 | KATSINA |
| 109 | 011052225 | KATSINA ALA |
| 110 | 011162238 | KAGARA |
| 111 | 011062245 | KONDUGA AGENCY |
| 112 | 011302250 | KARIM LAMIDO |
| 113 | 011152277 | KETU |
| 114 | 011142287 | KOSUBOSU |
| 115 | 011162296 | KUTA |
| 116 | 011152303 | MARINA BRANCH |
| 117 | 011152316 | BROAD ST LAGOS |
| 118 | 011152329 | LAGOS (M.MOHAMMED WAY) |
| 119 | 011152332 | OBUN-EKO BRANCH. |
| 120 | 011152345 | EBUTE-METTA LG |
| 121 | 011152358 | LAGOS (YABA) |
| 122 | 011152316 | INVESTMENT HOUSE |
| 123 | 011152374 | MOLONEY ST. BRANCH. |
| 124 | 011152387 | LAGOS (WESTERN HOUSE) |
| 125 | 011152390 | LAGOS (SURULERE) |
| 126 | 011152400 | LAGOS (FALOMO) |
| 127 | 011152413 | LAGOS (FED. SECTRIAT) |
| 128 | 011152426 | ABIBU-OKI BRANCH. |
| 129 | 011152439 | NIJ HOUSE BRANCH. |
| 130 | 011152442 | STOCK EXCHANGE BRANCH. |
| 131 | 011152455 | LAGOS (OREGUN) |
| 132 | 011152468 | LAGOS (OGBA) |
| 133 | 011152471 | LAGOS REGIONAL CENTRE |
| 134 | 011152484 | LAGOS (ALAUSA SEC.) |
| 135 | 011302496 | LAU |
| 136 | 011062503 | MAIDUGURI |
| 137 | 011132514 | MALLUM FASHI |
| 138 | 011162526 | MINNA |
| 139 | 011052539 | MAKURDI |
| 140 | 011092544 | MICHIKA |
| 141 | 011202554 | MANGU |
| 142 | 011152565 | MATORI BRANCH. |
| 143 | 011282574 | MOPA |
| 144 | 011092586 | MAYO-BALEWA |
| 145 | 011312606 | NGURU |
| 146 | 011102612 | NKWOAGU ISUOCHI |
| 147 | 011022624 | NKWELLE EZUNAKA |
| 148 | 011022637 | NNEWI |
| 149 | 011152646 | NAVY TOWN OJO |
| 150 | 011102667 | OKWELLE |
| 151 | 011242679 | OGWASHI-UKU |
| 152 | 011022682 | OGBUNIKE |
| 153 | 011282697 | OGORI |
| 154 | 011192703 | OGBOMOSO |
| 155 | 011022718 | ONITSHA (MAIN) |
| 156 | 011022721 | ONITSHA (NWOBODO AV.) |
| 157 | 011022734 | ONITSHA (IWEKA ROAD) |
| 158 | 011022747 | ONITSHA (BRG.HEAD MRKT.) |
| 159 | 011012757 | ORON |
| 160 | 011292768 | OSHOGBO |
| 161 | 011182771 | OWO |
| 162 | 011192787 | OYO |
| 163 | 011102793 | OWERRI |
| 164 | 011182807 | OKA AKOKO |
| 165 | 011182810 | ORE |
| 166 | 011282820 | OKENE |
| 167 | 011022831 | ONITSHA (WILLIAM ST.) |
| 168 | 011022844 | OTUOCHA |
| 169 | 011172859 | OGBERE |
| 170 | 011182865 | ONDO |
| 171 | 011152879 | OTA |
| 172 | 011052885 | OTURKPO |
| 173 | 011072894 | OBUBRA |
| 174 | 011212900 | PORT HARCOURT STATION ROAD. |
| 175 | 011212913 | PORT HARCOURT (TOWN) |
| 176 | 011212926 | PORT HARCOURT (AIRPORT) |
| 177 | 011212939 | PORT HARCOURT (TRANS-AMA |
| 178 | 011212942 | PORT HARCOURT (DIOBU) |
| 179 | 011212955 | PORT HARCOURT (ORIJE) |
| 180 | 011312978 | POTISKUM |
| 181 | 011222987 | KAMBA |
| 182 | 011022996 | NKPOR |
| 183 | 011153014 | REGISTRAR'S DEPARTMENT |
| 184 | 011163033 | RIJAU |
| 185 | 011193058 | IBADAN OLUYOLE ESTATE |
| 186 | 011183068 | OKEMESI |
| 187 | 011193074 | OKO |
| 188 | 011213080 | ODI |
| 189 | 011043098 | SABONGIDA-ORA |
| 190 | 011243102 | SAPELE MAIN |
| 191 | 011173117 | SHAGAMU |
| 192 | 011223122 | SOKOTO (MAIN) |
| 193 | 011113135 | SAMARU |
| 194 | 011243144 | SAPELE BOYO ROAD |
| 195 | 011153166 | SURULERE SHOPPING CENT |
| 196 | 011223177 | SHINKAFI |
| 197 | 011153182 | SOMOLU |
| 198 | 011033202 | TORO |
| 199 | 011033215 | TAFAWA BALEWA |
| 200 | 011223229 | TAMBAWAL |
| 201 | 011153234 | TIN CAN ISLAND |
| 202 | 011193249 | SAKI BRANCH |
| 203 | 011153250 | TREASURY DEPARTMENT |
| 204 | 011023267 | AWKA |
| 205 | 011103271 | AMARAKU |
| 206 | 011233280 | AMAOKWE ITEM, |
| 207 | 011153292 | NIGER HOUSE |
| 208 | 011233303 | UMUAHIA |
| 209 | 011013316 | UYO |
| 210 | 011013329 | UTU ETIM EKPO |
| 211 | 011013332 | UKAM |
| 212 | 011103349 | UMUOWA |
| 213 | 011303356 | MAYO NDAGA |
| 214 | 011123361 | KANO INT. AIRPORT |
| 215 | 011023377 | NIMO |
| 216 | 011063388 | UBA-KUMAGUM |
| 217 | 011103394 | URUALLA |
| 218 | 011053402 | VANDEIKYA |
| 219 | 011103417 | OWERRI DOUGLAS ROAD |
| 220 | 011053428 | NAKA |
| 221 | 011153438 | OKE ARIN BRANCH |
| 222 | 011153441 | ABIBU ADETORO STR. (BRANCH), V |
| 223 | 011283450 | OGUMA |
| 224 | 011253464 | OVOKO |
| 225 | 011103475 | OWERRI (BRANCH 2) |
| 226 | 011093488 | GULAK |
| 227 | 011013497 | ESSENE |
| 228 | 011243500 | WARRI |
| 229 | 011243513 | UGHELLI |
| 230 | 011113520 | KAFANCHAN |
| 231 | 011043535 | BENIN OREGBENI |
| 232 | 011153548 | NICHEMTEX INDUSTRIES (IKORODU) |
| 233 | 011043551 | AGBEDE BRANCH |
| 234 | 011063560 | NEW MAIDUGURI (M.MKT) |
| 235 | 011273570 | BIRNIN KEBBI |
| 236 | 011263580 | DUTSE |
| 237 | 011173599 | ARAROMI OBU |
| 238 | 011093608 | YOLA MAIN |
| 239 | 011033613 | YANA |
| 240 | 011283625 | LOKOJA |
| 241 | 011303631 | JALINGO |
| 242 | 011093640 | YOLA MARKET |
| 243 | 011033655 | AZARE |
| 245 | 011273664 | MUNGADI-MAIYAMA |
| 246 | 011063670 | KWAJAFA |
| 247 | 011303686 | BAMBUR |
| 248 | 011033697 | BURRA AGENCY |
| 249 | 011113708 | ZARIA |
| 250 | 011303712 | ZING |
| 251 | 011123727 | KANO (ZOO ROAD) |
| 252 | 011093734 | GARKIDA |
| 253 | 011123743 | KANO CLUB ROAD |
| 254 | 011273758 | ZURU |
| 255 | 011023762 | ABBA |
| 256 | 011223779 | SOKOTO (DANFODIO ROAD) |
| 257 | 011183796 | AKURE (MARKET) |
| 258 | 011283803 | AYANGBA |
| 259 | 011283816 | AJAOKUTA |
| 260 | 011183822 | ADO-EKITI |
| 261 | 011293835 | IJEBU-IJESHA |
| 262 | 011253846 | IKEM |
| 263 | 011233853 | ABA ARIARIA |
| 264 | 011183864 | IKERE EKITI |
| 265 | 011283874 | ISANLU-OYI |
| 266 | 011203883 | LAFIA |
| 267 | 011293893 | INISHA |
| 268 | 011323908 | ANKA |
| 269 | 011183916 | IFAKI-EKITI |
| 270 | 011283926 | ABEJUKOLO |
| 271 | 011153933 | AGBARA |
| 272 | 011233947 | AFIKPO |
| 273 | 011243953 | ASABA |
| 274 | 011183961 | IKOLE EKITI |
| 275 | 011283971 | ITOBE |
| 276 | 011193980 | AWE |
| 277 | 011103996 | AKATTA |
| 278 | 011084002 | ABUJA GARKI |
| 279 | 011254010 | NSUKKA |
| 280 | 011234027 | ABA ALAOJI |
| 281 | 011154039 | AKOWONJO |
| 282 | 011044042 | UGBOWO (BENIN) |
| 283 | 011254052 | EKWULOBIA |
| 284 | 011084060 | ABUJA MAIN |
| 285 | 011214076 | PORT HARCOURT (SHELL) |
| 286 | 011154097 | IKOTA |
| 287 | 011214102 | BONNY |
| 288 | 011214115 | YENEGOA |
| 289 | 011154123 | ADEOLA ODEKU |
| 290 | 011154136 | ALABA INT. MKT. OJO |
| 291 | 011154152 | DALEKO |
| 292 | 011244169 | WARRI SHELL |
| 293 | 011084170 | ABUJA AIRPORT |
| 294 | 011044181 | BENIN SILUKO ROAD BRANCH |
| 295 | 011154204 | ISOLO IND.ESTATE BR. |
| 296 | 011254214 | ABAKALIKI |
| 297 | 011014221 | EKET |
| 298 | 011204235 | SAMINAKA BRANCH |
| 299 | 011194248 | NEW GBAGI MKT. |
| 300 | 011154274 | TRADE FAIR |
| 301 | 011194293 | MOLETE BR. |
| 302 | 011174310 | MOSIMI |
| 303 | 011194329 | EDE |
| 304 | 011244334 | EKPAN |
| 305 | 011214348 | NEW PORTHARCOURT MAIN |
| 306 | 011085069 | ABUJA (JOS ROAD) |
| 307 | 011245155 | EFFURUN |
| 308 | 011215088 | BONNY ISLAND |
| 309 | 011215130 | PORT HARCOURT |
| 310 | 011155119 | IKOYI (KEFFI ROAD) |
| 311 | 011155148 | VICTORIA ISLAND |
| 312 | 011155106 | IKEJA (OBA AKRAN) |
| 313 | 011125123 | KANO (BOMPAI) |
| 314 | 011215046 | PORT HARCOURT |
| 315 | 011025039 | ONITSHA |
| 316 | 011154958 | OJODU/ISHERI |
---
---
---
---
---

Post Your Bio, Music, Quest Post & More On TheCityCeleb
---
---


---
---
---