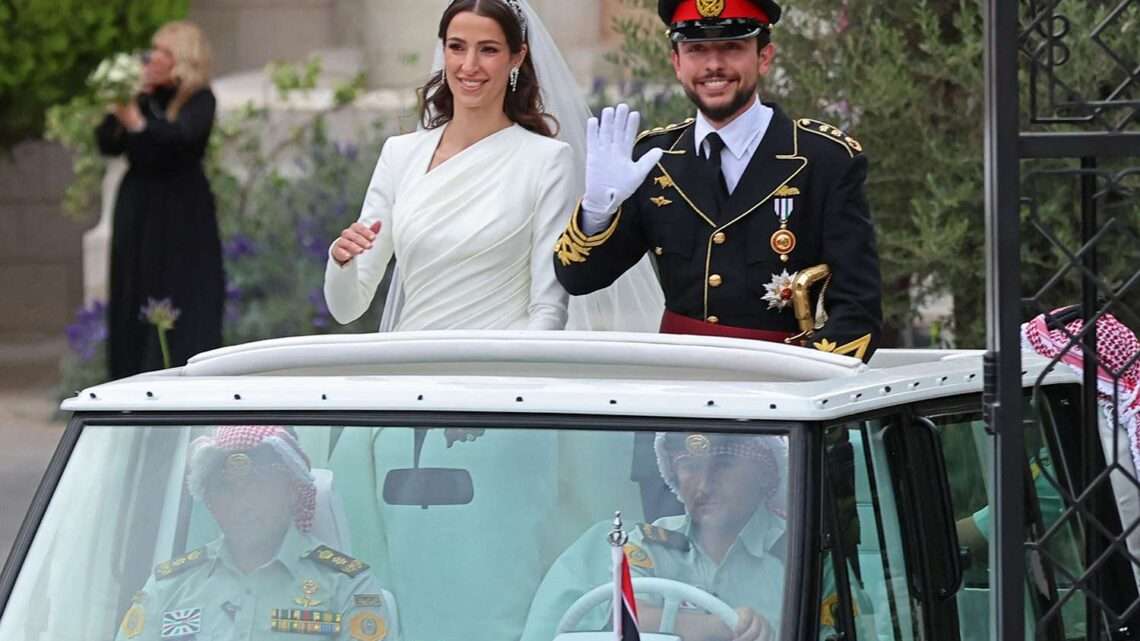 Jordan Royal Wedding: Meet the Middle East's Jordan's Bride and Groom
June 2, 2023
---
In a breathtaking display of magnificence and cultural significance, the city of Amman in Jordan played host to the momentous union of Crown Prince Hussein and his enchanting Saudi fiancée, Rajwa Al Saif. On the first of June, a resplendent royal ceremony unfolded, captivating the Middle East with its grandeur.
Crown Prince Hussein, the esteemed scion of Abdullah II of Jordan, and Queen Rania Al Abdullah exchanged vows with Rajwa Al Saif, a talented architect from the Kingdom of Saudi Arabia. Their union cemented their love and forged a deeper connection between these two kingdoms, steeped in shared history and intertwined destinies.
Drawing parallels to the esteemed British royals, William, Prince of Wales, and Catherine, Princess of Wales, Hussein, Crown Prince of Jordan, and Rajwa Al Saif's wedding transcended borders, attracting global attention. A constellation of esteemed guests, including First Lady Jill Biden, graced the affair, lending an air of dignified elegance to the proceedings. The city of Amman pulsated with excitement as majestic flags fluttered and portraits of the royal couple adorned buildings while crowds gathered in anticipation, witnessing the union of the year projected on colossal public screens.
The wedding fervor permeated the very fabric of Amman, suffusing its streets with an effervescent joy seldom witnessed. The government generously declared a two-day holiday to honor this sacred occasion, allowing citizens to revel in the festivities and indulge in the enchantment that enveloped the city. Melodies of celebration filled the air as vibrant public concerts and dazzling fireworks displays unfolded, igniting the night sky in a kaleidoscope of colors.
Mohammad Asfour, a distinguished sustainability expert residing in Amman, witnessed this unprecedented outpouring of jubilation. To him and countless others, this wedding transcended the realm of personal bonds, signifying a profound union between two nations sharing not just a long border but an intertwined destiny. It represented a beacon of hope, heralding the promising future that lies ahead for Jordan.
However, amid the splendor and jubilation, Jordan confronts formidable economic challenges, echoing the trials faced by neighboring Middle Eastern countries. Unlike some of its counterparts, the nation lacks abundant natural resources, relying instead on tourism and foreign aid. Economic uncertainties, mounting debts, and escalating fuel prices overshadow the nation's path, exacerbating rising unemployment and soaring costs of essential commodities. These challenges have spurred citizen-led protests, while the country also shoulders the weight of a significant refugee population.
Yet, amidst these trying circumstances, the radiant union of Crown Prince Hussein and Rajwa Al Saif is a steadfast symbol of hope, resilience, and unity. It is a testament to Jordan's indomitable spirit, an embodiment of the nation's determination to overcome adversities and forge ahead toward a prosperous future. In the face of economic hardships, the festivities and heartfelt celebrations remind the citizens of Jordan of their shared values, strength, and unyielding belief in a brighter tomorrow.
Here's all you need to know about Thursday's extravagant event.
Who is Hussein, Crown Prince of Jordan?
Hussein bin Abdullah, a remarkable graduate of Georgetown University, is a shining example of a prince embracing the contemporary era while honoring the grand tapestry of tradition. With an impressive legion of over 4 million Instagram followers, he effortlessly weaves a captivating life narrative, offering glimpses behind the royal curtain. From his mother's culinary exploits, royal state visits in Japan, and even heartfelt FaceTime conversations with his cherished younger sister, his online presence transports us to a world where tradition meets modernity.
In his heartfelt posts, brimming with eloquence and authenticity, he ardently expresses his anticipation for a future adorned with profound love, unwavering compassion, and enduring commitment. A testament to his devotion, he dedicates a special tribute to his bride-to-be's birthday, showcasing the depth of his affection for her.
Ascending to the throne as crown prince at the tender age of 15, Hussein's journey has been a complex tapestry interwoven with the intricate threads of Jordanian politics. A turbulent chapter unfolded when his half-brother, former Crown Prince Hamzah bin Hussein, and his associates faced charges of sedition in 2021, accused of collaborating with foreign entities to undermine the monarchy. In the face of these challenges, Hussein, Crown Prince of Jordan, has displayed remarkable fortitude, embodying the timeless essence of his lineage while shouldering the weight of his responsibilities.
His revered father, Abdullah, has skillfully guided Jordan's destiny since 1999, forging robust military capabilities and cultivating enduring political alliances. The kingdom's deep-rooted ties with successive administrations in the United States have solidified Jordan's status as a trusted partner, recognized for its unwavering regional stability and astute diplomatic acumen. These steadfast partnerships have anchored Jordan at the forefront of regional affairs, elevating its stature as a beacon of wisdom and a guardian of equilibrium.
As Hussein's narrative unfolds, his multifaceted experiences and deft navigation of the global landscape stand as a testament to his mettle and foresight. In his journey, he embodies the aspirations that resonate within a new generation of leaders, unafraid to embrace challenges and seize opportunities. Each stride he takes adds another vibrant brushstroke to the sprawling canvas of his family's illustrious history, poised to leave an indelible mark on Jordan's enduring legacy.
Who is the Bride, Princess Rajwa Al Hussein?
Princess Rajwa Al Hussein has become the talk of the town in the Middle East, with her mesmerizing beauty and impeccable fashion sense setting off a media frenzy. Every intricate detail of her appearance and clothing has been meticulously dissected and thoroughly explored online, captivating the imagination of the masses.
2017 she achieved a remarkable feat by graduating with flying colors from Syracuse University in New York. A captivating video captured the hearts of onlookers as she gracefully strode across the stage, sporting dazzling silver sneakers that evoked a wave of applause and adulation from the enthralled audience.
But her pursuits go beyond academic excellence. Princess Rajwa Al Hussein's insatiable appetite for knowledge led her to attend a prestigious fashion academy in Los Angeles, where she honed her innate sense of style and unleashed her creative flair. With a mastery of multiple languages, including English, Arabic, and French, she effortlessly bridges cultures and connects with a global audience.
Her artistic inclinations are also evident, as she finds solace and self-expression through the strokes of a paintbrush. Immersed in a world of vibrant colors, she weaves her imagination onto the canvas, leaving a mark that resonates with those who behold her creations. Additionally, she shares a deep bond with majestic horses, finding solace and a sense of serenity in their regal presence.
During a joyous bridal henna celebration, Queen Rania Al Abdullah proudly describes Princess Rajwa Al Hussein as the epitome of sweetness and beauty, affirming that she answers her son's prayers. It is a testament to the profound connection they share and the intertwining of fate and love that has brought them together.
---
---
What happened to Jordan's royal wedding?
On the auspicious day of their nuptials, the illustrious couple embarked on a momentous journey within the sacred halls of Amman's venerable Zahran Palace, a place steeped in rich history and profound significance. The air resonated with the jubilant ululations that echoed through the chamber, evoking the timeless customs and exuberant spirit ingrained in the tapestry of Middle Eastern weddings. With the blessings of a revered sheik, they exchanged vows and signed the sacred documents, sealing their union with ceremonial splendor.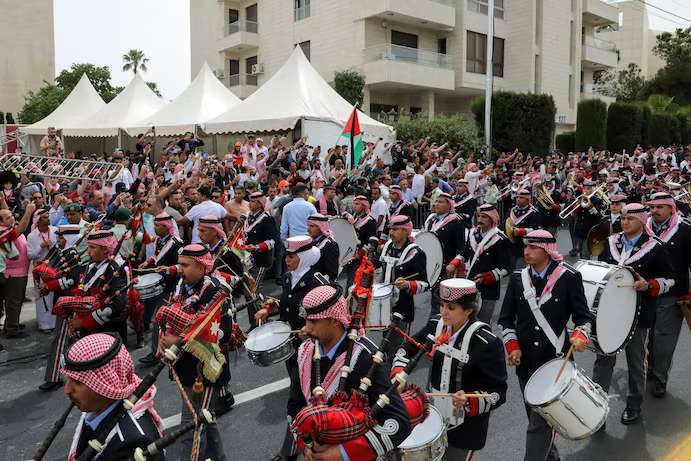 Embracing the regal traditions that have long graced their lineage, the newlyweds embarked on a grand procession to the resplendent Husseiniya Palace, their chosen venue for the grand banquet reception. Led by a majestic royal motorcade, their carriage traversed the streets, a captivating sight that stirred awe and excitement among the onlookers. Like a vivid painting brought to life, the scene unfolded with a harmonious blend of age-old customs and contemporary opulence, encapsulating the essence of their union.
This magnificent journey symbolized the couple's commitment to each other and their deep reverence for the ancestral heritage that binds them. With each step, they wove a tapestry of joy, love, and unity, leaving an indelible mark on the collective consciousness of those fortunate enough to witness this extraordinary display of matrimonial bliss. The echoes of their union resonated through the hearts of all, reminding us of the enduring power of love and the profound significance of this joyous celebration.
What was Jordan's royal wedding day like?
The air was thick with grandeur and magnificence as the momentous wedding unfolded, captivating all who bore witness. Every detail, meticulously planned and executed, added to the spectacle, creating an atmosphere brimming with regal pomp and ceremony. It was a significant celebration that warranted its official emblem and a digital presence with the hashtag #CelebratingAlHussein, igniting a virtual realm of excitement and fervor.
Social media platforms reverberated with joyous proclamations as users basked in the radiant glow of this extraordinary event. One ecstatic internet user aptly exclaimed, "The land of the Hashemites beams with joy," encapsulating the collective sentiment of the momentous occasion.
A constellation of foreign luminaries illuminated the proceedings with their regal presence among the distinguished guests in attendance. The esteemed John F. Kerry, renowned as the United States climate envoy, graced the occasion with his notable stature. Alongside him, representatives from Japan, Belgium, and the Netherlands, bearing their royal insignia, added an international touch to the festivities, symbolizing the intertwining of cultures and the bridging of nations.
While the intricacies of the couple's initial encounter remain veiled in secrecy, it is known that their sacred vows were exchanged last August in the resplendent capital of Saudi Arabia, Riyadh. In a ceremony attended by both families, the union of two souls was sealed amidst the enchantment of ancient customs and the boundless love shared between them. The Associated Press, ever vigilant, captured the essence of this monumental occasion, immortalizing its beauty through its discerning lens.
Notably, this joyful union marks the second royal wedding for Jordan this year. In an earlier ceremonial spectacle, Princess Iman, the beloved younger sister of the prince, embarked on her own path to marital bliss, joining hands with the esteemed Venezuelan financier, Jameel Alexander Thermiotis. These twin celebrations, weaving a tapestry of love and unity, serve as a testament to the profound connections forged across borders and the enduring power of human connection.
Amidst the opulence and splendor, these wedding festivities transcended mere celebration, resonating with an entire nation's hopes, dreams, and aspirations. The harmonious blend of tradition and modernity symbolizes a pathway toward a brighter future, while the unbreakable bonds of love and destiny continue to illuminate the path ahead.
---
---
---
---
---

Post Your Bio, Music, Quest Post & More On TheCityCeleb
---
---


---
---
---