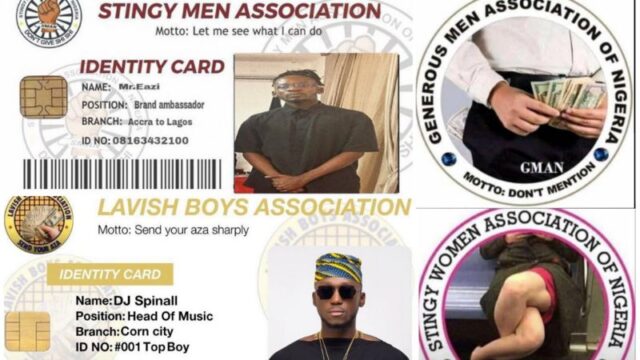 Stingy Men Association Of Nigeria; The Bitter Irony Of SWAN
January 13, 2021
---
The SMAN also known as Stingy Men Association Of Nigeria trend, while considered by many as merely a joke, reveals an intrinsic truth about masculine nature: most men are tired of being treated as cash dispensing machines, mere objects with no feelings.
One would expect the female folk, a gender who are known victims of objectification, to toe in the same path as male counterpart in delivering a comeback.
But no they didn't.
They quickly embraced a typecast most men are assidously trying to escape from: the nightmare called objectification.
Yes, most men are as scared as being labelled financial objects as women are scared of being seen as sex objects. But I don't think some women are scared to be sex objects? How else will you explain SWAN meaning Stingy Women Association Of Nigeria?
How does a woman in her sane mind respond to a threat by a man to withhold his money by equally threatening to withhold her private part? In essence, equating sex as the feminine equivalent of money.
It's one thing for a woman to be objectified by a man but it's quite another to accept to be an object yourself. This is akin to a feminist singing the WAP song of Cardi B and Megan Thee Stallion.
Some ladies have shot themselves on the foot with this one but they don't know it yet. They are flagrantly waving the SWAN flag with pride and indignity. Unbeknownst to them Stingy Women Association of Nigeria (SWAN) is but a euphemism for Prostitutes Association of Nigerian (PAN).
Written By: Prosper Okezie for TheCityCeleb
---
---
---
---
---

Post Your Bio, Music, Quest Post & More On TheCityCeleb
---
---


---
---
---