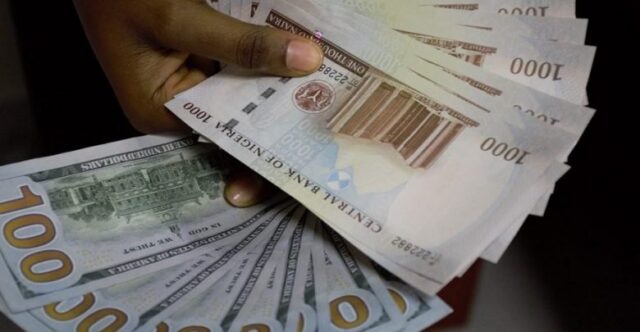 What Is Dollar to Naira Today? (Black Market & Bank Rate)
---
Dollar to Naira Black Market Rate (Aboki FX Rate)
SELL: ₦530.00
BUY: ₦525.00
Naira to Dollar Exchange Rate ₦1 = $0.00190
US Dollar to Naira Lagos Parallel Market Rates Today (Black Market)
| NGN | USDBUY / SELL | GBPBUY / SELL | EURBUY / SELL |
| --- | --- | --- | --- |
| 05/09/2021 | 525 / 530 | 715 / 720 | 614 / 620 |
| 04/09/2021 | 523 / 528 | 712 / 717 | 612 / 616 |
| 03/09/2021 | 522 / 526 | 710 / 715 | 606 / 612 |
Convert Dollar to Naira in Black Market
| Dollar | Naira |
| --- | --- |
| 1 Dollar to Naira | ₦ 530 |
| 5 Dollars to Naira | ₦ 2,650 |
| 10 Dollars to Naira | ₦ 5,300 |
| 20 Dollars to Naira | ₦ 10,600 |
| 50 Dollars to Naira | ₦ 26,500 |
| 100 Dollars to Naira | ₦ 53,000 |
| 200 Dollars to Naira | ₦ 106,000 |
| 500 Dollars to Naira | ₦ 265,000 |
| 1000 Dollars to Naira | ₦ 530,000 |
| 2000 Dollars to Naira | ₦ 1,060,000 |
| 5000 Dollars to Naira | ₦ 2,650,000 |
Dollar to Naira CBN Rate today
| DATE | CURRENCY | BUYING(NGN) | CENTRAL(NGN) | SELLING(NGN) |
| --- | --- | --- | --- | --- |
| 9/1/2021 | US DOLLAR | 409.35 | 409.85 | 410.35 |
| 8/31/2021 | US DOLLAR | 409.32 | 409.82 | 410.32 |
| 8/30/2021 | US DOLLAR | 409.29 | 409.79 | 410.29 |
| 8/27/2021 | US DOLLAR | 409.26 | 409.76 | 410.26 |
| 8/26/2021 | US DOLLAR | 409.23 | 409.73 | 410.23 |
| 8/25/2021 | US DOLLAR | 409.21 | 409.71 | 410.21 |
| 8/24/2021 | US DOLLAR | 409.19 | 409.69 | 410.19 |
| 8/23/2021 | US DOLLAR | 409.16 | 409.66 | 410.16 |
| 8/20/2021 | US DOLLAR | 409.13 | 409.63 | 410.13 |
| 8/19/2021 | US DOLLAR | 409.13 | 409.63 | 410.13 |
How CBN regulates Exchange Rates of Dollar to Naira today
Dollar rate in Nigeria bank (Data Source: CBN)
| CODE | NAME | BUYING (₦) | CENTRAL (₦) | SELLING (₦) |
| --- | --- | --- | --- | --- |
| USD | United States Dollar | 409.19 | 409.69 | 410.19 |
| GBP | United kingdom Pound | 568.82 | 569.51 | 570.21 |
| EUR | Euro member countries | 486.69 | 487.29 | 487.88 |
| CHF | Switzerland Franc | 444.58 | 445.12 | 445.66 |
| XOF | Communaute Financiere Africaine BCE | 0.72 | 0.73 | 0.74 |
| XAF | Communaute Financiere Africaine CFA | 0.72 | 0.73 | 0.74 |
| WAU | WEST AFRICAN UNITS ACCOUNTS | 583.26 | 583.97 | 584.69 |
| CNY | China Yuan Renminbi | 63.19 | 63.27 | 63.35 |
| SAR | Saudi Arabia Riyal | 109.11 | 109.25 | 109.38 |
| DKK | Denmark Krone | 65.44 | 65.52 | 65.6 |
| XDR | International Monetary Fund (IMF) | 583.96 | 584.67 | 585.38 |
| ZAR | South Africa Rand | 28.53 | 28.56 | 28.6 |
Daily Dollar to Naira Black Market (Lagos) Review
US Dollar is being traded at ₦530 in Black Market (Lagos) today, September 04, 2021. Dollar started this week at ₦527 in Black Market on Monday, August 30, 2021. This makes a 0.57% increase for Dollar rate against Naira this week.
When we look at the rates monthly, we see that USD rate started August at ₦512 on Monday, August 02, 2021. As of today with US Dollar being traded at ₦530, we see a 3.52% rise for Dollar to Naira exchange rates since the begining of last August.
USD is being traded at ₦530 in Black Market (Lagos) today, Sunday, September 5, 2021. USD has been traded at ₦527 when Black Market opened this week on Monday, August 30, 2021. This makes it 0.03% rise for USD against Naira this week.
When we look at this month, USD was traded at ₦ at the beginning of this September on Wednesday, September 1, 2021. As at today with USD being traded at ₦530 we see a % for USD to Naira exchange rate for this month.
Rate for Dollar to Naira exchange rate.Abokifx exchange rate in Nigeria today black market
Black Market rate Dollar to Naira
USD to NGN black market today.
How much is dollar to naira today in black market
Key Factors that Affect Foreign Exchange Rates
Here are factors we have identified that make naira or exchange rate to fluctuate.
INFLATION RATES: inflation is known to have a direct impact on blackmarket exchange rate. If the Nigerian economy can be stable and inflation put under control, it will impact positively on the Naira but on the other hand if the Naira continues to nose dive down it could tell that the prices of food and other basic necessities are getting higher on daily basis.
INTEREST RATES: interest rates is another instrument to watch. If the rate at which bank lends money out goes up then it will reflect negatively on the economy, making the economy to contract and hence naira will suffer a fall in value.
GOVERNMENT DEBT: National debt can influence investors confidence and subsequently inflow of dollars into the economy. If inflows are high naira exchange rate will appreciate favourably to the Naira.
SPECULATION: most times naira to dollar exchange rate are influenced because of speculators. They hoard money in anticipating gain and this makes naira to fall further.
TERMS OF TRADE: favourable terms of trade will lead to increase in the value of Naira to dollar but unfortunately Nigeria is experiencing an imbalance terms is trade. We import everything from China, India and most of Asians countries.
RECESSION: recession is a stress on the economy. This scares investors and direct investment away from the economy. Nigeria experienced recession in 2016 and a third recession in 2020 due to fall in oil price and Covid-19 impact on world economy.
---
---
---
---
---

Post Your Bio, Music, Quest Post & More On TheCityCeleb
---
---


---
---
---