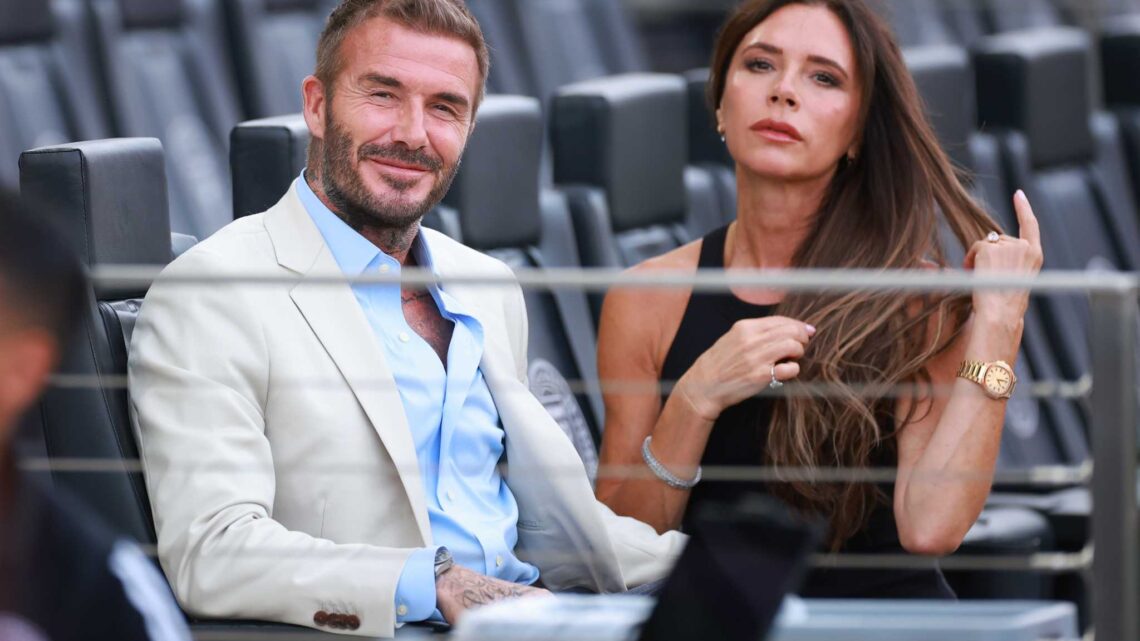 David Beckham's Wife, Victoria Beckham Biography: Age, Children, Parents, Net Worth, Height, Songs, Movies
---
Victoria Beckham is widely recognized as the wife of English footballer David Beckham. However, it is important to acknowledge her as a determined and diligent individual who has built a thriving brand in the beauty and fashion realm.
Moreover, she has a singing talent and has gained popularity as a reality television star.
In addition to her professional endeavors, Victoria and her husband are devoted to nurturing their four delightful children.
Profile
Name: Victoria Caroline Beckham (née Adams)
Nicknames: Posh Spice, Strickly Vicky, Vickly, Posh, Tor
Age: 45 years
Date of birth: 17th of April 1974
Place of birth: Harlow, Essex, England
Zodiac sign: Aries
Nationality: British
Height: 5 feet 4 inches (163 centimeters/ 1.63 meters)
Weight: 49 kilograms (108 pounds)
Hair color: Dark brown
Eye color: Brown
Measurements: 34-23-33 inches (87-58.5-84 centimeters)
Father: Anthony Adams
Mother: Jackie Adams
Sister: Louise Adams
Brother: Christian Adams
Spouse: David Beckham (m. 1999)
Children: Brooklyn Beckham, Romeo Beckham, James Beckham, Cruz Beckham
Daughter: Harper Seven
Alma mater: Jason Theatre School, Laine Theatre Arts, and St. Mary's High School, Cheshunt
Profession: Fashion designer, singer, actress & reality television star
Early Life & Education
Victoria Beckham, whose birth name is Victoria Caroline Adams, entered the world on April 17, 1974, at Princess Alexandra Hospital in Harlow, Essex, England. She holds British nationality and falls under the Zodiac sign of Aries. As of now, Victoria Beckham is 45 years old. However, on her upcoming birthday, which will occur on April 17, 2020, the esteemed fashion icon will celebrate turning 46.
The renowned fashion icon grew up in Goffs Oak, Hertfordshire, as part of a family with three children. She holds the position of the eldest child, with her parents being Jacqueline Doreen and Anthony William Adams. Jacqueline Doreen, a dedicated and hardworking individual, pursued a career as a hairdresser and had previously worked as an insurance clerk.
On the other hand, Anthony William Adams served as an electronics engineer. Together, they owned an electronics wholesale business, providing a comfortable upbringing for their three children. Victoria Beckham's younger sister is Louise, and her younger brother is Christian Adams.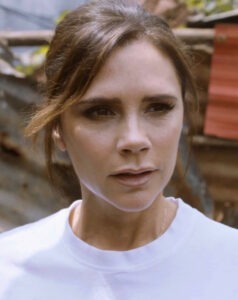 Interestingly, their family lineage includes Carl Heinrich Pfänder, a well-known German revolutionary and artist who is their great-great-great-grandfather. Additionally, their family tree has William Pfaender, a notable politician from Minnesota, who serves as their great-great granduncle.
Once the fashion designer displayed a passion for music, her parents, who provided unwavering support, enrolled her at the Jason Theatre School. Later, in 1991, she became a part of Laine Theatre Arts in Epsom, Surrey, where she dedicated herself to studying modeling and dance. Subsequently, she joined St. Mary's High School in Cheshunt.
During her time in high school, she experienced feelings of embarrassment due to her affluent background. She often pleaded with her father not to drop her off at school in his Rolls Royce. She also participated in a music band called Persuasion during high school.
Music Career
In 1994, The Stage held an audition seeking outgoing, ambitious, street-smart women with singing and dancing abilities. During that same year, she became a member of the all-female group the Spice Girls, using her maiden name. The Spice Girls released their debut single, "Wannabe," in 1996 featuring Emma Bunton, Geri Halliwell, Melanie Chisholm, Melanie Brown, and herself. "Wannabe" reached the number one spot in the United Kingdom, the United States, and various other countries. This successful track was followed by eight additional songs from their albums, namely, "Spice," "Spiceworld," and "Forever." As the group gained popularity, each member received a nickname from the media, and she became known as Posh Spice.
However, their third album, "Forever," did not achieve the same level of success as their previous releases. Consequently, the girls decided to focus on their careers. As a solo artist, Victoria Beckham, formerly Posh Spice, released her first single, "Out of Your Mind," on August 14, 2000, in collaboration with Truesteppers and Dane Bowers. Before the release, she made her public solo debut by performing "Out of Your Mind" at a charity concert in Hyde Park, organized to raise funds for the Prince's Trust. Soon after the single's release, she signed a recording contract with Virgin Records.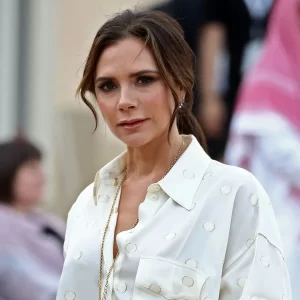 Following this, her next single, "Not Such An Innocent Girl," was released in September 2001. On October 1, 2001, she unveiled her eponymous debut album, which required an investment of £5 million for its production. Although the album sold approximately 50,000 copies, it featured various songs, including…
Not Such an Innocent Girl
A Mind of Its Own
That Kind of Girl
Like That
Girlfriend
Midnight Fantasy
I.O.U
No Trix, No Games
I Wish
Watcha Talkin' Bout
Unconditional Love
Every Part of Me
Virgin Records and Posh Spice parted ways shortly after, ending their professional collaboration. In 2002, the singer inked a £1.5 million deal with 19 Management and Telstar Records. The following year, she began creating her second album, "Open Your Eyes," which incorporated elements of electropop.
However, dissatisfied with the final result, she returned to the recording studio to develop new material. Collaborating closely with producer Damon Dash, she delved into an R&B and hip-hop-inspired project titled "Come Together."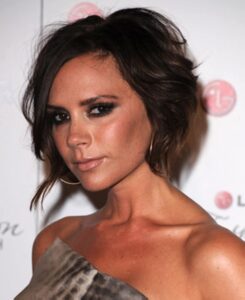 The first single released under Telstar Records was "Let Your Head Go/This Groove," which achieved a respectable third position on the charts in the United Kingdom. Unfortunately, due to financial difficulties faced by the record company, the release of her album was postponed.
In the summer of 2004, Posh Spice planned to unveil her single "My Love Is for Real." Tragically, Telstar Records declared bankruptcy, leading Posh Spice to shift her focus from music to the realm of fashion.
Fashion career
Posh Spice made her foray into the fashion world by stepping onto the runway as a model during London Fashion Week. Her undeniable style and presence led to her becoming the esteemed brand ambassador for Dolce and Gabbana. In 2003, she further solidified her fashion credentials by becoming the face of Rocawear.
Displaying her creative prowess, she ventured into design and launched VB Rocks in 2004. This exclusive fashion line, created in collaboration with Rock & Republic, featured luxury jeans that exuded sophistication and quality.
In 2006, Posh Spice took to the runway at Milan Fashion Week, showcasing designs by Roberto Cavalli. Cavalli also dressed her for various social and red-carpet events for a considerable period. Building on her fashion endeavors, she introduced her denim label, dVb Style, in September 2006.
She launched a dedicated website highlighting her work in the industry to promote her fashion ventures. On June 14, 2007, Posh Spice proudly unveiled her dVb Denim collection and eyewear range at a prestigious event held at Saks Fifth Avenue in New York. She demonstrated her commitment to the fashion world and served as a judge at the annual Graduate Fashion Week in London in June 2007.
---
---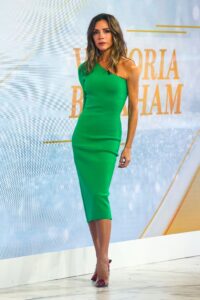 Expanding her influence, she launched her perfume in the United States in August of the same year. In the spring of 2008, she became the face of Marc Jacobs. Posing for renowned publications, she graced the covers of esteemed magazines such as I-D in 2004, W in 2007, Vogue British edition in April 2008, Vogue India, Vogue Paris, Elle, and Harper's Bazaar.
In September 2008, Posh Spice introduced the Victoria Beckham fashion label, gaining recognition for her exquisite dresses. Over time, the brand diversified to include luxury handbags, eyewear, denim, and fragrance lines. Her remarkable achievements were acknowledged at the 2011 British Fashion Awards, where she was honored with the Designer Brand of the Year award. Expanding her reach, she launched a new collection for Target in 2017, catering to a wide range of sizes from XS to 3X.
Additionally, she ventured into children's wear with her fashion line. Departing from her usual New York Fashion Week showcase, she presented her collection at London Fashion Week in 2018. Furthermore, her collaboration with Reebok, named Victoria Beckham Reebok, was unveiled on July 17, 2018.
Social Media
Posh Spice maintains an official Instagram account boasting a staggering following of over 28 million devoted fans. On the other hand, her Twitter account has amassed more than 12.5 million followers, while her Facebook page has garnered over 3.1 million likes.
Through these social media platforms, she regularly connects with her supporters, providing updates on her personal life and enthusiastically promoting her ventures in fashion. Victoria Beckham, widely recognized as an iconic figure in the fashion industry, possesses a diverse array of talents, encompassing singing, writing, and captivating audiences through her appearances on reality television.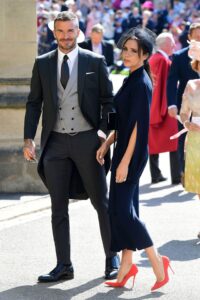 She has happily married the esteemed English footballer David Beckham for over two decades. Together, they have been blessed with the joys of parenthood, raising three sons and a daughter. Victoria, serving as an unwavering inspiration, continues to empower countless women worldwide, encouraging them to pursue their aspirations and conquer any obstacles that may come their way.
Filmography
Spice World (1997)
Manchester United: Beyond the Promised Land (2000)
Zoolander (2001)
Giving You Everything (2007)
The Spice Girls Story: Viva Forever! (2012)
Net Worth
Currently, the combined net worth of David and Victoria Beckham stands at approximately $450 million, enabling the influential couple to indulge in luxuries beyond the average person's reach. Their financial success has allowed them to make substantial investments in real estate.
Their first home purchase occurred in 1999, acquiring a residence on a vast 24-acre property for $3.3 million.
Afterward, they dedicated $4 million to renovate the property. In 2007, they expanded their property portfolio by purchasing a Beverly Hills house for $18.7 million, boasting six bedrooms and ten bathrooms.
In 2018, the couple sold this property for a significant sum of $33 million. Additionally, the Beckham family possesses a $4 million residence in France and a grand mansion in Holland Park, West London, valued at $41 million.
Furthermore 2016, the dynamic couple invested in an $8 million converted barn in the picturesque Cotswolds region, approximately two hours outside London.
---
---
---
---
---

Post Your Bio, Music, Quest Post & More On TheCityCeleb
---
---


---
---
---