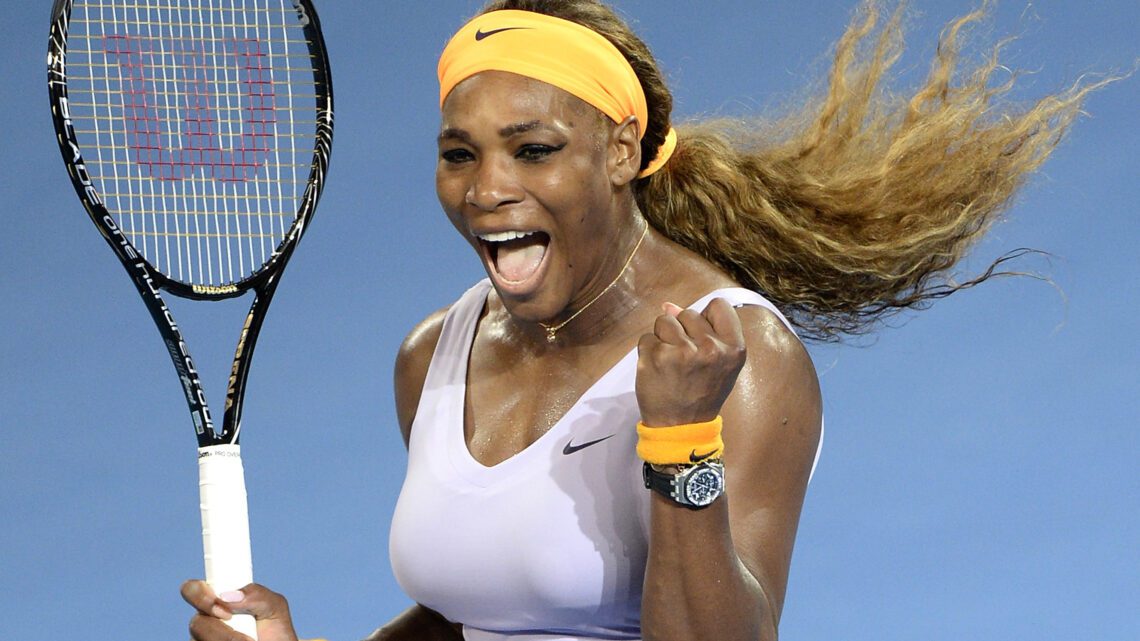 Serena Williams Biography: Net Worth, Age, Husband, Height, Daughter, Siblings, Parents, News, Retirement
May 15, 2023
---
Biography
Serena Jameka Williams, a prodigious professional tennis player from the United States, has cemented her status as an icon in the world of sports. Born on September 26th, 1981, this powerhouse has left an indelible mark on the tennis world, garnering global recognition by her first and last name alone.
Her influence in the sport of tennis is unparalleled. Her impressive record speaks for itself: having secured 23 Grand Slam singles championships, she has surpassed all others in the open era, male or female. Moreover, she has dominated the Women's Tennis Association rankings, consistently holding the number one spot.
But her accomplishments go beyond her statistics. Her demeanour on and off the court is a sight to behold, her unyielding focus and indomitable spirit evident in every stroke. With grace and poise, Serena Williams has faced obstacles head-on, emerging victorious time and time again. It is no wonder that she is regarded as one of the greatest athletes in history, her impact transcending the sport she dominates.
Serena Williams is a remarkable athlete who has captivated the world with her tennis prowess, leaving a lasting legacy on the sport and inspiring generations to come.
Serena Williams

Serena Williams: History ‧ Bio ‧ Photo

Wiki Facts & About Data
Full Name:
Serena Jameka Williams
Stage Name:
Serena Williams
Born:
26 September 1981 (age 41 years old)
Place of Birth:
Saginaw, Michigan, United States
Nationality:
American
Height:
1.75 m
Parents:
Richard Williams, Oracene Price
Siblings:
Venus Williams, Yetunde Price, Richard Williams III, Lyndrea Price, Isha Price, Ronner Williams, Dylan Starr Williams
Husband • Spouse:
Alexis Ohanian (m. 2017)
Boyfriend • Partner:
Patrick Mouratoglou (2012-2015), Drake (2010-2015), Amar'e Stoudemire (2010), Hosea Chanchez (2008), Common (2007 – 2011), Jackie Long (2007-2008), Brett Ratner (2004 – 2005), Corey Maggette (2004), Keyshawn Johnson (2002-2003) and LaVar Arrington (2001-2002), Grigor Dimitrov (2012)
Children:
Alexis Olympia Ohanian Jr.
Occupation:
Tennis Player
Net Worth:
$250 million
Early Life & Education
Serena Williams was the youngest of five sisters born on September 26, 1981, in Saginaw, Michigan, United States. Only she and Venus Williams were the daughters of Richard Williams, while her father's sons are Richard Williams III and Dylan Starr Williams; Oracene Price, their mother, had three children from a previous union, who are Yetunde Price, Richard Williams III, Lyndrea Price, Isha Price, and Ronner Williams.
Together, the Williams family moved to Compton, California, where Serena Williams and Venus Williams had developed an early interest in tennis with the support of both parents, particularly Richard Williams. The Williams sisters' father introduced them to tennis at a young age by taking them to nearby public courts.
Tennis books and movies were among the resources Serena Williams's father looked into for his girls. He wanted to bring out the best in them so they could become successful tennis professionals. In truth, Richard Williams was attempting to teach the Williams sisters the importance of working hard and having a good education by moving the family to the troubled neighborhood of Compton.
Serena Williams put up with her father's demanding training schedule and severe discipline, preparing herself to rule the tennis world one day. King Richard delves further into Richard Williams' strategies for helping her daughters realize their full potential. Will Smith, who played Richard, won his first Oscar for Best Actor after it got numerous nominations.
They went to Florida when Serena Williams was 10 years old to enrol in the Rick Macci Tennis Academy since the two sisters were so talented. She had a 46-3 record when playing junior tennis and was ranked number one in the junior United States Tennis Association's 10-and-under classification.
Career
Serena Williams' illustrious tennis career is nothing short of awe-inspiring. From her early days in the sport, it was evident that she possessed a rare and extraordinary talent that would take her places. Her first Grand Slam wins at the 1999 US Open was just the beginning of a series of victories that would make her one of the greatest tennis players ever.
Serena Williams' career was not immune to challenges, however. In 2003, she suffered a knee injury that sidelined her for several months. But her grit and resilience shone through as she made a triumphant return, clinching the Australian Open and Wimbledon titles in 2004. Over the years, she faced other setbacks and injuries, but her determination allowed her to overcome them all and come back stronger.
One of the most remarkable moments in Serena Williams' career came in 2017 when she won the Australian Open while pregnant. This incredible feat added to her already-impressive legacy, cementing her status as a force to be reckoned with on and off the court. Her dedication to her craft and unparalleled work ethic have earned her the respect of her peers and the adoration of her fans.
Beyond her sporting accomplishments, Serena Williams has been a trailblazer in her own right. She has used her platform to advocate for social justice and equality, speaking out on issues such as police brutality and pay inequality. Her clothing line, which features inspiring slogans and messages of empowerment, is a testament to her commitment to using her success for the greater good.
In summary, Serena Williams' tennis career is a shining example of what can be achieved with hard work, perseverance, and a singular focus. Her impact extends beyond the tennis court, making her a true inspiration and a beacon of hope for those who aspire to greatness.
Awards
1998: WTA Newcomer Of The Year
1999: WTA Most Improved Player Of The Year
2000: WTA Doubles Team Of The Year
2002: Associated Press Female Athlete Of The Year
2002: WTA Player Of The Year
2002: ITF Women's Singles World Champion
2003: Laureus World Sportswoman Of The Year
2004: WTA Comeback Player Of The Year
2007: Laureus World Comeback Of The Year
2008: WTA Player Of The Year
2009: AP Female Athlete Of The Year Award
2009: ITF Women's Singles World Champion
2009: ITF Women's Doubles World Champion
2009: WTA Player Of The Year
2009: WTA Doubles Team Of The Year
2010: Teen Choice Awards – Female Athlete Award
2012: WTA Player Of The Year
2012: ITF Women's Singles World Champion
2012: United States Sports Academy Female Athletes Of The Year Award.
Personal Life
Serena Williams has been in several high-profile relationships over the years, from 2001 to 2015. Her romantic partners have included Patrick Mouratoglou (2012 – 2015), Drake (2010 – 2015), Amar'e Stoudemire (2010), Hosea Chanchez (2008), Common (2007 – 2011), Jackie Long (2007 – 2008), Brett Ratner (2004 – 2005), Corey Maggette (2004), Keyshawn Johnson (2002 – 2003), and LaVar Arrington (2001 – 2002).
Each of these relationships had its unique dynamic and story, some lasting longer than others. Serena Williams' relationship with rapper Drake was one of the most highly publicized, capturing the attention of the media and fans alike. Meanwhile, her romance with coach Patrick Mouratoglou was a more private affair, with the two keeping their relationship out of the spotlight during their three-year romance.
In addition to these relationships, Serena Williams briefly encountered tennis player Grigor Dimitrov in 2012. While the details of their relationship are not entirely clear, it is clear that she has had her fair share of romantic entanglements over the years.
Despite the media's fascination with her personal life, Serena Williams has always maintained a sense of privacy and discretion regarding her romantic relationships. She is, after all, entitled to a private life outside of the tennis court and should not be subject to constant scrutiny and judgment from the public and the media.
Ultimately, Serena Williams' legacy as one of the greatest tennis players of all time is not defined by her personal life but by her incredible achievements on the court. With 23 Grand Slam singles championships to her name, she has cemented her place in the pantheon of sporting legends and will undoubtedly be remembered as a trailblazer in the sport for years.
It is important to note that in addition to her previous relationships, Serena Williams has also been married to Alexis Ohanian since 2017. The couple welcomed their first child, a daughter named Alexis Olympia Ohanian Jr., that same year.
---
---
The birth of her daughter marked a significant turning point in her life, as she took a break from tennis to focus on motherhood. However, she has returned to the sport and continues dominating the court with her unparalleled talent and athleticism.
Serena Williams' marriage to Alexis Ohanian and the birth of their daughter has also given her a new sense of purpose and perspective as she navigates the challenges of being a mother, a wife, and a professional athlete. Through it all, she has remained an inspiration to countless fans worldwide, who look up to her for her incredible tennis skills and strength, resilience, and determination.
Net Worth
Serena Williams has been one of the most-paid athletes during her 22-year career. She enjoyed sponsorship from both Nike and Kraft Foods.
Serena Williams has earned a net worth of $250 million throughout her career, estimates from celebritynetworth.com.
Social Media
The tennis star Serena Williams is one of the most influential sportsmen, with over 16 million followers.
Instagram: @serenawilliams
Twitter: @serenawilliams
Facebook: @serenawilliams
---
---
---
---
---

Post Your Bio, Music, Quest Post & More On TheCityCeleb
---
---


---
---
---