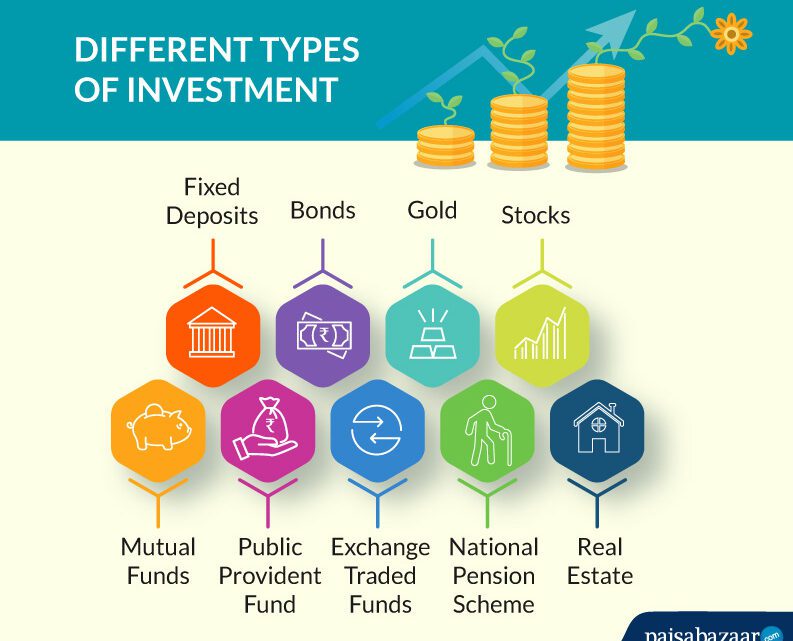 Different Types Of Investment
---
Everyone desires to have good financial health. Investments help to put your money to good use and achieve financial goals. There are different types of investments available to be used for financial growth. Many people are skeptical of investing or the type of investment to invest their money in; however, understanding the different types of investments and their risk factors will help you make the right choice.
Five Types Of Investments
1. Stocks
Stocks can also be referred to as shares or equities. Purchasing stocks means having an ownership stake in a publicly-traded company. There are several public-traded companies worldwide, and people who own stocks tend to profit from their investments.
The idea behind investing in stocks is to wait for the value of the stocks to rise before selling them at a higher price. However, like every other investment, stocks come with risks. The value of the stocks may reduce; in this case, you lose money.
2. Bonds
Purchasing bonds means lending money to an entity. It could either be a business or a government entity. For business entities, some companies issue bonds. Such types of bonds are called corporate bonds. In contrast, local governments issue municipal bonds. The US Treasury is known for issuing Treasury bonds, bills, and notes.
The lender receives interest payments during the period of the investment. After the bond has been held for the agreed period, the principal amount is returned to the lender. Compared to stocks, the returns for bonds are pretty low even though they have a lower risk.
3. Mutual Funds
Investing can be done alone or in a group. For group investments, mutual funds are often used. Mutual funds refer to a pool of multiple investors' money invested in different businesses or companies.
For mutual funds to be successful, it has to be managed. It could either be actively managed or passively managed. Mutual funds are often invested in securities such as bonds, equities, derivatives, commodities, and currencies.
An actively managed mutual fund involves a fund manager who selects the securities to put the investors' money. A passively managed fund is also known as an index fund. It involves tracking a major stock market index such as Dow Jones Industrial Average.
4. Certificates Of Deposit
People who prefer low-risk investments can always try Certificates Of Deposit (CD). Certificates of deposit entail giving bank money for some time. When the agreed period elapses, the investor receives the principal and a predetermined interest back. The longer the loan period, the higher the interest rate.
Certificates Of Deposit are a good way of saving money for an extended period. They are not associated with any major risks because they are FDIC-insured for up to $250,000. Thus, if the bank collapses, the investment is still safe.
5. Cryptocurrencies
A new investment option available for people is cryptocurrency. While many cryptocurrencies are in use today, Bitcoin is the most popular. Other notable ones are Ethereum and Litecoin.
Cryptocurrencies are digital currencies that lack government backing. They can be purchased and resold on cryptocurrency exchanges. Some merchants now accept cryptocurrency as a form of payment. Nevertheless, they are a risky form of investment as the cryptos can experience wild fluctuations.
---
---
---
---

Post Your Bio, Music, Quest Post & More On TheCityCeleb
---
---


---
---
---