Easy ways to immigrate to Canada (Step by Step Guide)
April 5, 2023
---
About Canada
Canada is a country located in North America, known for its vast and diverse landscape, ranging from towering mountains to sprawling prairies and vast lakes to dense forests. It is the second-largest country in the world by land area and the tenth-largest economy globally. It has a population of around 38 million people
With its multicultural society, Canada boasts a rich and diverse population, individuals from all walks of life and backgrounds. The country's official languages are English and French, but many other languages are spoken widely. Canada is well known for its quality of life, boasting free healthcare, excellent public education, and a strong social welfare system. It has a high standard of living and is consistently ranked as one of the best countries to live in the world.
The Canadian economy is highly diversified, with a strong focus on natural resources such as oil, gas, and minerals, as well as manufacturing and technology sectors. The country is also a major exporter of agricultural products such as wheat, canola, and lumber. Canada is home to many iconic landmarks and attractions, such as Niagara Falls, Banff National Park, and the CN Tower. Its cities, including Toronto, Vancouver, and Montreal, offer a mix of modern amenities, cultural diversity, and vibrant nightlife.
Canada is home to celebrities like Drake, Jim Carrey, Keanu Reeves, Justin Bieber, Celine Dion, Dwayne Johnson, Elisha Cuthbert, Elon Musk, Justin Trudeau, and more.
Are you feeling the pull to cross the border and start anew in Canada? The thought of a 45% cheaper cost of living, free healthcare, and lower taxes might be enough to motivate anyone to make a move. However, while Canada may seem like the perfect destination, it's important to understand the nuances of immigration and know what it takes to establish yourself and your family in this northern haven.
In this article, we'll delve into the details of what it truly means to immigrate to Canada. Is it an easy process? Not necessarily. There are a number of steps one must take, both before and after arrival, to ensure a smooth transition to Canadian life. So if you're considering moving, read on and learn everything you need to know before taking the plunge.
How to Become a Canadian Citizen
If you're considering becoming a Canadian citizen, it's important to remember that the Government of Canada has set specific requirements that must be met. These requirements are the stepping stones toward your ultimate goal of becoming a citizen of the land of maple syrup and hockey!
Some of the crucial prerequisites to attain Canadian citizenship include meeting the minimum residency requirements, having adequate knowledge of the English or French language, passing a citizenship test, and meeting the necessary criminal record check criteria. Each of these requirements is an essential pillar towards becoming a Canadian citizen and contributing to the country's growth. These requirements include that you must:
According to Canadian law, you must have reached the age of majority, which is 18 years and above.
You must have the status of a permanent resident in Canada.
Have lived in Canada for at least 3 out of the last 5 years
Be able to speak English or French fluently
Know about Canada and its history, geography, government, and symbols
How to Qualify for Permanent Residency in Canada
How to Become a Permanent Resident in Canada
Are you yearning to gain permanent residency in Canada? It's an achievable dream, but it demands that you meet the requirements of Immigration and Refugee. The process can be intricate, so taking it one step at a time is essential.
To begin with, you'll need to be eligible for one of the many immigration programs offered by the Canadian government. Each of these programs has its set of eligibility criteria, so choosing the one that best suits your circumstances is imperative.
Once you've identified the immigration program that fits your profile, you must submit an application, which will be evaluated based on factors such as education, work experience, language proficiency, and more.
Assuming your application is approved, you'll be granted permanent residency status, allowing you to live, work, and study in Canada indefinitely. That said, it's crucial to understand that permanent residency is not the same as Canadian citizenship, and certain obligations and responsibilities come with this status.
Protection Act (IRPA). To do this, you must:
Before proceeding with any application, it's essential to ensure that you meet the fundamental prerequisites. These include individuals aged 18 or above with Canadian citizenship or permanent residency status. Additionally, applicants must have resided within Canada for at least three years.
Consider your eligibility for permanent residency in Canada by exploring various programs you may qualify for. These programs include the Federal Skilled Worker Program, the Federal Skilled Trades Program, the Canadian Experience Class, and particular Provincial Nominee Programs.
Consider which program aligns with your needs and qualifications. Each program has specific eligibility criteria, so selecting one that matches your profile is important.
Collecting all necessary documents is crucial for your application process. Depending on the program you're applying for, you may need to provide evidence of your educational qualifications, work experience, and language proficiency. Therefore, obtain all the necessary documents and double-check them for accuracy before submitting them with your application.
Submitting your application for permanent residency in Canada can be done online or through a paper process, depending on the program you're applying for. It's important to carefully review the application process for your chosen program and follow all instructions closely to ensure that your application is complete and accurate. Be sure to submit all required documents, such as proof of education, work experience, and language ability, to increase your chances of a successful application.
The waiting game begins after you've submitted your application. The time it takes to receive a decision is dependent on the program you applied for and how many applications were submitted before yours. It's essential to remember that the process typically takes several months. So, keep calm and try not to get too anxious about it.
What is the Cost of a Canadian Visa?
Canada, like most countries, requires a fee for visa applications. However, the fee will vary depending on the type of visa you are applying for. For instance, a visitor visa is cheaper and will cost you CAD$100, while a work visa is slightly higher and will cost CAD$155. If you apply for permanent residency, the cost increases to CAD$550.
It's important to note that these fees are subject to change, and you should always check the latest fees before applying. But if you're considering a life in the Great White North, then investing in a Canadian visa is a small price to pay for the opportunities and experiences that await you.
What is the Cost of a Student Visa?
If you plan to study in Canada as an international student, one of the crucial aspects you must consider is the cost of a Canadian student visa. The expenses associated with obtaining a study permit depend on several factors, including your country of origin, the length of your program, and the province you'll be studying in.
To start with, you need to pay the application fee, which is CAD$150. In addition, you may also need to pay for biometrics, which involves providing fingerprints and a photo. This process costs an additional CAD$85 and is mandatory for students from certain countries.
Moreover, you'll need to provide proof of financial support to cover your tuition fees and living expenses during your stay in Canada. The amount of money you'll need to show depends on the duration of your program and the province you'll be studying in. For instance, if you're enrolled in a program in Quebec, you'll need to show CAD$12,960 per year for your living expenses, whereas, in other provinces, the amount varies between CAD$10,000 to CAD$15,000 per year.
Another expense to consider is health insurance. Most provinces require international students to have health insurance during their stay, and the cost of this coverage can range from CAD$300 to CAD$500 per year.
Tips for Successfully Applying for Canadian Citizenship or Permanent Resident
To apply for Canadian citizenship or permanent resident status, you must first determine if you meet the eligibility criteria set by the Canadian government. These requirements vary depending on the status you are seeking, and it's important to carefully review them to ensure you meet all the necessary conditions.
Collect all the necessary paperwork. The documentation required can differ based on your situation, but it may consist of evidence of residency, birth certificates, and passports.
You must complete and fill out the required application forms carefully and accurately. Only complete or accurate applications are more likely to be accepted, so it's crucial to take the time and effort to ensure that you have provided all the necessary information in the appropriate fields.
Prepare to pay the required fees, depending on your specific case and the services you are requesting. These fees may include the application fee, biometrics fee, and right of permanent residence fee, among others. It's crucial to verify the exact amounts and payment methods accepted by the immigration authorities to avoid delays or complications in your process. Additionally, you may be eligible for certain waivers or exemptions that can reduce the financial burden of your application. Therefore, it's advisable to research your options and consult a reliable source, such as an immigration lawyer or consultant, to make informed decisions and optimize your chances of success.
After completing all the necessary application forms completely and accurately, gathering the required documentation, and paying the required fees, you can submit your application for Canadian citizenship or permanent resident status. Depending on the program you are applying for, you may need to submit your application online or through a paper process. Once you have submitted your application, it may take several months for a decision to be made, so be prepared for some waiting time. It is important to ensure that all requirements are met and that your application is complete to avoid any unnecessary delays or rejections.
Tips and Tricks
A clean criminal record and strong ties to Canada, such as employment, family, or property ownership, can increase your chances of a successful application.
If you're keen on speeding up the processing of your application for permanent residency, you have a few options at your disposal. One is applying for expedited processing, typically reserved for special cases such as medical emergencies or individuals at risk of losing their status in Canada. Another option available to you is the Express Entry system, a points-based system that prioritizes applicants with skills or experience in high demand in the Canadian job market. Remember that while these options can certainly speed up the processing of your application, they may only sometimes be available to some and can also come with additional fees.
Why You Should Consider Moving to Canada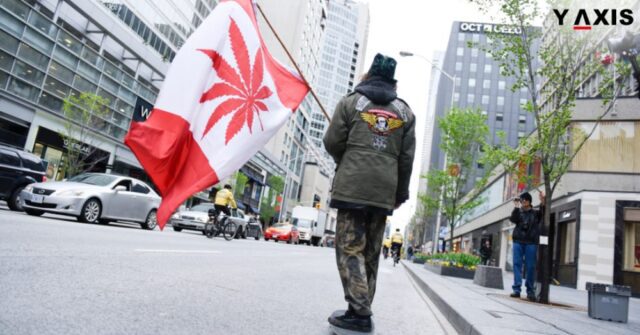 Canada has been known to be an incredible place to call home for many individuals. Here are a few reasons why one should contemplate making Canada their new residence:
---
---
The quality of life is high: In Canada, individuals have the privilege of accessing free health care services, benefit from a low crime rate, and enjoy living in a clean and healthy environment.
The economy is strong and stable: There are myriad work prospects for skilled workers in Canada, thanks to the diversified nature of its economy.
It's a welcoming place for immigrants: Canada is renowned for its inclusive and diverse community. It is a melting pot of cultures where new arrivals are welcomed with open arms and can seamlessly integrate into Canadian society.
There's something for everyone: Canada has a multitude of options to suit varying needs and lifestyles, ranging from bustling cities to quaint towns.
You'll enjoy the outdoors: Canada's many parks and natural spaces make it an idyllic location to relish the great outdoors.
Conclusion
Moving to a new country is a big decision, but if you're considering Canada, you're making a wise choice. Canada has something to offer whether you're looking for work, love, or adventure. The country is known for its welcoming attitude, diverse population, and high quality of life. Here are some tips to help make your migration process as smooth as possible.
First, consider your options for immigration. Canada offers several programs for skilled workers, students, and family members of Canadian citizens or permanent residents. Do your research and determine which program is the best fit for you.
Once you've identified the right program, gather all necessary documentation and fill out the application completely and accurately. Any mistakes or missing information can cause delays or even result in the rejection of your application.
It's also important to be aware of the costs associated with immigration, such as application fees, biometrics fees, and travel expenses. Plan accordingly and budget wisely.
One of the great things about Canada is its diverse range of communities. From bustling cities to quaint small towns, there's a place that will suit your needs and lifestyle. Do your research and decide where you want to settle down.
Finally, be prepared to embrace Canadian culture and values. Canada is known for multiculturalism, so be open to learning about and respecting different cultures. And remember to enjoy the country's natural beauty, from the Rocky Mountains to the coastal shores.
With these tips in mind, you can successfully move to Canada. Start planning today and get ready to enjoy all that this great country has to offer.
---
---
---
---
---

Post Your Bio, Music, Quest Post & More On TheCityCeleb
---
---


---
---
---