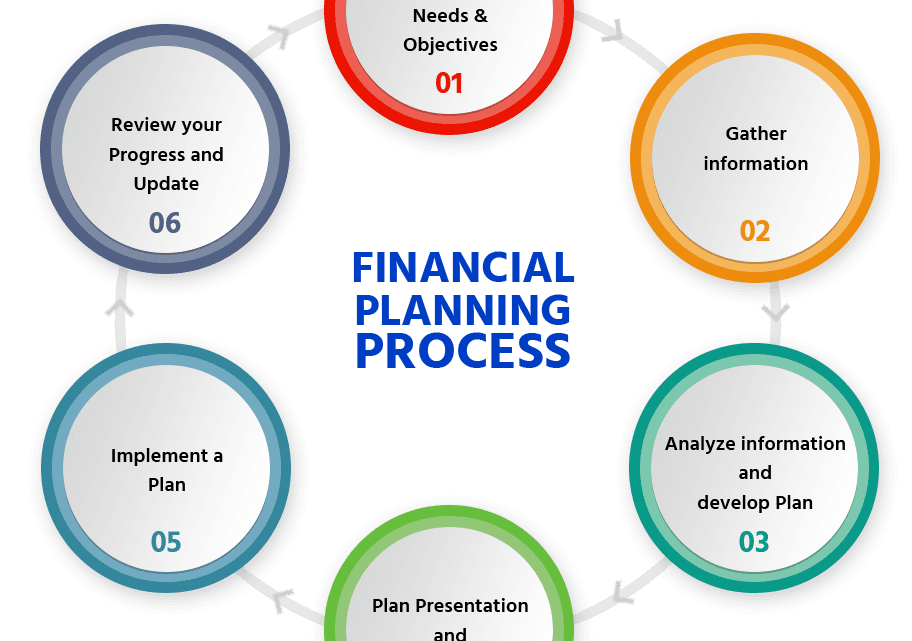 Steps Of Financial Planning Process
October 10, 2022
---
Growing your financial status is not a one-day activity. In most cases, it is a series of activities done consistently over time. While many critical decisions are associated with financial growth, none beats having a plan. Like a building plan, a financial plan is a roadmap describing the steps you will need to take to achieve your financial goals.
It would be best if you took the time to develop a financial plan that covers your proposed investment strategy, financial habits, financial goals, and current economic status. Developing a suitable financial plan will involve the following five steps.
1. Evaluate Your Current Financial Situation
Before drawing up a financial plan, you must evaluate your current economic background. Assess existing issues in your life and how it relates to your finances. Evaluating your financial situation would entail considering household budgeting, living expenses, and family obligations.
Your monthly expenditure gives insight into how much you would have left to invest. In like manner, your lifestyle determines how much money you can spare for monthly savings or investments. Also, the expenses of single and married persons differ. So put these into consideration when coming up with a financial plan.
Furthermore, taxes and miscellaneous expenditures (such as property purchases and emergency health bills) will influence the decision-making of the financial plan you craft.
2. Write Down Proposed Financial Goals
After evaluating your current financial situation, the next activity highlights your financial goals. A financial plan cannot exist without financial goals. The goals can be described as the oxygen that gives the financial plan life. Identifying and writing down your financial goals increases the likelihood of achieving them.
Financial goals differ for individuals. And the goals are a reflection of what chapter you are currently in. The goals could be to purchase a house or car, provide your children with an Ivy League education, start a family, establish a business or generate enough income to take care of you during retirement.
Irrespective of what your financial goals may look like, identifying the goals helps in determining your needs and wants. And this helps you know the best financial decision to take. Furthermore, your financial goals can either be short-term or long-term.
3. Identify Investment Opportunities
Understanding your financial objectives and current economic status will provide insight when looking for alternative investments. Your short-term and long-term financial goals will help formulate an investment strategy. The strategy must be tailored to your financial aspirations.
When developing this strategy, you must consider what it will take to achieve your goals. And this also involves looking at factors such as cash flow, risk tolerance, insurance coverage, and tax expenses. Creating an investment strategy that suits your financial needs will help you make the right decisions.
4. Assess The Investment Opportunities
After highlighting the potential investment alternatives, take time to evaluate them to know which one will work best for you. To do this effectively, it is advised that you employ the services of a financial planner or advisor. While considering your interest, you and the financial planner should discuss the investment opportunities and conclude on the most suitable one.
An assessment of the investment opportunities would entail risk evaluation. How rewarding is the investment opportunity? Can you afford to take the risk based on your current financial status? Are you uncertain about whether the investment will help your long-term financial goals or not?
Asking and answering questions like this will ensure you settle for the best financial decision.
5. Finalize The Financial Plan
The last step of the financial planning process is creating an action plan. The action plan gives you direction on the expected decisions needed to achieve the short-term and long-term financial goals. Once you are satisfied with the recommendations from your financial planner, the next step is to draw up a financial plan. There is no need to waste time again.
Writing down the financial plan is good, but it would be a wasted time and effort if it is not implemented. So, ensure you follow through with what is written in the plan to enable you to achieve your financial dreams.
Conclusion
As you advance in your financial growth journey, you might discover that your needs and aspirations have changed. Thus, it is necessary to revisit the financial plan for review and re-evaluation. And even if the needs remain unchanged, monitoring the plan and how well you follow it is important. Doing this will help you make the right financial decisions at different phases of your life.
---
---
---
---
---

Post Your Bio, Music, Quest Post & More On TheCityCeleb
---
---


---
---
---