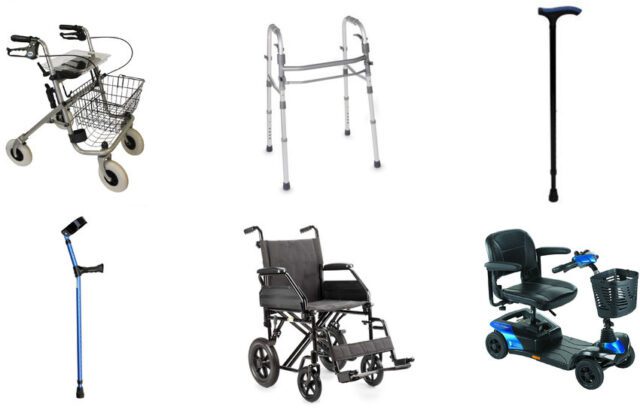 What Are the Most Popular Walking Assistance Devices for Seniors?
July 19, 2022
---
There are various mobility and walking assistance devices for seniors that would help them move easily. When someone starts ageing, their chances of falling and getting injured increase. Therefore, it's best to use the most effective walking assistance devices to provide them with safety and support.
There are countless mobility and walking devices available in the market that would fulfil all the needs of elderly people. But, sometimes it's extremely hard to choose the perfect one. You can find various mobile devices such as walkers, electric wheelchairs, crutches, and scooters, but not all of them might prove effective per your needs. Not to mention, purchasing mobility devices will become much harder if you choose them for the first time.
To choose something relevant, you need to know about the different types of mobility devices. To help you ease your confusion, we've prepared a list of the best mobility devices. Continue reading the article to know more.
Crutches 
Crutches are one of the most popular mobility devices you can find in the market. They will prove effective if you cannot walk properly due to ageing or other types of physical issues. Crutches will take the whole weight of your body from your legs and transfer it to the upper part of your body. Most elderly people use crutches. However, keep in mind that crutches are much more difficult and obstructive to use than canes.
They will work best if you're finding something as a temporary walking device. Most people use crutches after they suffer from leg injuries. However, if you want something for long-term use, you need to consider other available and better options. As per Patients like Me, crutches can cause joint pain in the hands.
Walkers 
Zimmer frames, also known as walkers, come with a metal frame and four legs. Some high-quality walkers also come with wheels at the front that would help the person move easily. You will find various walkers in the market such as rollator walkers and 2-wheel walkers.
The balance and support provided by the walkers are more than the crutches and canes as the walkers will have more contact with the ground. The user will use their upper body to place weight on two sides of the frame which would provide them with great stability.
Even though walkers are larger than crutches and canes, they are not only foldable but also lightweight. However, if you're searching for mobility aids for the elderly option, the walkers might fail to prove effective in satisfying all aspects.
Electric Wheelchairs 
This is the best mobility device you can purchase. Wheelchairs are the most popular and effective disability friendly mobility solutions that would undoubtedly prove to be worth the investment. Unlike the other types of assisting devices in the market, electric wheelchairs will provide the user with the most confidence and mobility to move from one place to another. This is why you always need to choose electric wheelchairs over manual ones. The electric wheelchairs are perfect for people who have more serious physical disabilities.
Conclusion
These are the most popular walking assistance devices for seniors. If you have any other questions, make sure you contact us to let us know.
---
---
---
---
---

Post Your Bio, Music, Quest Post & More On TheCityCeleb
---
---


---
---
---