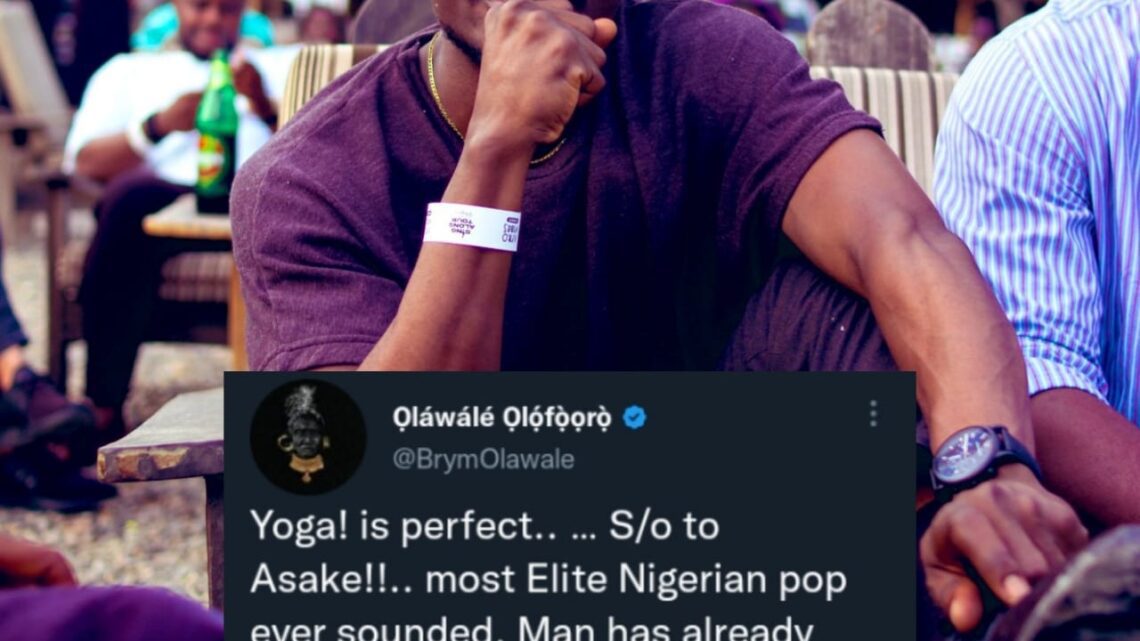 Brymo's review of Asake's Yoga is from the perspective of arts
---
Asake's traditional African sound, Yoga, since its first airing, has tasted both sides of criticism, the eeriest and remarkable being destructive: also a bone of contention between the actual lover of arts and those confined to rigidity, convention and an ageless ritual of a certain type of art being the same now, today and forever.
The whole of his debut year in the Afrobeats industry was summarily Amapiano and nothing daring beyond the popularization of the choir backup technique. As much as this rode on the advantage of novelty to appeal to the Nigerian lovers of pacy danceable tunes, it was not adventurous enough.
Taking cognizance of the adventure reflected through Yoga. One must commend Olamide and the entire YBNL team for their management of Asake. Having a predominantly Fuji musicality, Asake was already at a huge disadvantage in an African industry where sounds that are not pop-based seldom enjoy virality and media attention. Hence, his team must constantly develop ideas and methods to improve him to avoid wear out. Perhaps, this wearing out would happen faster than the norm hugely because of the industry dash for Asake's "multiple voices" innovation. Hence, the exploration of a new sound and a prospective market and audience.
Brymo's opinion of Asake's Yoga is valid. Brymo's naming the sound perfect is several miles away from questionability: the hand-beaten drumbeats, the usual violin peculiar to Magicsticks, the West African goje sound complemented by some Afrikaans language. Brymo is also of the opinion that Asake has decided the decade. This can be related to the widespread practice of the singer's debut sound; with him, the love for Amapiano increased in Nigeria — the fans as much as his colleagues fed and still feed off his musical technicalities, even when he is still home-based, awaiting a moment of extraterrestrial awe to completely break into the international music community.
The blemish of "wackness" stamped on Yoga by some fans is understandable. Some lovers of art are so rigid to the point that when art takes a turn differently alien to the convention they are used to, appreciating such art becomes a problem. While others only need to see or hear more of such novel art to decide about it or finally embrace it, others who see art as a ritual that should be done in the same way are always torn between trashing it and having their old art back.
Away from the worries of art lovers, Asake, for the first time in the history of Afrobeats, has proven the importance of vacation in music making. I have always preached that artists need to travel on vacation. While people like Runtown went on a hiatus for two years, Asake spent his new year learning and studying the music, life and culture of the Senegalese people. Upon return to music, his art became penetrable to his new experience outside Nigeria.
I wrote so many songs in 2022 that lately, and a few weeks into 2023, it has started feeling like I sound monotonous both in lyrics and lyrics execution. Hence, I must do something. It's either I stop writing music for some time or go on a vacation for a new experience. I'll do the latter in less than 10 days. Art is freedom; no artist or lover of the arts should ever be confined to a convention. Evolution is a must!
---
---
---
---

Post Your Bio, Music, Quest Post & More On TheCityCeleb
---
---


---
---
---