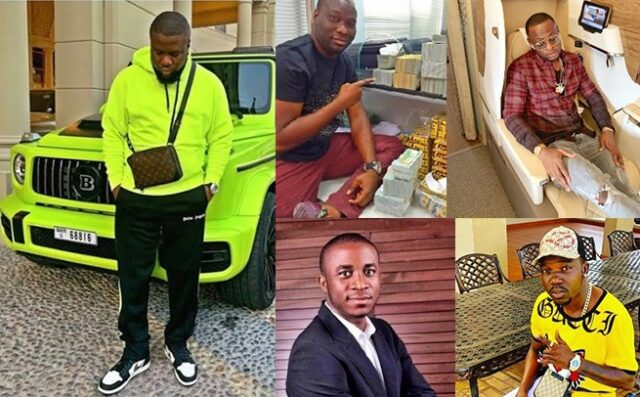 Alleged Top 10 Richest Yahoo Boys in Nigeria
Posted By
Kaptain Kush

---
Guess you must have heard the slang "Yahoo Boy" but still thinking if it's related to the Yahoo mail, you know, lol! This article explains to you what it means and how a lot of young Nigerians have made extravagant money with it.
So, who is Nigeria's richest Yahoo boy today?
A hustler, Gee Boy, Gee, 419, Yahoo Boy is a Yahoo Boy. Yahoo is a term used to describe someone who engages in fraudulent internet wealth acquisition activities.
"Yahoo Boy" is a Nigerian slang term for people who use fake emails and social media accounts to lure victims into any type of scam or deception.
Most Yahoo boys have amassed a large sum of money through fraudulent means over the years, making them appear to be among Nigeria's wealthiest people, and they even flaunt their dirty money online.
Many Nigerians, including celebrities, politicians, activists, and law enforcement authorities, have turned to internet fraud as a source of income in recent years.
In this article, I will show you the top 10 richest yahoo boys in Nigeria with their net worths.
Richest Yahoo Boys in Nigeria And Their Net Worth
Many of these guys are involved in illegal and fraudulent operations. Many of these Yahoo Boys go on to become very wealthy, flaunt their newfound wealth, and become social media celebrities.
With that said, these are Nigeria's wealthiest Yahoo Boys.
1. Ray HushPuppi – US$480,200,000
Ray Hushpuppi is known as Nigeria's wealthiest Yahoo Boy. He is wealthiest Yahoo boy in Nigeria. He doesn't hide his wealth; instead, he flaunts it on social media.
An unexplainable celebrity followed this unexpected wealth. He was constantly proud of his Rolls Royce, Bentley, and Dubai villas, and his "success" drew a large number of gullible Nigerians. He proudly displayed all he owned on the internet for anyone to see.
This wealthy yahoo boy Hushpuppi was originally touted as the Nigerian king of Gucci and the brand's spokesman. Hushpuppi also published photographs and videos of himself shopping for designer clothes in Dubai, including Versace, Fendi, Puma, Adidas, Balenciaga, Louis Vuitton, and others.
Hushpuppi's Dubai villa features a separate car for his things and even a private helipad. Believe me when I say he is the world's wealthiest Yahoo boy.
So, without a doubt, Hushpuppi is Nigeria's richest Yahoo Boy. Hushpuppi was worth around US$3 million before this item was updated. The Dubai Police Force's investigations revealed that my figures were incorrect.
Hushpuppi has amassed at least US$450 million from clients and investors all across the world, according to the FBI.
He is a credit card and insurance fraudster who preys on the wealthy of the United States, the United Kingdom, Austria, Luxembourg, France, South Africa, and portions of Asia and the Middle East.
Thankfully, he was apprehended by Dubai police in an undercover operation known as "Operation Foxhunt 2." Mr. Woodberry, Jamal, and Fish Sticks were among the 12 other internet scammers detained.
So far, this gang has defrauded nearly a million people around the world, with a target list of approximately 3 million people. This guy has to be the hardest working con artist on the planet.
He was also labeled the most wanted scammer in Nigeria by the EFCC.
On Instagram, Hushpuppi is one of the most popular Yahoo boys. He has over 1.6 million Instagram followers and owns a fleet of cars, including a couple of Rolls Royces, Range Rovers, and other luxury vehicles.
---
---
2. Invictus Obi – US$23,200,000
Mr. Obinwanne Okeke, popularly known as Invictus Obi, is one of America's wealthiest yahoo guys. He went from fame to obscurity, from Forbes to fraud. He is being detained by the FBI and is awaiting sentencing for his crimes.
After his dark web activities and other fraudulent crimes were discovered by both the EFCC and the FBI, Invictus Obi beat Mompha to become Nigeria's second richest yahoo kid.
He is the mastermind of one of Nigeria's largest cyber-frauds.
Obinwanne Okeke, unlike some of his colleagues who flaunt their money on Instagram, lived a very discreet life before he was detained.
Invictus Obi led such a wonderful life that Forbes called him "one of Africa's most spectacular entrepreneurs under the age of 30." How terrible is it that he damaged his reputation because he was Yahoo boy?
Obinwanne George Okeke has also been identified as a major member of a cybercrime syndicate specializing in business e-mail compromise.
Hushpuppi and Invictus Obi both have the same meaning. If you're a Nigerian who runs a fraudulent web business, you'll almost certainly be caught, jailed, and sentenced if you don't already.
If you're lucky, an American will catch you and teach you how to live in another country. SARS is likely to kill the unlucky ones in Nigeria, or they will perish in the Kiri Kiri prison. Mr. Obi is one of Nigeria's most successful Yahoo lads despite this.
Obinwanne Okeke is a Nigerian entrepreneur and investor who has been featured on Forbes. He is the founder of the Invictus Group, a construction, real estate, agribusiness, crude oil, gas, and renewable energy company.
Invictus Obi is the most educated yahoo boy on this list, with a Master's degree in International Relations and Counter-Terrorism from Monash University in Australia.
3. Mompha – US$11,000,000
Mompha is a philanthropist known for his extravagant lifestyle. He is married and the father of a son at the moment. He's also been spotted with several wealthy Nigerian politicians.
Who do you suppose owns Lagos State's Mompha Bureau De Change? Oga Mompha Money is a wealthy businessman from Lagos. Although the number of investment funds he utilizes to maintain his firm is unknown, many fingers point to dark web fraud.
He has a slew of images on his social media accounts in which he poses in front of a multi-million Naira mansion, flashy cars, or wads of cash that would make your mouth water.
He is undoubtedly one of Nigeria's wealthiest Yahoo Boys. Mompha is yet another cybercriminal who was apprehended and charged by the EFCC but released due to a lack of evidence. I'm sure he paid his way out, though.
Ismail Mustapha is a Nigerian Big Boy and the Mompha Bureau De Change proprietor in Balogun, Lagos Island. Even though his legitimate business was unregistered, it was nonetheless illegal. According to several of our informants, he uses it to launder money for politicians.
The Mompha Bureau De Change in Lagos State is one of Mompha's most well-known investments. He also has a luxurious house on Banana Island and a car fleet of over 14 vehicles.
4. Jowi Zaza – US$9,000,000
Jowi Zaza is another Nigerian Yahoo guy who appears to be doing well despite the current economic downturn. He has no known corporation or business, but he spends more than Aliko Dangote.
His bank account is deep, estimated to be worth up to US$10 million, and this baller is ready to cash in. On weekends, he is known to host giveaways on his Instagram page.
Look up Jowi Zaza on Instagram if you're seeking a Yahoo lad who spends without thinking about it.
5. Woodberry – US$7,800,000
Mr. Woodberry is, without a doubt, one of the wealthiest Nigerian fraudsters in Dubai. This Nigerian big lad was only discovered when the Dubai police detained him and a dozen others, including Hushpuppi.
So, who exactly is Mr. Woodberry?
Mr. Woodberry has kept many elements of his life private. The only obvious thing was that he was a big spender and good friends with Ray Hushpuppi. He didn't mind publishing images of himself drinking costly cocktails, driving fast automobiles, and living in penthouses in Dubai with his "hard-earned fortune."
According to data from the Federal Bureau of Investigation (FBI) and Interpol, Olalekan Jacob Ponle is an internet crime king worth more than $160 billion.
Mr. Woodberry is a billionaire from Nigeria. He has amassed enormous wealth as a result of online scams.
Mr. Woodberry, from what we can tell, grew up in the same household as Hushpuppi. They both grew up in Lagos and amassed enormous wealth by duping investors and businesses out of their money.
According to our sources, when he was apprehended, Dubai police discovered evidence and a design for a us$435 million scheme. Woodberry might have become the richest yahoo youngster in history if he had completed the assignment.
Fortunately, he was apprehended before collecting that much money from unsuspecting investors and companies.
Two of his many assets drew our attention: his expensive cars and chopper. We may not have seen it, but he previously said he bought a fancy helicopter in an auction from a Dubai prince. The aforementioned luxury micro chopper is estimated to be valued at US$489,000.
Mr. Woodbery owns a Lamborghini Urus Super Sports SUV valued at over US$100 million, a Rolls-Royce Dawn Black Badge valued at almost 190 million, and a 2019 Rolls-Royce Cullinan valued at nearly 200 million.
The value of his cars is estimated to be just under US$1 billion. Isn't it impressive?
The money he spent on automobiles could have been utilized to improve the neighborhood where he grew up, preventing other young people from following in his footsteps. But, instead of investing in his community's youth, he chose to spend his money on vehicles.
Although he has not been charged, Mr. Woodberry is still in FBI custody. The entire case against him has been withdrawn. On Tuesday, July 21, 2020, Robert W. Sweet issued the following ruling: "Without objection, the complaint against defendant Ponle is dismissed without prejudice."
This means he shared highly sensitive information with the FBI or has powerful friends in high places. Regardless, Mr. Woodberry is one of the wealthiest yahoo boys.
6. Baddy Oosha – US$6,000,000
Baddy Oosha is a Nigerian living in Malaysia who is well-known for his lavish spending. Even though he has no recognized company or investment, he makes a lot of money.
This is yet another wealthy yahoo lad who redefines the concept of La Vida Loca. Baddy Oosha and Toyin Aimakhu co-starred in a renowned Nigerian film. Davido, Olamide, Lil Kesh, and 9ice have congratulated him multiple times.
7. Investor BJ – US$5,500,000
BJ, an investor, is one of the most well-known yahoo boys on this list. Popular Nigerian celebrities such as 9ice, Zlatan Ibile, and Skiibii have commended him. Investor BJ regards himself as a well-known African Gucci representative in Malaysia. BJ, an investor, has a little under US$6 million net worth.
8. Deskid Wayne – US$5,000,000
Deskid Wayne is one of Nigeria's most powerful Yahoo Boys. He is a young and wealthy man who lives an extravagant lifestyle but has no significant source of income to defend his source wealth.
He is still faithful to his girlfriend despite his bad-boy lifestyle. Deskid Wayne is one of Nigeria's biggest boys, and he's not afraid to flaunt it on social media. He shot to fame after posting a video of himself burning US$250,000. The video quickly went viral, and a new Instagram sensation was born.
Deskid Wayne is also known for hosting giveaways and posting videos of himself burning money. Overall, we can say that this wealthy Yahoo boy has struck gold.
9. King Jide – US$5,600,000
King Jide is another Nigerian Rich Yahoo Boy. He has been able to develop a vast criminal operation in South Africa, making him nearly untouchable. He has been referred to as the Major of Capetown on numerous occasions.
King Jide enjoys a lavish lifestyle, yet his source of riches is unknown. The way he lives and displays his money online indicates that this Yahoo Boy has finally hit the jackpot.
His status was discovered when he spent more than 5 million on a bottle of 30 Ace of Spades and 1 Dom Perignon at Lagos' Cova club.
The total value of King Jide's assets and properties is currently around US$5,600,000.
BNaira – US$5,500,000
Adewale Adebayo, often known as BNaira, is from Ekiti State. He finished his tertiary education at the University of Lagos (UNILAG), where he studied Geography and worked as a youth corper in Oyo state, Ibadan.
BNaira is another notable Yahoo Boy in Nigeria who utilizes his money to shake up the Nigerian web landscape. He is a musician with a following small base. But what he lacks in talent, he makes up for in cash.
BNaira is a young rich Yahoo kid who has a lot of people gazing at him because of his lavish spending and proud display of wealth. He derives a portion of his fortune from music sales and producing studios, but the majority comes from the
BNaira is a young wealthy Yahoo kid who has a lot of eyes on him because of his lavish spending and proud display of money. He derives a portion of his fortune through music sales and production studios, but the majority of it comes from dark web transactions.
BNaira also has a fleet of cars, including a Red Range Rover, two Rolls Royces, and other high-end vehicles. On Valentine's Day 2018, he also purchased a 2016 Toyota Prado SUV costing ₦38 million for his mother. BNaira has an estimated net worth of US$5,500,000.
---
---
---
---
---

Post Your Bio, Music, Quest Post & More On TheCityCeleb
---
---


---
---
---