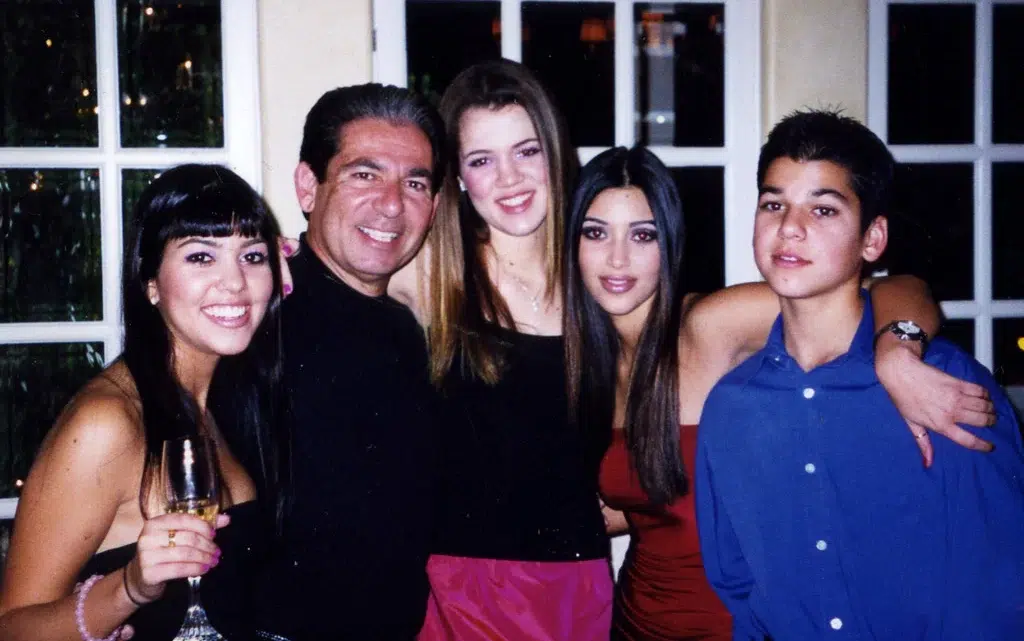 Robert Kardashian Biography: Net Worth, Children, Age, Cause Of Death, Wife, Ethnicity, Height
---
Biography
Robert George Kardashian (born February 22, 1944) was a prominent American attorney and savvy businessman born and raised in the bustling city of Los Angeles, California. Sadly, he passed away in his hometown on September 30, 2003, leaving a lasting legacy as a dedicated family man and legal eagle.
Although Robert Kardashian was an accomplished lawyer, his role as a father truly endeared him to the public. He proudly raised three daughters, Kim Kardashian, Khloé Kardashian, and Kourtney Kardashian, as well as a son, Rob Kardashian. His daughter Kim Kardashian's rise to fame through the hit reality show Keeping Up with the Kardashians has made him a household name, even years after his passing.
Apart from his legal career, Robert Kardashian's love life was a fascinating topic of interest. He was married three times, first to Kris Jenner, then to Jan Ashley, and finally to Ellen Pierson. Throughout his marriages, he fathered four children, each of whom inherited his wit, charm, and razor-sharp legal mind.
Robert Kardashian gained national attention for his involvement in the O. J. Simpson murder trial, where he famously acted as part of the defense team. His legal expertise was vital in securing O. J. Simpson's acquittal in what was widely regarded as the trial of the century.
Despite his passing, Robert Kardashian's influence continues to be felt. His children have achieved incredible success in various fields, and his legacy as a loving father, successful lawyer, and dedicated businessman will forever be remembered.
Robert Kardashian

Robert Kardashian: History ‧ Bio ‧ Photo

Wiki Facts & About Data
Full Name:
Robert George Kardashian
Stage Name:
Robert Kardashian
Born:
22 February 1944 (age 59 years old)
Place of Birth:
Los Angeles, California, United States
Died:
Died: 30 September 2003, Los Angeles, California, United States
Nationality:
American
Height:
1.7 m
Parents:
Arthur Kardashian, Helen Kardashian
Siblings:
Barbara Kardashian, Tom Kardashian
Spouse:
Ellen Pierson (m. 2003–2003), Jan Ashley (m. 1998–1999), Kris Jenner (m. 1978–1991)
Girlfriend • Partner:
Denice Shakarian Halicki (eng'd. 1994-1995), Shawn Chapman Holley (1995-1997), Priscilla Presley (1976)
Children:
Rob Kardashian, Kim Kardashian, Khloé Kardashian, Kourtney Kardashian
Occupation:
Attorney • Businessman
Net Worth:
$15 million
Early Life & Education
Robert Kardashian is a distinguished American lawyer and entrepreneur who, on February 22, 1944, in Los Angeles, California. His parents, Arthur Kardashian, and Helen Kardashian, were of Armenian descent, and he had an older sister, Barbara Kardashian, and a younger brother, Tom Kardashian.
The family lived in the affluent area of View Park, where Robert Kardashian attended Susan Miller Dorsey High School. He excelled academically and pursued a B.S. in Business Administration from the prestigious University of Southern California, demonstrating his entrepreneurial acumen early on. He continued his legal education by earning a J.D. degree from the University of San Diego School of Law.
Following his law degree, Robert Kardashian began practicing law and quickly made a name for himself. He used his sharp legal mind and expertise to defend O. J. Simpson in the infamous murder trial that gripped the nation in 1995.
Robert Kardashian also delved into entrepreneurship and established several successful companies, including Juice Inc., Concert Cinema, and Movie Tunes. His visionary leadership and unwavering determination helped him carve out a formidable niche for himself in the business world.
Robert Kardashian's legacy is still felt today, as he left an indelible mark on the legal and business industries and as the father of the beloved Kardashian family, including the famous Reality TV star Kim Kardashian. His immense contributions to society will never be forgotten, and he will always be remembered as a man who lived on his own terms.
Personal Life
Robert Kardashian had a colorful romantic life that kept the tabloids busy with his name. He was married to Kris Jenner, with whom he had four children – Kourtney Kardashian, Kim Kardashian, ex-wife of the famous Kanye West, Khloé Kardashian, and Rob Kardashian. Although their marriage ended in 1991, their family ties remained strong, and the Kardashians became one of the most famous families in Hollywood.
After his split from Kris Jenner, Robert Kardashian briefly engaged with Denice Shakarian Halicki, who happened to be his third cousin and the widow of a well-known movie producer, H. B. Halicki. However, the pair never made it down the aisle.
In 1998, Robert Kardashian tied the knot with Jan Ashley, but their union was annulled after 30 days. Jan Ashley later disclosed that the constant interference from his ex-wife and their children contributed to their failed marriage.
Despite his previous failed marriages, Robert Kardashian wasn't afraid to give love another shot. Three years after his annulment from Jan Ashley, he proposed to Ellen Pierson, and the couple exchanged vows six weeks before his passing.
Robert Kardashian also had a romantic relationship with Shawn Chapman Holley from 1995 to 1997, but the two eventually parted ways. He was also rumored to be dating American actress named Priscilla Presley (1976). With a rich love life and a family legacy that continues to shape pop culture, Robert Kardashian's impact on Hollywood is undeniable.
Career
Robert Kardashian and O. J. Simpson's friendship was rooted in their time at the University of Southern California, where they both studied, with O. J. Simpson even serving as the best man at Robert Kardashian's nuptials to Kris Jenner in 1978. His role as the esteemed water boy for the USC Trojans football team, which was ranked as the top team in the nation by the Associated Press Poll, had earned him a reputation of utmost reverence among the USC community.
The friendship between Robert Kardashian and O. J. Simpson would eventually reach a critical point in the infamous O. J. Simpson murder trial, where O. J. Simpson was accused of murdering his ex-wife Nicole Brown Simpson and her friend Ron Goldman June 12, 1994. 
As O. J. Simpson sought refuge in his house to evade the media frenzy that ensued after the incident, Robert Kardashian was seen carrying a bag belonging to O. J. Simpson on the day he fled to Chicago. This raised suspicions amongst prosecutors, who believed the bag could have contained either the murder weapon or O. J. Simpson's clothing.
Despite the controversy that erupted from this event, Robert Kardashian remained a staunch defender of Simpson throughout the trial and was one of the members of O. J. Simpson's defense team. Robert Kardashian's involvement in the case elevated his public profile, thrusting him into the national spotlight and cementing his legacy as one of the key figures in the trial.
In The Pop Culture
David Schwimmer's brilliant depiction of Robert Kardashian in FX's American Crime Story: The People vs. O. J. Simpson earned him an Emmy nomination, albeit he lost the trophy to Sterling K. Brown's outstanding performance as Christopher Darden. However, David Schwimmer's portrayal of his internal conflicts during the trial was spectacular.
---
---
Moreover, Ezra Edelman's remarkable production of the five-part ESPN Films 30 for 30 miniseries O.J.: Made in America provided a new perspective on trial, featuring archive footage of Robert Kardashian, making the audience contemplate his influence on the case.
In 2017, Amazon Prime's TV comedy series Over My Dead Body honored the memory of Robert Kardashian by dedicating its pilot episode to him. It's fascinating to see how his presence still lingers in popular culture even after many years of his passing, a testament to his impact on society.
Cause Of Death
In the summer of 2003, Robert Kardashian was dealt a crushing blow when he was diagnosed with esophageal cancer. Despite valiantly fighting the disease, the formidable lawyer and entrepreneur eventually succumbed to his illness two months later, in September of that same year. Tragically, he was only 59 years old at the time of his passing, leaving behind a family and a community of admirers devastated by his loss.
Following his wishes, Robert Kardashian was laid to rest at the serene Inglewood Park Cemetery in his hometown of Inglewood, California. There, he was interred amidst beautiful greenery and tranquil vistas, surrounded by the natural splendor he had always treasured. Though he may have left this world far too soon, Robert Kardashian's legacy lives on, as his memory continues to inspire and uplift those who knew and loved him.
Net Worth
At the time of his death, Robert Kardashian's net worth was estimated at $15 million. He is a profile lawyer, and throughout his lifetime, he worked as an attorney for high-profile celebrities.
Social Media
Instagram handle: N/A
Twitter handle: N/A
---
---
---
---
---

Post Your Bio, Music, Quest Post & More On TheCityCeleb
---
---


---
---
---