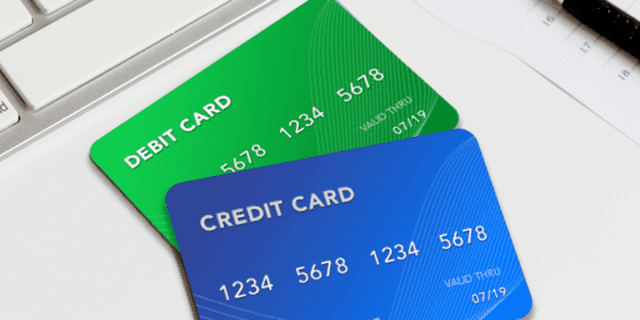 Credit Card Vs. Debit Card
---
From having 16-card numbers, expiration dates, and magnetic chips to EMV chips, credit cards and debit cards look alike. They are almost identical. They are used to make payments online or in-person at business establishments, with one key difference. Although they provide convenience to their holders, they have differences that you must know about.
Understanding the differences between a credit card and a debit card will help you know the right one to use for your purchasing needs.
What Is A Credit Card?
A credit card issued by a financial institution, usually a bank, allows the cardholder to borrow money from the institution. The credit card allows you to borrow money up to a certain limit so that you can use it to purchase items or withdraw as cash. When a financial institution issues a card to a customer, it means that the cardholder has agreed to pay back with interest any money borrowed. The interest depends on the terms of the institution.
Credit cards are of different types. They include standard cards, premium cards, reward cards, balance transfer cards, secured credit cards, and charge cards.
Merits Of Using Credit Cards
They help you build a credit history.
They provide additional warranty or insurance on purchased items beyond what the retailer offers.
Compared to debit cards, credit cards offer protection against fraud.
Demerits Of Credit Cards
The drawback of using a credit card is that spending can lead to debt.
The misuse of the credit card could affect your credit history.
What Is A Debit Card?
A Debit Card can be defined as a payment card that makes payments by deducting money directly from a consumer's checking account instead of on-loan from a bank or card issuer. Debit cards provide users with the same conveniences as credit cards and many of the same consumer protections when issued by major payment processors such as Visa or Mastercard.
Debit cards are popular among frugal consumers because they are usually few or no associated fees with using them. The exception to this is if the consumers spend more than they have in their account and incur an overdraft fee. However, this no-fee advantage doesn't apply to prepaid debit cards, which usually charge activation and usage fees.
In contrast, credit cards typically charge annual fees, over-limit fees, late payment fees, and a host of other penalties in addition to monthly interest on the card's outstanding balance.
We have two types of debit cards that do not require the customer to have a checking or saving account and a standard type.
Electronic Benefits Transfer (EBT) Cards – Federal and state agencies issue these cards to allow qualifying users to use their benefits to make purchases.
Prepaid Debit Cards – These cards provide people without access to a bank account with an avenue to make electronic payments up to the amount preloaded on the card.
Standard Debit Cards – These cards draw on your bank account.
Merits Of Using Debit Cards
They help you avoid debts as the card withdraws money you already have in the account instead of on-loan cash withdrawals from the bank.
Some debit cards offer better protection against fraud and prevent thieves from making fraudulent purchases on your card.
No annual fee is associated with using a debit card, unlike a credit card.
Demerits Of Using Debit Cards
Like credit cards, there are no rewards for using debit cards.
Using a debit card means you don't get to build a good credit score. Since you don't borrow, there is no way for lenders to see that you can pay back money if borrowed.
Although debit cards don't have annual fees, you have other fees if you want to have a checking account.
Conclusion
Although credit and debit cards look alike, their advantages and demerits differ. Your choice of a card depends on what you want. A credit card works best for you if you desire to build credit and cash in rewards.
And if you want to avoid debt and be frugal with your finances, you should get a debit card. Whichever you decide upon, ensure you know the fees associated with using the card.
---
---
---
---

Post Your Bio, Music, Quest Post & More On TheCityCeleb
---
---


---
---
---