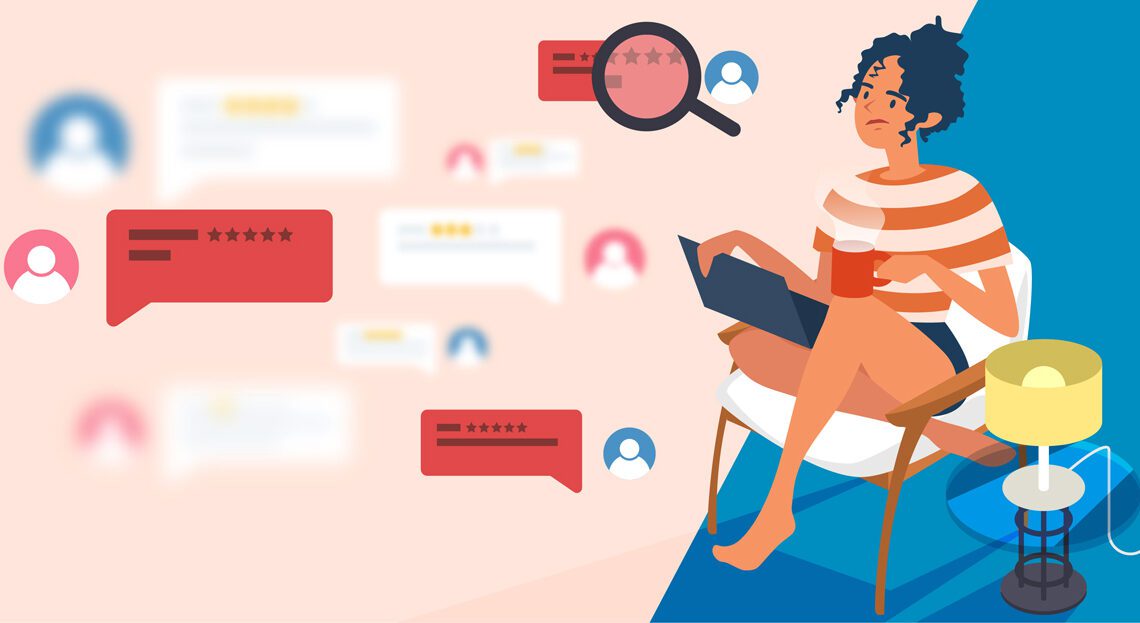 Ways To Detect Fake Review On Amazon
---
Regarding online shopping for products, reviews and star ratings determine whether a consumer will purchase a product. Reviews assure the average consumer that they can go ahead with the purchase. However, there is a current battle on the trustworthiness of online products due to the rise of fake reviews.
In the past few years, Amazon has made a lot of moves to combat fake reviews and stop untransparent brands from deceiving customers. This article will look at how to spot fake Amazon reviews. 
How To Spot Fake Reviews On Amazon
Below are six steps that will help you evaluate the authenticity of Amazon reviews. By asking yourself these questions, you can determine the validity of the reviews:
1. Are the posts looking similar to one another?
This is the first and quickest way to spot fake reviews. Take time to look down the list of reviews and check for similarities in the content. Try to observe if there are three or more reviews with the same content, although rearranged. If you notice this, it is your cue that the reviews are fake.
2. How Is English Written?
Now, some people might consider this unnecessary, but in fact, it is a good indicator if a product has fake reviews or not. A collection of reviews written in broken English is a red flag. The reviews are most likely fake.
3. Are The Reviews Short?
A three-sentence review is not much of a review. It is just enough to get a star rating. Typically, the reviews should have more depth – they should be longer and more explicit. However, the length of the review depends on the product.
4. Is The Review Generic?
This question is effective in evaluating the validity of the review. Ask yourself, "can the review be applied to pretty much anything?" This is another way of asking – are the reviews generic? Statements like "the product arrived on time, it works as described" are generic. And they are not helpful to a consumer's purchasing decision.
5. Is The Review Emotional?
Typically, a real review will critique the performance of the product. If most reviews state feelings and excitement, such as "It's lovely" or "I can't wait to gift my partner," you should look for another review. A normal review should explore the possibility of a negative side or comment on the product.
6. Who Wrote The Review?
Before purchasing a product, do a little research on the reviewers. Check the reviewers to see if they are real or not. For instance, if a person's account has only been in existence for a week and yet they have reviewed 30 unrelated products, this could be a fake Amazon reviewer.
Genuine reviewers usually focus or specialize in an area – food, electronics, cosmetics, or something. It's hard to see someone who reviews everything from cosmetics to household appliances in high volume. It's really rare.
Conclusion
The rise of Amazon fake reviews means consumers must pay more attention to reviews, which will help them spot low-quality products or counterfeiters on Amazon. By paying more attention to the quality of comments, brands and consumers can detect false reviews and get the best from their purchases.
While the above tips are useful in avoiding fake paid reviews, remember that they are general tips, and some genuine reviewers may fall under one of these categories. More so, Amazon has also launched initiatives to work against fake reviews on their site.
---
---
---
---

Post Your Bio, Music, Quest Post & More On TheCityCeleb
---
---


---
---
---