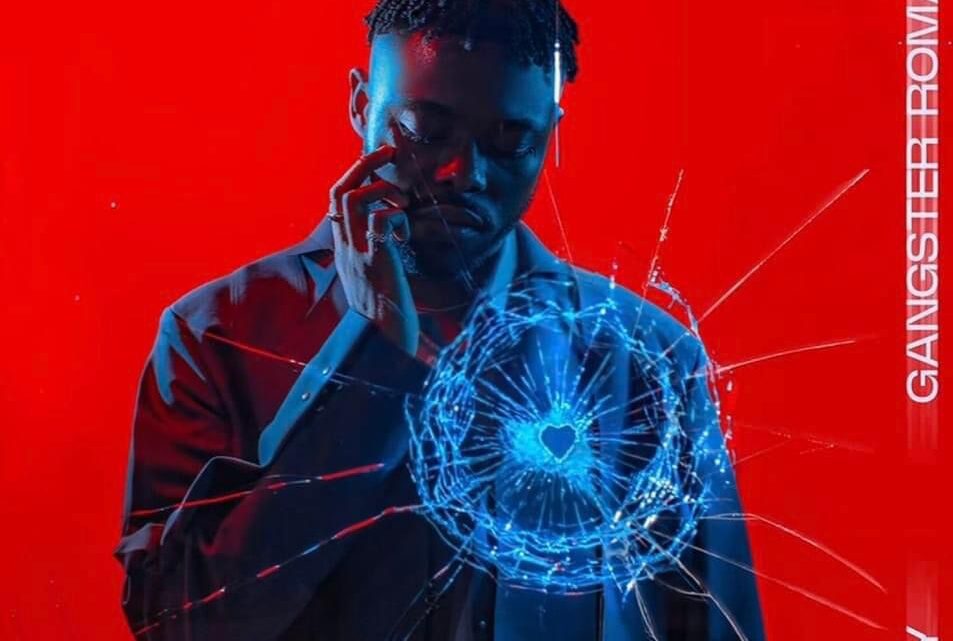 Gangster Romantic Review: Unconventional Lojay goes anti-feminist in new project
---
The power of an image to convey a message has long been a subject of debate. However, one cannot help but acknowledge the sheer brilliance of Lojay's artwork on the cover of his new project, Gangster Romantic. The image portrays a heart-shaped glass shattered and placed on his chest. It's an intriguing representation of vulnerability, suggesting that the singer's defenses have been breached, leaving him emotionally exposed. In a world where we are conditioned to believe that men must always be the epitome of strength and composure, the image is a refreshing reminder that love can indeed hurt.
To understand Lojay's musical persona, we need to delve into his past. The artist made his mark on the Afrobeats scene in 2021 with his debut extended playlist, LV N ATTN. It was an unconventional project that showcased his penchant for creative wordplay and song title abbreviations. This same artistic ethos is evident in Gangster Romantic, where he unapologetically explores themes often deemed controversial.
The global narrative surrounding gender issues has been dominated by women's empowerment, leaving men feeling sidelined and invisible. The Red Pill and Alpha Male movements were established in response to the perceived threat of feminism, focusing on improving men's mental and financial well-being. Lojay's exploration of the complexities of masculinity is a bold move, highlighting the importance of amplifying men's stories and struggles.
Lojay's Gangster Romantic is a project that deserves our attention, especially in a world grappling with the complex issues of gender-based conflicts and selfish ideologies. While the album title may seem ambiguous and suggestive of a love story involving a thug, the content ventures into anti-feministic ideas such as alpha-manliness, women objectification, and infidelity against the man, among others.
The album opens with Yahweh, which exudes sexual excitement and freshness, aided by the sludgy Dancehall tempo that carries on into the subsequent tracks Leader and Moto. Leader is audacious and provocative, with a guilty female being devalued and Lojay taking on the role of the Alpha leading a pack of men in a fight against manipulations, emotional blackmail, and artful craftiness of the female gender. He boldly orders men to leave their women if they move wrong, clearly demonstrating the Alpha Male movement at loggerheads with Feminism.
As we continue listening to the project, we are rewarded with Moto, where Lojay's heartbreak story is unveiled, presenting a dutiful Lojay whose Superman sacrifices are rendered inadequate by a cheating lover. It becomes a pretext for his undermining of the female gender as Leader, depending on one's judgment or a reason if one is empathetic.
Canada, like Leader, is controversial, with the woman being objectified, but not without her own complicity. It systematically reveals the hypocrisy of the female gender, who often cry that men only want to explore their bodies while simultaneously enabling their objectification through prostitution and provocative dressing. It is culturally reminiscent of the practice of traveling to Dubai to make money through sexual fetishes, resurrecting the disgust of the Porta Potty stories involving Nigerian big girls in Dubai a year ago.
The opening track, If You Down, sets a conversational tone that is meditative in its hopeful pursuit of reconciliation. The subsequent tracks take the listener on a journey that veers from the quickened tempo of Canada to the sobering contemplation of Ova. Lojay's versatility as a singer is fully displayed as he seamlessly transitions between various moods and themes.
The sexual objectification of women is an ever-present theme in this album, and Lojay employs a variety of erotic imagery to drive home his points. On Availabu, the tempo returns with a vengeance, and he makes a statement of intent by proving that he can produce hits that match the album's first track.
Ova is a standout track that showcases the singer's emotional depth and vulnerability. The somber instrumentals amplify the heartbreak ballad, making it a standout moment in the album.
Lojay's unconventional approach to music is evident in this project, and he continues to push the boundaries of what is expected of him as an artist. He refuses to be boxed into a particular genre or style, creating a refreshing listening experience.
One of the intriguing aspects of this album is how Lojay explores the dynamics of toxic relationships. He presents a perspective that challenges the conventional wisdom that women are always the victims in such situations. While the reality of toxic relationships often sees women being taken advantage of, he presents a story that tilts adjacent to this narrative, creating an intriguing irony.
However, the album has its challenges. One of the issues that detract from the overall experience is the predictability of Lojay's hooks. Since the release of Monalisa, the singer has relied on repetitive hooks that can sometimes feel formulaic. While this may be fine for some listeners, it's an area that could use improvement.
Overall, Gangster Romantic is a solid effort from Lojay, and it's sure to appeal to fans of his music. With its bold perspective, nuanced exploration of themes, and impressive vocal range, this album deserves a rating of 7/10.
---
---
---
---
---

Post Your Bio, Music, Quest Post & More On TheCityCeleb
---
---


---
---
---