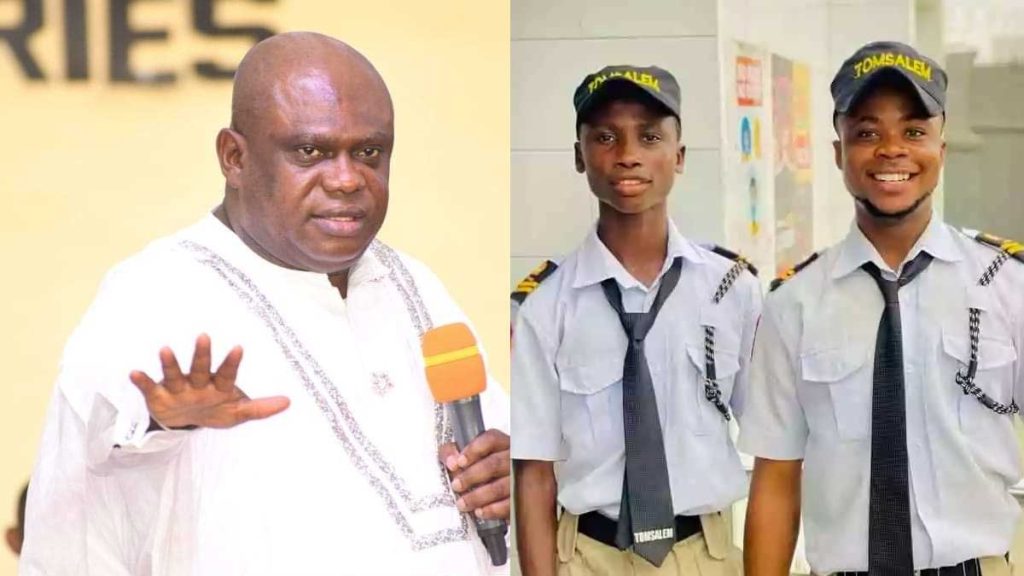 Top Nigerian Celebrities that Have Gotten scholarships in the past
September 6, 2023
---
Scholarships are not only reserved for academically inclined individuals; they can also be extended to celebrities. In Nigeria, several prominent celebrities have been able to further their education through scholarships.
These Scholarships often serve as a testament to their talent and dedication to their respective fields. In this article, we will delve into the lives of some of the top Nigerian Celebrities that have been offered scholarships in the past.
These scholarships have not only supported their academic pursuits but have also contributed to their personal growth and the development of their careers. Let's get started.
5 Top Nigerian Celebrities That Have Gotten Scholarships in the Past
1. Omotola Jalade Ekeinde
Omotola Jalade Ekeinde, known as "Omosexy," is a renowned Nigerian actress, singer, and philanthropist. She was born on February 7, 1978, in Lagos, Nigeria. Omotola Jalade Ekeinde began acting at a young age and quickly rose to fame due to her exceptional talent.
Omotola Jalade Ekeinde is known not only for her acting prowess but also for her commitment to education. She was awarded a scholarship to study Estate Management at Yaba College of Technology in Lagos. This scholarship not only allowed her to acquire valuable knowledge but also allowed her to balance her education with her budding career in the entertainment industry.
The scholarship she received was pivotal in her life, enabling her to attain a tertiary education while pursuing her passion for acting. Omotola Jalade Ekeinde's success in both her academic and entertainment careers has made her an inspiration to many young Nigerians, emphasizing the importance of education alongside talent.
2. Genevieve Nnaji
Genevieve Nnaji is a Nigerian film industry household name, often called "Nollywood." She is an actress, producer, and director, born on May 3, 1979, in Mbaise, Imo State, Nigeria.
Genevieve Nnaji's journey to stardom did not deter her from pursuing an education. She received a scholarship to study Creative Arts at the University of Lagos. This opportunity allowed her to hone her artistic skills and broaden her understanding of the entertainment industry.
The scholarship Genevieve Nnaji received not only contributed to her personal development but also solidified her commitment to the arts. She has inspired many aspiring actors and filmmakers to pursue their dreams while valuing education to enhance their craft.
3. Peter and Paul Okoye (P-Square)
Peter Okoye (Mr. P) and Paul Okoye (Rudeboy), popularly known as P-Square, were a Nigerian music duo that gained international recognition for their unique blend of R&B, hip-hop, and Afrobeat music. Born on November 18, 1981, in Jos, Nigeria, the brothers embarked on their musical journey at a young age and released several hit songs.
The Okoye brothers' talent and dedication to music did not go unnoticed. They were offered scholarships to study Business Administration at the University of Abuja. This scholarship allowed them to balance their education with their burgeoning music careers.
While the Okoye brothers ultimately decided to pursue their music career full-time, the scholarship they received demonstrated the value of education in their lives. Their story serves as an inspiration to young musicians, emphasizing the importance of both education and pursuing one's passion.
4. Happie Boys
Happie Boys, also known as Matthew Precious Kelechi and Amakor Johnson, is a young Nigerian comedy pair who rose to prominence on social media after being fired for neglect of duty at work. Since then, the duo has created funny content for their social media sites.
Matthew Precious Kelechi and Amakor Johnson rose to social media celebrity status in 2022 after being sacked as security guards at the Chicken Republic in Aba, Abia State, for dancing on the job. Following their discharge, the General Overseer of the Omega Power Ministries (OPM), Apostle Chibuzor Chinyere, offered them scholarships to study in Cyprus.
So many controversies around the General Overseer and the Happie Boys went viral on social media. This was to reveal that they were dropping out of school due to their sponsor's lack of financial assistance. They went so far as to publish their conversations with Apostle Chibuzor Chinyere, in which they asked for financial aid on multiple occasions. However, he needed to provide the necessary assistance.
On the other hand, this information created many difficult questions and enraged their patron, Apostle Chibuzor Chinyere. In response, Apostle Chibuzor became enraged and began cursing the Happie Boys. Apostle Chibuzor Chinyere stated that the church was in charge of financing their scholarship and other beneficiaries.
However, due to the increase in the dollar rate and Nigeria's deteriorating economic circumstances, the church could not keep up with the sponsorship. He further stated that everything was clearly told to them and that they were allowed to leave Cyprus to pursue their studies in Nigeria or the Benin Republic, which the boys flatly refused.
With both parties at odds, the comedic duo has said unequivocally that they have no plans to return to Nigeria. They expressed their thanks to the OPM's General Overseer and requested forgiveness.
5. Asa (Bukola Elemide)
Asa, whose real name is Bukola Elemide, is a Nigerian-French singer, songwriter, and recording artist. She was born to Nigerian parents in Paris, France, on September 17, 1982.
---
---
Asa's talent for music was nurtured from a young age, but she also valued education. She received a scholarship to study at Peter King's School of Music in Lagos, Nigeria. This scholarship allowed her to refine her musical skills and develop her unique sound.
Asa's scholarship allowed her to hone her musical talent and launch a successful international music career. Her story highlights the importance of combining education with one's passion, demonstrating that it is possible to excel in both realms.
Conclusion
Nigeria, often referred to as the giant of Africa, is known for its rich cultural heritage and for producing some of the most remarkable talents in the world of entertainment.
This article has dug deep into the lives of top Nigerian celebrities who have previously received scholarships.
These individuals have made a name for themselves in the entertainment industry and demonstrated a commitment to education, serving as role models for aspiring talents and scholars alike.
Do we need any Nigerian celebrities who have been offered scholarships in the past? If you think so, let us know so we can update you.
---
---
---
---
---

Post Your Bio, Music, Quest Post & More On TheCityCeleb
---
---


---
---
---