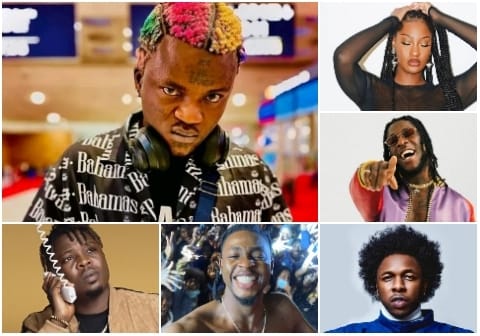 8 Nigerian artists with the best lyrics at the moment
---
The importance of songwriting is still not understood in Nigerian music, which is why many fans tag intellectual singers "boring" or trying to sound "foreign" and why lyrically deficient singers would rather die than hire a songwriter. It is also why many who use songwriters will never openly acknowledge them.
Although there is a little upsurge in the sense and reasonability sung by Nigerian singers lately, notwithstanding, collectively, the pen game of the heads that make up the industry still leaves much to be desired. This only proves there is still much improvement needed to be made as far as songwriting is concerned in Nigerian music.
Despite a lot of the industry singing to glorify internet fraud, multiple sexual escapades, infidelity, wasteful spending and a lot of other contemporary lifestyles, the following artists make a much-needed difference:
8. Portable
Anytime Portable decides to be reasonable with his music, we get a role-playing of King Solomon with the wisdom of advice and behavioral criticism.
What is unclear is whether or not Portable uses songwriters. On his last album, the singer explores criticisms of society and individual greed; he also gives motivational speeches. Some of the quotes from his music include:
Prayer becomes a habit, success becomes a lifestyle/Accept your past without regret/Handle your present with confidence,/Face your future without fear.
Poor guy na n*ggg*, rich guy na OG/If dem no call you G, na because you no get money.
Comot your eye from church money, na pastor get am.
Never let your emotions overpower your intelligence.
I don't have a plan B; it's do or die.
Never fear to walk alone, a lion doesn't fear to walk alone.
Na grace carry us reach here, no be transport fare.
Don't be ashamed of your hustle.
Get the money first, fall in love later.
Who go help you, no go stress you.
The best way to grow is to walk far away.
Na who get money for account dey know when bank get issues.
If your personality is ugly, you are an ugly person.
7. Runtown
Runtown's Signs album presents listeners with a badman conscious of the need for religion. But he is too deeply entrenched in his thuggery that he would rather live both contradictory personalities simultaneously than give up one for the other.
Runtown's lyrics are characterized by threats, warnings, distrust, thanksgiving, lifestyle, minimal romance and the self. Here is a snapshot of it:
It's a blessing when the sun shines, but less to see
If the teacher don't teach, wetin preachers wan preach?
See people dem wait for a very long time/Must be why everybody looking for signs/Dem pray like a million times
And I know/Greener pastures will come with snakes/I stay ready, will fumigate
The pain will elevate the passion/Going through the phases, comin' like a headshot
One hand in my bible,/Other on me rifle.
Let bygones be bygones, or I might just burst my guns
6. Tems
Apart from the similarity in their singing style, study Tems' lyrics and conclude that the likes of Ayra Starr, Fave and Bloody Civilian were unconsciously modeled after her.
Tems' penmanship is hugely affected by an attitude of "I've had enough" and a "you can't play me, boy" self-awareness. When it is not that, it is the lamentations of a single African lady looking for peace and freedom. The highlights of Tems' lyricism include but are not limited to the following:
Give me shame I give you peace, from underneath/Give me mind and be a light to re-ignite/Can you open up the doors to let me in/Can you open up the doors to let me in/You can put the hurt inside on top my head/As I sing the love inside from out my mouth/Tell me what you need to find, tell me now/Tell me what you need to find/This is a place with no shame/This is a mind with no frame/This is the light with no dark/This is the truth with no faults/This is a place with no shame/This is a mind with no frame/This is the light with no pain/This is a place with no shame.
This is the peace that you cannot buy/Send me a love that you cannot mix/One is the joy that you cannot waste/And the other one price that you cannot fix/This is the peace that you cannot buy/Finding a way when you cannot see/Man will desist if he cannot pray/I need to find release.
I said, "Five in the morning"/I wake up to fight for my earnings/The fear in my mind is a warning/Praying to the one you rely in/I've been wandering all day/I try to be fine but I can't be/The noise in my mind wouldn't leave me/I try to get by, but I'm burning.
Higher than all the limits/Going way beyond the noise and your feelings/When you speak all I can hear is silence/Turning back from all the pain and violence/Big tunes, now it's big tunes I'm killing/Cry now from the side now, call my name/Fall down when you see me, you know that/You know that I won't stay for you, you/I will wait for you for you, for you/I will wait for you/I will wait for you.
Don't call my phone, you're not a madman/You missed the way, inna the one chance/I live my life, don't need you with me.
This is the mind, this is the light/This is the time, this is the way/I see the dream coming before me/I've been the one, don't have to say it/This is the vibe, don't need to fake it/Seeing the world, living beyond it/This is the key, so I can save you.
I feel it comin'/Time is of the essence/I tried to teach you/But I might need some lessons/I need to give it all/I tried to leave but I can't/I don't know why you're the one/Turn me out of my mind/You don't need no other body.
All you do is lie and lie and lie/All you do is try and try and try/You don't even know the kind of things/But you try to tell me all these things.
5. Oga Network
Oga Network is a monopoly of proverbial sayings that can mostly be humor-filled. Realistic words that accentuate experiences on a guitar-infested Highlife sound, with this Delta-born singer sonorously blaring from your speakers, it is a pleasure at every turn. Oga Network is a 21st-century singer with some 1930s witty lyricism. Below are some of them:
My mommy say, "my son, you know the Devil"/If no be open eye, he for still dey for heaven.
No matter how elephant sick, big man waka still dey him body/Antelope fit be doctor, but no be for hospital wey sick lion dey.
Life na two; who carry belle, who give am/Life na two; you lose money, person win am/Life na two; fire dey hot, water quench am/Life na two; some say Ronaldo, some say Messi/Life na two; either Davido or na Wizzy/Life na two; Nicky Minaj or Cardi B/Life na two; APC or PDP
You no fit dey for altar dey beg make I pass kpoli/If you wan devil, devil, if you wan holy, holy/Who carry belle no suppose dey come dey form Mary/E get where you for dey, e get where I dey.
No go blame anybody/Na me go tattoo for body/Leave who draw am for my body/Because na me give am body.
I dey love the girls wey tall come get bigi waist/No be small money na him we dey here dey waste/Bad bad things come dey sweeti pass chocolate/Mummy pray for me before to get sense go late.
Driving license no be for who dey push barrow/Beaching cream no go fit to bleach shadow/Pikin wey say fresh pepper be like fresh tomato/If he never chop am, the difference no dey show.
Wahala dey, wahala full here/Country where blind man dey count money, wahala dey/Wahala dey, wahala full here/Armed robber dey call thief ole, wahala dey/Oga DPO na who tiffi phone, for inside police station/NEPA office on generator, dem no know when light go come.
4. Omah Lay
Omah Lay is several distances ahead of the horde of his peers regarded as the Gen Z acts, lyrics-wise. Omah Lay's lyrics are therapeutic to the brain. The weirdest thing about Omah Lay's lyrics is how they are mostly divided into short lines, which, when connected as a whole, are either one detailed storytelling or one picturesque expression. At the beginning of his career, Stanley's lyrics scream out Burna Boy's thug-life penmanship. You can blame this on Port Harcourt being their root.
You impatiently want to name him a painter with words but wait, that's not all. Omah Lay uses songwriters to co-write most of his popular songs. The Port Harcourt-born singer is obsessed with sensual euphemisms, words that can metaphorically express different acts of sex. However, lately, the singer's lyrics have been more self-centered on critical psychological issues relating to depression.
She loves me when I'm drunk/She loves me when I'm jobless/She loves me when I'm wrong/Even when I no need love.
You be my Nikka/You be my cloth/You be my water/You be my blood/You be my river/You be my road/You be my fever/You be my cold/Even when I waka/With ten toes/She carry my matter/Like dandruff/When things scatter/She dey hang on/When things better/She dey thank God.
Girl, you know I had to go to war for a word for these words for you/If I had to put all my health in a purse, it ain't enough for you/Ain't nobody know the cause of my matter/Cause of my matter is my shawty/Anybody underestimating the matter/Tell the man say him no know my shawty/If you need a fire, I'll be a lighter/Please be my judge, put me on trial/If you think I'll hot ya, put me under water/Take me to court, I don't need a lawyer.
You know I'm a bad Man/You know I'm a rasta/You know I'm a vandal/You know I do ganja/But you dey make me calm down/You dey shake my dada/You dey cut my sandals/You dey off my lantern/I used to be a brutal/Goons for Igwuruta/Girl You are my Rastafarian/Na you dey make me cool down/Anybody wanta wanta, point am make I shoot am/Girl I be wahala man, baddy man Chuka.
Omo, she be SARS/, And she carry full van.
She say she like it north/But she really love it south/She say my thing ah long/And e come out for her mouth/She say I keep it spinning/Like Lekki roundabout/She don't know when she screaming/She no know when she dey shout/The way I lick her clean/She think I'm a laundryman/The way I eat her thing/She think I be animal/The way my thing dey sweet/E be like vanilla/The way I make her feel/E be like in carnival.
Shibiri, shibiri, shibiri/They are talking shi-shibiri/Water no get enemy/'Til you fall for Oshimiri/I poto poto my eyes/Ten shots/High rise/Touch God/I cry/Offshore/Cut my/Dreadlocks.
Do you believe it?/Even if you didn't/I cannot be nobody for life/I dey beat my chest/As I dey look myself/Saying I cannot be nobody for life/Because waka waka waka no fit me/Suffer, suffer, suffer no fit me
I know you got me now/I know you got me now/I know you got me now/Followed you up and down/Followed you up and down/Followed you up and/Now I don loss my mind/Now I don loss my mind/Now I don loss my/Now I know you lie/Now I know you lied/Now I know/'Cause the doctor said I burnt my liver/I've been drinking, smoking cigars/Used to sing and play my guitar/Now I'm lost in this sambisa
I enter rain cause I give you umbrella.
Give you my last card, you spend am/I show you my best friend, you friend am
All of my fans, I pity for them/I don mad I pick condemn/I don fight uniform men/Oluwa, can you fix the problem?
Father help me/I hit that pussy, motor accident/Road wey lead to happy ending/E no dey hard to kill person/And she knows it all/We got a secret, she no go talk/The things we do when we lock the door/That shit is poison, no antidote/I put my all in 'til I see evidence/For her face and her leg e dey shake/Like say she get epilepsy/She say the taste e dey sweet and e bitter/At the same time, peppermint/Crocodile teeth, Skillibeng/Yes, my thing strong, no fit bend/In my face, I innocent until I bend you.
I get high when my life is low/Cause up there, it just feels like home.
How do you love like that?/Your eyes no dey dry water/Today I dey on this one/Tomorrow, that one/If it wasn't for you/Weytin a boy for do?/In all of these temptations.
My rizzler/When I dey down/I roll one/To go back up.
3. Burna Boy
Burna Boy's artistry which fuses Hip Hop and Reggae with original Nigerian sounds and self-termed Afro-fusion, is one to try in the search for realistic lyricism. Have you ever wondered why Wizkid FC termed his style of music Afro-struggle?
This is because Burna Boy's lyrics portray what is obtainable from thug life, poverty-ridden ghettos, gun violence, dreams, arrogance, insecurities and distrust and, of course, women and big butts (when he chooses to be lenient). Some of his lyrics that capture these experiences are quoted thus:
If you no know yourself, you go lost.
Don't let dem take my head/And dance over my dead
I've been living on the edge, but I won't fall off/Got a couple honors for the spending.
Many different rules outside/You are new outside/So watch how you move outside.
You no go know if you no go/Don't try reap what you don't sow/Anytime you dey for road, better don't slow.
If only father God can talk to me/And tell me what he has in store for me/Could he let me know? Cause only God knows the pain I feel/All day me never eat no meal/Oh, dem say the good die young/Now the dead's getting younger/Age ain't nothing but numbers/This life's a jungle, sometimes I really wonder how I keep from going under/So before me mother cry and her eyes start swell/Cause her son end up like Vybz Kartel.
Know say me have enough history outside/Show you just how it feels to be outside/Shit that make it hard to sleep at night/I take you to these memories of mine/Come dey feel like say nobody fit to help me/Like say I dey shout, but nobody hear me/Until finally, nothing come dey fear me anymore.
When it comes to money, I dey concentrate.
Me bad, I know/Where me come from looks like Baghdad, I know.
If I should stumble on my feet/I hope that no one sees
You know say Niger Delta boys no trust no minister/That's the reason dem ma burst up the cylinder/I swear to God, you no go see small pikin there/Even small pikin, no be small pikin there.
Anything wey better require planning
I know you shy, but it's cool when we're making love.
Do am if e easy
If you think it's over, then you must be drowsy/I'm a motherfucking legend, and I say it proudly.
Music make me feel I be Jordan/Now I understand when dem say, "aye po gan."
Not knowing how to behave?/That is a sign that you may/Just lose your life, what a waste!/Your body found in a lake/You fucked around/And the fisherman found you drowning for days.
When you see a soldier smile, it's a good sign/That's the way it is in the Southside.
And so as the day comes, as I go on/Protect me, Lord, I cannot trust my neighbors.
Dem go bow for the result/Nothing to discuss/I no go fit take your insult.
2. Erigga
Erigga is highly lyrical, and his mastery of the Pidgin language makes him the most graphic African rapper with words.
Erigga's lyrics border humor, x-rated imagery, thought-provoking metaphors, and storytelling expertise only a griot can boast of. Some of his most recent lyrics are as follows:
Gone are the days when guy men no dey see food chop/I dey UK with my guy, na seafood I chop
Damn! Weytin make you feel say your ex change/No be number, she know wetin we two exchange
Budapest state of mind like I'm hungry/Cool down first, the wine na from Hungary
Allow me spoil you like soup wey dem shook hand put
I lick her mango/she no know when she let her man go
How rain wan take fall wey ground no go know?
You get guy, why my cash come dey catch your attention?/The goal wey I dey aim no be the one wey keeper dey/Carry my mami go Miami, na that kind trips I dey
Africa no be for the weak, develop your mind/You no be woman nyash, tell me why u dey behind
Juju dey find blood, you go dey beg am with malt/Find your own way, the line don scatter for front/How truth wan take dey news when news no dey the truth?/You wan hide something from black man, put am inside book.
We're not cut from the same cloth, linen no be khaki/Where I'm from, na two choice; pumpy or lappy?
Like who no sabi drive, I wan hit you from behind
The last control you go, dem give you 1 meter/You pocket am for knicker, you no tell Anita/You still come her house come thief her hair/Wicked girl, no be you get 2 million there/All these things just remind me of my jazzman/I go him house for Ijebu, na my pastor I jam.
Food wey sweet, na who sabi cook, cook am
River calm no mean say crocodile no dey
Na mumu dey fall in love
Na God dey save mumu
Before he gimme drugs sell, he first feed me well/Tell me say if I deliver, everywhere go gel.
Reality don begin set in because the setting/Where dem born us, nothing dey certain.
Raise your skirt go up, make I chook you D/Na Eri baba dey fuck, no be Chukwudi.
I chop your work anyhow, no table manners.
1. Brymo
Brymo's discography is one of the richest in Africa, owning to his awakening of the mainstream Alternative sound and stretching now to his pioneering the Sonic Art; and, of course, his lyrical prowess.
Brymo's lyrics, the way an African mother shields an ailing child with her thick wrapper, spreads across deep Philosophy, Yoruba traditional beliefs, proverbs, political criticisms, romance, folklore, History and Psychology. Some of his popular lyrics include:
When the whole town is poor in their minds/And the slavery we chose we deny/Its foundation, we won't survive
Smart monkeys don't monkey around with another monkey's banana.
Win upon win, now I still can't sleep/Life always brings suffering, you see
You're not lonely if you don't feel alone.
Fight your wars, lose at some, fight some more/Don't be scared to get lost and be found.
God is in your mind.
Freedom is a kind of prison.
To betray self na high treason
On the way to nirvana, I poured me a double/It took a while to find I'm the key.
Emotions and limbs, they tangle together.
Love is the disorder.
Love is the captivity that lovers chose
Heartbreak songs are better in English.
When the moon really comes, we will crumble.
I used to have two vices/Smoking jean and eating coochie/These days, I just lose the count.
And the people shall no longer settle for mediocre systems/On the street, they're singing songs about anarchy and war/It's time for the new/The old rule must go.
Don't mistake what is fun for what is good.
Hey boy! You got to choose; to be lonely or to be alone.
Everything is so temporary/We're pretty outside, and we're ugly inside.
To hold person down, you go need to stay down too.
---
---
---
---
---

Post Your Bio, Music, Quest Post & More On TheCityCeleb
---
---


---
---
---