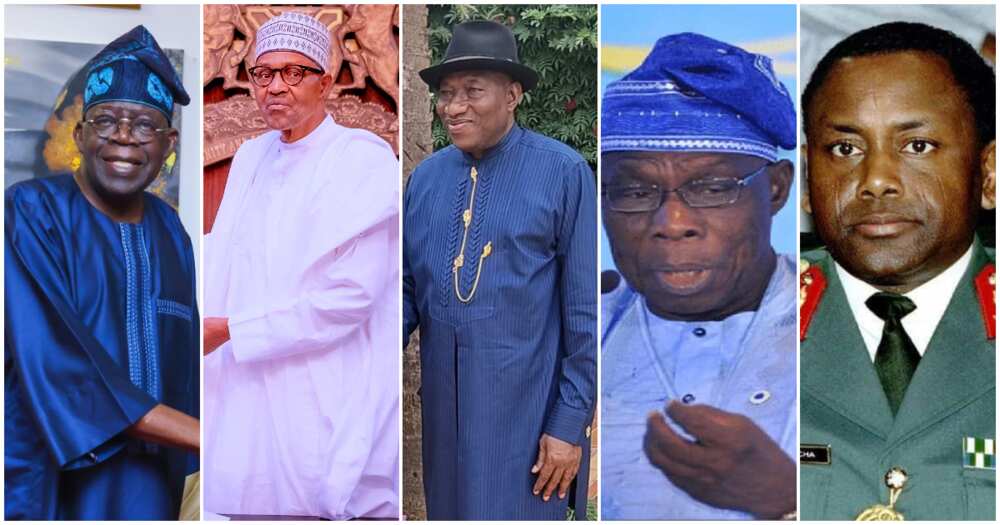 Chronicles of Nigerian Presidents: Past and Present List
---
Nigeria has witnessed a succession of leaders, each leaving their mark on the nation. Nnamdi Azikiwe became the first President after independence in 1960. Subsequently, the nation experienced periods of military rule, with leaders like Yakubu Gowon, Ibrahim Babangida, and Sani Abacha at the helm.
The return to civilian rule brought leaders like Olusegun Obasanjo, Umaru Musa Yar'Adua, and Goodluck Jonathan. Muhammadu Buhari, known for his military background, assumed office, focusing on reforms and development.
Each president has contributed to Nigeria's journey, facing unique challenges and shaping the nation's destiny. As Nigeria continues its path, their legacies remain integral to its history.
Nnamdi Azikiwe (1963 – 1966) – He became Nigeria's first President after independence from British colonial rule on October 1, 1960. Azikiwe was the ceremonial President and pivotal in Nigeria's early post-independence history.
Johnson Aguiyi-Ironsi (1966) – After a military coup in January 1966, General Johnson Aguiyi-Ironsi assumed leadership as the head of state and also took on the role of President.
Yakubu Gowon (1966 – 1975) – General Yakubu Gowon became the Nigerian head of state and President after the counter-coup in July 1966. He led the country during the Biafra-Nigeria Civil War from 1967 to 1970.
Murtala Muhammed (1975 – 1976) – General Murtala Ramat Mohammed seized power in a bloodless military coup in July 1975. He served as the head of state and held the position of President until he was assassinated in February 1976.
Olusegun Obasanjo (1976 – 1979) – After the death of Murtala Ramat Mohammed, General Olusegun Obasanjo took over as the head of state and President. He eventually handed over power to a civilian government in 1979, marking the end of military rule in Nigeria's first republic.
Shehu Shagari (1979 – 1983) – Shehu Shagari was Nigeria's first executive President in the Second Republic after winning the 1979 general elections. However, his government was overthrown in a military coup in December 1983, ending the Second Republic.
Muhammadu Buhari (1983 – 1985) – Major General Muhammadu Buhari led the military coup that ousted President Shehu Shagari's government in December 1983 and became the head of state and de facto President.
Ibrahim Babangida (1985 – 1993) – General Ibrahim Babangida took power in a palace coup in August 1985 and served as the head of state and de facto President. He annulled the 1993 presidential elections won by Moshood Abiola, which led to a political crisis and eventually ended his regime.
Ernest Shonekan (1993) – Chief Ernest Shonekan was appointed interim President in August 1993 after Ibrahim Babangida stepped down following widespread protests and international pressure. His short-lived government ended in November 1993 after another military coup led by General Sani Abacha.
Sani Abacha (1993 – 1998) – General Sani Abacha seized power in the November 1993 coup and became the head of state and de facto President. His regime was characterized by human rights abuses and repression of political opposition.
Abdulsalami Abubakar (1998 – 1999) – General Abdulsalami Abubakar took over as the head of state and de facto President after the sudden death of General Sani Abacha in June 1998. He initiated the transition to democracy and handed power to a civilian government in May 1999.
Olusegun Obasanjo (1999 – 2007) – Olusegun Obasanjo returned to power as a civilian President in May 1999 after winning the presidential election. He served two terms and completed his tenure in May 2007.
Umaru Musa Yar'Adua (2007 – 2010) – Umaru Musa Yar'Adua was elected as the President of Nigeria in April 2007. However, his presidency was cut short by his death in May 2010.
Goodluck Jonathan (2010 – 2015) – Goodluck Jonathan assumed the presidency after the death of President Yar'Adua. He was later elected as President in the 2011 general elections. Jonathan served as President until May 2015.
Muhammadu Buhari (2015 – 2023) – Muhammadu Buhari won the presidential election in March 2015 and assumed office in May 2015. He was re-elected for a second term in the 2019 general elections and continues to serve as Nigeria's President as of my last update in September 2021.
Bola Ahmed Tinubu (2023 – present): Bola Tinubu won the controversial Nigerian presidential election on February 2023 under the All Progressive Congress political party. He won against the likes of Atiku Abubakar of the People's Democratic Party, Peter Obi of the Labour Party, and Rabiu Kwankwaso of the New Nigeria People's Party, the major candidates in the general election. Bola Tinubu assumed office on May 2023 as the President of Nigeria.
---
---
---
---
---

Post Your Bio, Music, Quest Post & More On TheCityCeleb
---
---


---
---
---